CNN anchor Jake Tapper on Tuesday hit at President Donald Trump's claim that his poll numbers are his "highest" ever—which was a false characterization of the president's polling history by the conservative-leaning Rasmussen Reports.
The network first aired a clip of Trump commenting on the first part of Tuesday's impeachment hearings.
"I just got to watch and the Republicans are absolutely killing it, they are doing so well because it's a scam and [Democrats are] using this impeachment hoax for their own political gain, to try and damage the Republican Party and damage the president," Trump said. "But it's had the opposite effect because you've seen the polls and I'm the highest I've ever been in the polls."
"That's not remotely true at all," Tapper said.
Trump was referring to Rasmussen Reports, which consistently finds a higher job approval rating for him than other major polls. On Monday, Trump tweeted a graphic stating "50% approval," attributed to Rasmussen, and remarked, "THANK YOU!" along with the hashtags #MAGA and #KAG, his reelection slogan, "Keep America Great."
While Trump's repeated claims of having a high job approval rating have been questioned because he typically cites the conservative-leaning survey, he got Rasmussen's rating history wrong.
Trump had a total approval rating of 50 percent on Monday, but that was not his highest ever with Rasmussen Reports. His record high was 59 percent on January 26, 2017, six days after he took office.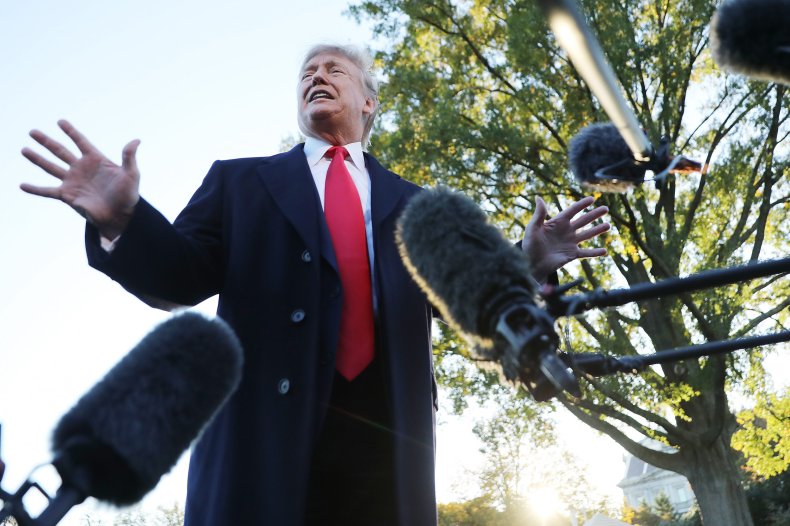 He has had several days of 56, 55 and 54 percent approval, mostly in 2017. As recently as September 24—the day House Democrats opened the impeachment inquiry—Trump had an approval rating of 53 percent with Rasmussen. His approval rating on Tuesday was down to 48 percent.
Tapper did not go into detail about Trump's polling claim, but did mention it again while welcoming CNN White House correspondent Kaitlan Collins on air.
"The president making a false claim there about his polls being higher than they've ever been," Tapper said, then asked Collins what else Trump said after Lt. Col. Alexander Vindman and Vice President Mike Pence's aide Jennifer Williams testified that morning.
Trump's Real Clear Politics average of major polls, including Rasmussen Reports, from October 30 to Monday was 44 percent, down from the most recent average high of 45.3 percent on September 24.
Early Tuesday, Trump expressed confidence in his standing with Americans by quoting House Speaker Nancy Pelosi saying, "It is dangerous to let voters decide" his fate, and commenting, "In other words, she thinks I'm going to win and doesn't want to take a chance on letting voters decide."