CNN's Anderson Cooper Closes His Show With Tribute To His Mother, Gloria Vanderbilt
CNN host Anderson Cooper closed his show Thursday with a tribute to his mother, Gloria Vanderbilt, who died Monday at age 95.
Cooper, the host of the network's Anderson Cooper 360° returned to his show after a week and a half absence in which he had been spending time with Vanderbilt. At the start of the tribute, Cooper thanked everyone who had sent letters, calls, texts, and messages via social media like Twitter and Instagram saying that they "have truly meant a lot."
"My mom would be stunned by all the attention and the kind words written and spoken about her. I know this because when I got her to join Instagram when she was like 92 or so she didn't think that anyone would actually follow her. 'Why would anyone be interested?' she asked. Well, it wasn't long before she had some 200,000 followers and I got to tell you it tickled her beyond belief," Cooper said, adding that Vanderbilt had regularly emailed him to ask what she should post or what she should write alongside a photo shared to the social media site or what to name a painting she was close to finishing.
Continuing on, Cooper said that Vanderbilt learned she had cancer on June 8 and that she died nine days later but spent that time being visited by friends and family.
"To be able to spend those nine days and nights with her was a great, great blessing. They were the most extraordinary days of my life and I'm very grateful. She died Monday shortly after 4 a.m., and though I was holding her hand and her head when she took her last breath it's still a little hard for me to believe she's gone," he said, his voice breaking slightly.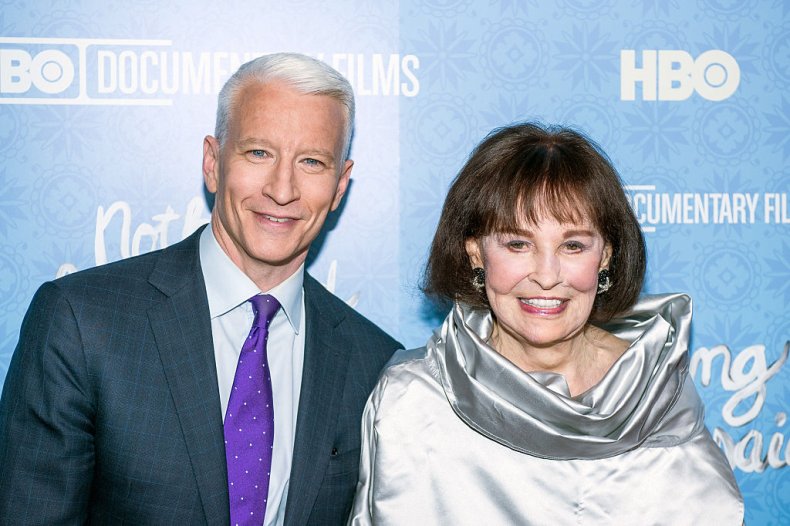 "Mary Gordon, the author, wrote that 'a fatherless girl thinks all things possible and nothing safe'," Cooper said. "Well, that's how my mom felt her entire life. Nothing ever felt safe to her, but anything was possible; terrible tragedies and glorious surprises. But she never let that feeling of insecurity stop her, she never let fear, or pain, or loss prevent her from forging ahead, from moving forward. She always believed the best was yet to come."
Vanderbilt was born in 1924 and became one of the heirs to the Vanderbilt shipping and railroad fortune. Her childhood was marked by a custody battle between her mother, Gloria Morgan Vanderbilt, and her aunt Gertrude Vanderbilt Whitney. Her aunt was eventually awarded custody and moved Gloria Vanderbilt to the United States after she had spent most of her formative years in France.
Vanderbilt got married at 17, prompting Gertrude to remove her from her will, though Gloria inherited $4.8 million upon turning 21. She married three other times and had four children, including Cooper and his brother, Carter Cooper with writer Wyatt Cooper.
Rather than rely on her family name and fortune, Vanderbilt made a career for herself, finding success in writing, fashion design and as a painter.
"One of her friends explained her sadness by describing my mom as her north star, a person she used as a guide, a kind of light in the darkness. I never realized until now how much she was my north star as well. And right now things seem a lot less bright and magical without her," Cooper said, pausing to gather himself. "My dad died when I was 10, and my brother when I was 21. She was the last of my immediate family, the last person who knew me from the beginning. They're all gone and it feels very lonely right now. I hope they are at least together."
To close the segment, Cooper said he is proud to have given his mother comfort in the final years of her life.
"When I die that might be the thing I'm most proud of. She knew me and I knew her, and there's great comfort in that. 'You and I, it's a match made in heaven,' she said to me last week. 'We're a good team,' I told her. We stayed up late that night holding hands and when she got sleepy she said to me 'What a wonderful night,' and it was. Perhaps our best," he said.
Prior to Thursday's segment, Cooper also penned a nearly-seven minute long biography that also included his thoughts on his mother. You can watch the segment below, which was shared by CNN's Josh Campbell on Twitter.