CNN Anchor Anderson Cooper Slams Trump for Using Tragic Death of General Kelly's Son for 'Momentary Personal Gain'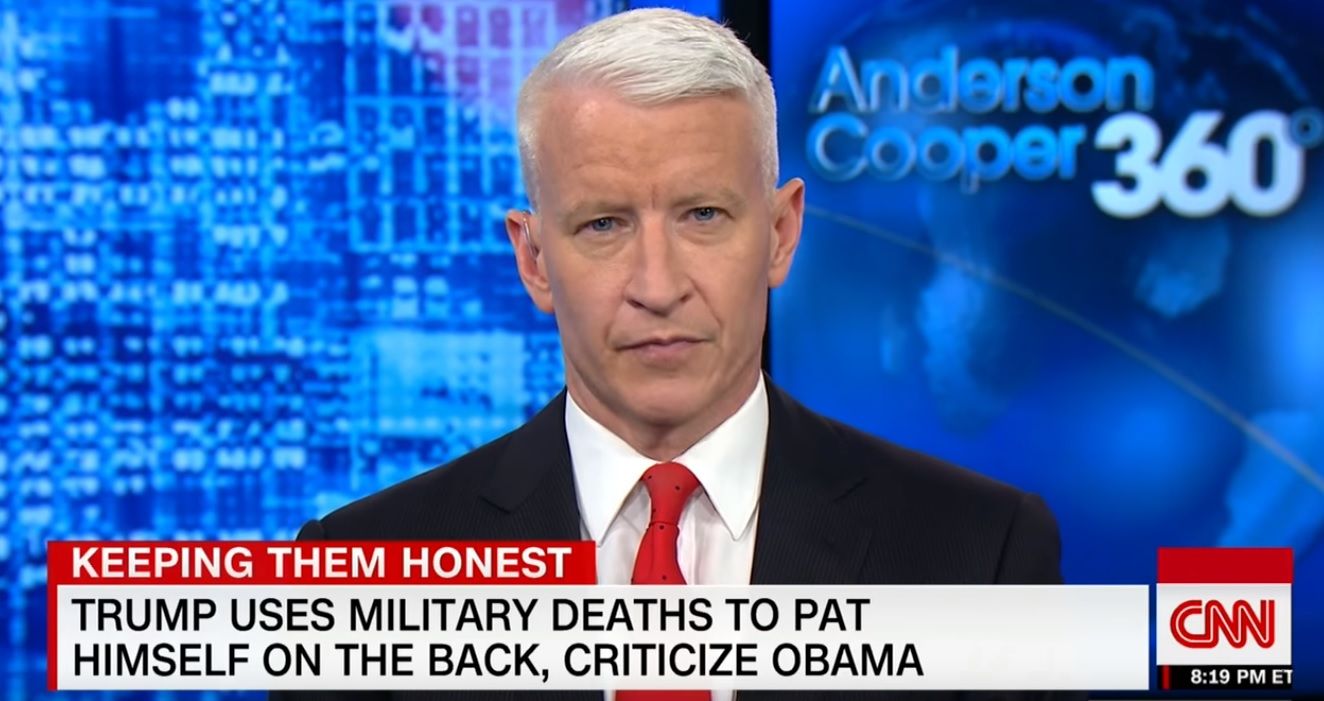 Anchor Anderson Cooper delivered a searing indictment of Donald Trump Tuesday night on CNN, after the president politicized the death of White House Chief of Staff General John Kelly's son, who died in Afghanistan in 2010.
Trump cited the death of Robert Kelly in an attack on former President Barack Obama, who he claimed did not call the families of U.S. soldiers who died in service. This was in response to a reporter asking Trump if he had reached out to the families of four American soldiers killed in Niger last week.
In defense of his Obama criticism, the president told Fox News Radio Tuesday, "You could ask General Kelly, did he get a call from Obama?" (A White House spokesperson told the Associated Press Tuesday that Obama did not call Kelly, but The Hill reports, "He did invite Kelly and his wife to a breakfast with other Gold Star families.")
Cooper, the infamous eye-roll king of CNN, spiritedly derided Trump for exploiting the death of Kelly's son, noting that Kelly himself has never used the personal tragedy in his post-military political career.
The CNN anchor said that other than a rare public acknowledgment of his loss in a profile in The Washington Post in 2011, "in everything he said and did not say back then, and in everything he's said and done since then, General Kelly has refused to make the shared sacrifice of so many about his own personal loss."
Cooper continued: "This morning, President Trump took General Kelly's deeply private, searing and eternal loss and made it about his own momentary personal gain."
Cooper compared Trump's aggrandizing use of military deaths to previous presidents, noting that, "President Obama, like Presidents Bush, Clinton, George H.W. Bush, Reagan and others before them, honored the fallen in many ways—phone calls, letters, witnessing caskets coming home, visiting the wounded. They did so frequently, often without bringing reporters along."
"None of them, Republicans and Democrats alike," Cooper said, "ever wanted it to be about themselves. Until now."
Cooper also knocked Trump's apparent inability to correct himself, after falsely claiming Obama and other presidents did not call families of the fallen. "This president, in his mind, simply cannot be wrong," he said.
The CNN host brought up examples of Trump's disrespect toward military veterans and their families, including U.S. Senator John McCain, a prisoner of war during the Vietnam War.
"And now, the president, who avoided serving in Vietnam multiple times, yet says his wartime experience dodging VD [venereal disease] was just like combat, has brought his chief of staff's profoundest personal loss into the personal realm, because he simply cannot be wrong," Cooper said.
He concluded, "It would be one thing if he'd been the one to lose his son in combat. It's another when he's not."