CNN, Fox and Associated Press called California's gubernatorial recall election for Gavin Newsom shortly after polls closed Tuesday night.
Newsom is the sitting California governor and the first to beat a gubernatorial recall election targeting his office. The Democrat was elected as governor in 2018 and will serve the remainder of his term now that he has defeated the recall effort.
If the recall had been successful in removing Newsom from office, he would have been replaced by the recall candidate who received the greatest number of votes. Forty-six candidates qualified to appear on the recall ballot, a list that included 24 Republicans, nine Democrats, two Green Party candidates, one Libertarian and 10 candidates who chose to appear on the ballot with no party preference.
Statewide polls conducted in July and early August suggested likely voters in California were split on the decision of Newsom's removal, but that balance shifted as the September 14 special election drew closer. Over the last three weeks, polling results have increasingly tipped in Newsom's favor, with many predicting he would defeat the recall effort by several points.
Newsom is eligible to run for re-election next year and already has a website for his 2022 campaign.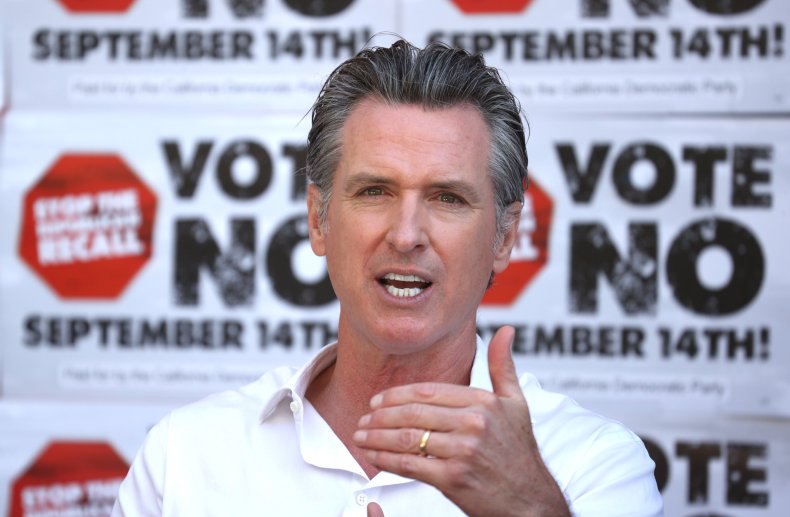 Republican Larry Elder was considered to be the front-runner among the recall candidates following his own campaign launch in July. Once Elder made his gubernatorial campaign official, he jumped to the top of the polls and continued to poll several points ahead of his Republican competitors in most polls conducted over the last two months.
Businessman John Cox, who was the Republican gubernatorial candidate in the 2018 election Newsom won, was also running to replace Newsom in the recall election. Other Republicans on the recall ballot included former San Diego Mayor Kevin Faulconer, California State Assemblyman Kevin Kiley, reality television personality Caitlyn Jenner and former Congressman Doug Ose, who ended his campaign last month after suffering a heart attack.
Though the California Republican Party decided against endorsing a candidate in the recall election, the California Democratic Party and several high-profile Democrats in other parts of the country backed Newsom. Vice President Kamala Harris visited California on September 8 to attend a rally in support of Newsom, and the governor spent the final evening before the recall election at a rally in Southern California with President Joe Biden, who also encouraged Californians to vote against the recall.
California first adopted its recall process in 1911, and there have been only two gubernatorial recall elections in the decades since. The first occurred less than 20 years ago, when Democrat Gray Davis faced a recall shortly after he was elected to his second term in office. In that 2003 recall election, Davis was ousted with 55.4 percent of votes cast in favor of his removal. Of the 135 candidates who appeared on the 2003 recall ballot, Republican Arnold Schwarzenegger received the greatest number of votes and became the state's 38th governor.
This is a developing story and will be updated as more information becomes available.