CNN Changes Chyron From 'Faith Leaders' to 'Controversial Pastor' After Reverend Won't Criticize Trump
CNN was criticized this week for changing a Chyron from stating "faith leaders" to controversial pastor" when the interviewee would not criticize President Donald Trump.
In the segment Monday, host Don Lemon asked Reverend Bill Owens, founder and president of the coalition of African American Pastors, to comment on the closed door meeting he and 19 other black faith leaders had with Trump, after the president criticized Congressman Elijah Cummings.
The Chyron read: "CNN Alert: President Hosts African American Pastors And Faith Leaders At The White House."
"What did the president say about his attacks against these leaders of color and did any of the faith leaders raise concerns about that?" Lemon said.
The Chyron switched accordingly to: "CNN alert: POTUS Meets With African American Faith Leaders In The Wake Of His Attacks Against Leaders Of Color."
Owens said he thought something about that was "said in passing" and, "I don't tune in to negative talk from any side, so some things were mentioned and I took a position that we as black pastors should go down to Baltimore and see what we can do to help."
Lemon interrupted to reiterate his question.
"Just for the sake of time i don't mean to cut you off," Lemon said. "The question was, what did the president say about his attacks on those leaders of color and did any of the faith leaders raise concerns about that?"
When Owens said he did not remember Trump saying anything about leaders of color, Lemon pushed further, asking if any pastor there raised "concerns about what he has been saying lately about people like Elijah Cummings or anyone."
Owens said "that was not the purpose of the meeting" and that it was actually to discuss how to help the black community.
Lemon then asked if there was any concern that Trump "used this meeting with black leaders to insulate himself form black criticism."
"I don't think so," Owens said. "I don't think that all because I've been to the White House four times in five months so it was nothing about insulating." The pastor reiterated that Trump wanted to hear from the faith leaders to see what he could do to help.
The Chyron remained the same, as Lemon turned the conversation in another direction.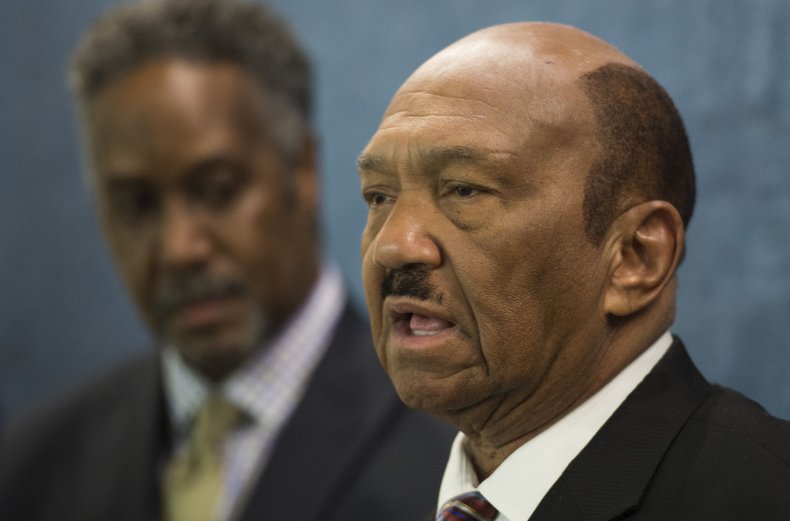 "So pastor, you've said some controversial things before. In 2012, you equated President Obama's support of same-sex marriage to supporting child molestation. You later walked that back, but that in itself is an outrageous statement," Lemon said. "Why should anyone take you seriously?"
"I've never said that. I've never said that. I've never said," Owens said, bothered.
At that moment, the Chyron switched to "CNN Alert: "Controversial African American Pastor Meets With President."
"I have never said that," Owens continued, admitting that he has a different view of same-sex marriage than Obama and asking for proof of what he Lemon claimed he said.
Lemon read back Owens's quote. Owens said the quote was correct but clarified that the only thing he disagreed with Obama about was same-sex marriage. Lemon then came back to Trump and asked Owens why "you think it's hard to believe Trump is racist."
"He does not just attack black people. He attacks anybody and you know it," Owens said.
Some Twitter users took issue with the behavior of CNN, not the reverend.
Jason Howerton of conservative Blaze Media on Thursday shared the video and commented, "This is bad. Really really bad."
Erielle Davidson, a senior contributor to the conservative magazine The Federalist,
"When @donlemon realized he wouldn't be able to get his guest to criticize Trump, the chyron changed from 'faith leaders' to 'controversial pastor,'" she tweeted "This is really gross, @CNN."
Davidson continued in a separate tweet: "@donlemon should be embarrassed. I can't believe what I just watched."
CNN did not immediately respond to a request for comment from Newsweek on Friday.