CNN Climate Change Town Hall with 2020 Democrats: How To Watch, Start Time, Lineup
Ten Democratic presidential candidates will take the stage for CNN's climate change town hall on Wednesday as the issue becomes one of the most important for primary voters ahead of the 2020 election.
The live event will start at 5 p.m. ET and is expected to last at least seven hours as the 2020 hopefuls take the stage individually for back-to-back interviews. Each of the candidates will have 40 minutes to answer questions from CNN reporters and a studio audience.
The town hall will air exclusively on CNN and CNN International and can be live-streamed on the network's homepage. It can also be viewed via CNN apps on iOS, Android, Apple TV, Roku, Amazon Fire, Chromecast and Android TV.
Only the presidential candidates who qualified for the third official Democratic debate were invited to participate in the climate-focused town hall. The audience will include Democrats, independents and stakeholders.
Here is the schedule of appearances:
Julián Castro — 5 p.m., interview with CNN's Wolf Blitzer
Andrew Yang — 5:40 p.m., interview with Blitzer
Kamala Harris — 6:20 p.m., interview with CNN's Erin Burnett
Amy Klobuchar — 7 p.m., interview with Burnett
Joe Biden — 8 p.m., interview with CNN's Anderson Cooper
Bernie Sanders — 8:40 p.m., interview with Cooper
Elizabeth Warren — 9:20 p.m., interview with CNN's Chris Cuomo
Pete Buttigieg — 10 p.m., interview with Cuomo
Beto O'Rourke — 10:40 p.m., interview with CNN's Don Lemon
Cory Booker — 11:20 p.m., interview with Lemon.
The CNN town hall is the first of several climate-focused events for 2020 Democrats this month. MSNBC, Georgetown University and Our Daily Planet are planning a similar event in Washington D.C. on September 19 and 20. Both Democratic and Republican candidates will be invited to attend the forum.
The Democratic National Committee, however, voted against having a climate change debate despite pressure from advocacy groups and candidates. The committee also will not allow candidates to attend a third-party debate, although the CNN and MSNBC events found loopholes to those restrictions.
Climate change has become a top issue for Democratic primary voters across the country. A CNN poll conducted earlier this year showed that 96 percent of Democrats said it was important that a presidential candidate support aggressive action on the issue.
Most of the 2020 Democrats have released their own policy proposals to address climate change, though some are more ambitious than others. They have all pledged to rejoin the Paris Climate Agreement, a global effort to combat global warming. Many of the plans aim to reach net-zero greenhouse gas emissions no later than 2050.
Just hours before appearing in the CNN town hall, Buttigieg, Harris and Warren released their own detailed climate change platforms.
"Climate catastrophe is on the horizon, and history will judge us for how we rise to meet this challenge," Buttigieg's plan noted. "We have seen this problem evolve from a theory to a reality to, now, an emergency."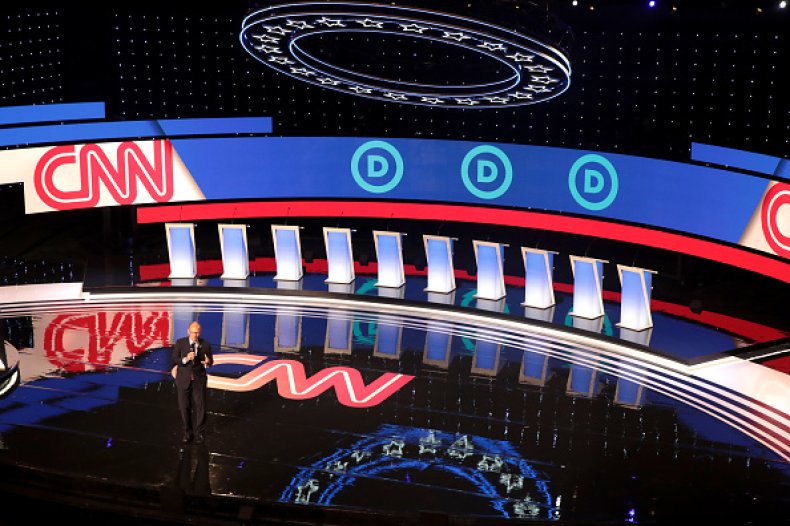 CNN Climate Change Town Hall with 2020 Democrats: How To Watch, Start Time, Lineup | U.S.