Meet the CNN Commentator Who Defected to Pro-Trump Broadcast to Deliver 'Real News'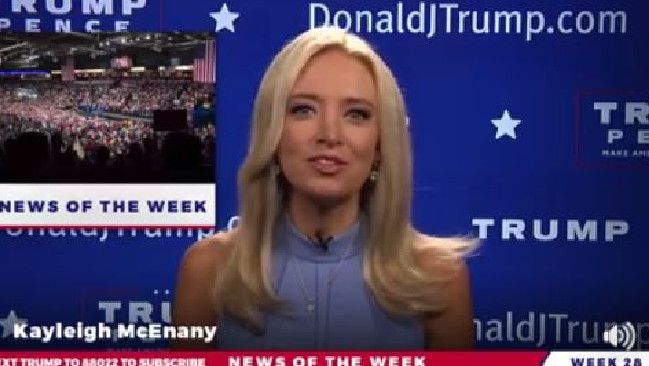 Former CNN commentator Kayleigh McEnany has defected from her role at the network to front a pro-Donald Trump broadcast for the president's Facebook page.
McEnany quit her role as a talking head, known for her pro-Trump views, and appeared in a video posted on the president's Facebook page Sunday, presenting what she described as the "real news."
The Trump team has created the outlet as a means of communicating its spin on news directly with Americans, but has been likened to totalitarian propaganda by critics. McEnany's video was the second in the "real news" series posted to Facebook, with the first presented by Trump's daughter-in-law Lara Trump, posted on July 30.
Get your unlimited Newsweek trial >
Trump has relentlessly attacked news organizations, including CNN, curing his campaign and as president, frequently accusing outlets of broadcasting "fake news."
A Harvard Law School graduate, McEnany defended Trump on CNN during the 2016 presidential election. In February she had a heated exchange with New York Times writer Charles Blow on the network, and was criticized for claiming that journalist Daniel Pearl was murdered by jihadis during Barack Obama's tenure. (Pearl was killed in 2002 in Pakistan by Islamist extremists.)
McEnany later said she had meant refer to James Foley, who was executed by the Islamic State militant group in 2014.
She announced her departure from CNN via Twitter Saturday, saying she was leaving for a "new role." According to the network, she had requested her contract be terminated to take up the position.
Get your unlimited Newsweek trial >
On Sunday, the official Team Trump Twitter account and the president's official Facebook page posted a video in which McEnany read out what she described as "real news," a seeming allusion to Trump's attack on so-called "fake news."
In the video she cited reports on the U.S.'s jobs hiring increase, and declared "President Trump has clearly steered the economy back in the right direction."
She went on to praise a new proposed bill slashing immigration to the U.S.: "Americans deserve a raise, and President Trump is finally putting the American worker first," she said.
On Twitter, critics denounced the video as a form of propaganda.
Trump supporters hit back, saying that the videos were a necessary counterbalance to the bias they alleged to be present in mainstream media.
"It is sad but necessary to have to broadcast President Trump's achievements in this manner," one commenter wrote on the president's Facebook page.
Meet the CNN Commentator Who Defected to Pro-Trump Broadcast to Deliver 'Real News' | U.S.