CNN Anchor Confronts Corey Lewandowski With Instances of Alleged Obstruction in Mueller Report After He Insists There Was None
CNN anchor Alisyn Camerota confronted Corey Lewandowski on Wednesday with specific instances of alleged obstruction of justice by Donald Trump from special counsel Robert Mueller's report after the president's former campaign manager insisted it found "no collusion" and "no obstruction."
"The Mueller report was very clear. There was no collusion. There was no obstruction," Lewandowski said on CNN's New Day, echoing a common refrain voiced by the president and his supporters.
But Camerota pushed back. "That's not what the Mueller report said, Corey," she said.
After Lewandowski insisted that the report "absolutely says that," the CNN anchor asked, "Did you read the Mueller report?"
"No, I never did," Lewandowski said, as he previously stated during his Tuesday testimony before the House Judiciary Committee.
Camerota said Mueller's investigation found at least 10 examples of possible obstruction of justice on the part of the president. After Lewandowski protested, the anchor put a list of them on the screen.
The list included:
"Asking [James] Comey to let [Michael] Flynn investigation go"
"Trying to stop [Jeff] Sessions' recusal"
"Firing Comey"
"Trying to remove Mueller"
"Trying to get Sessions to limit probe"
"Obscuring the purpose of the Trump Tower meeting"
"Asking Sessions to reverse recusal"
"Asking McGahn to deny attempt to remove Mueller"
"Trying to influence cooperation of witnesses, including Flynn, [Paul] Manafort and [Gary] Cohen"
After reading these actions by the president aloud, Camerota said "scores of legal experts say" they constitute obstruction of justice.
Lewandowski argued that the legal experts weren't familiar with "all the facts of the case."
"That is so disingenuous," he insisted.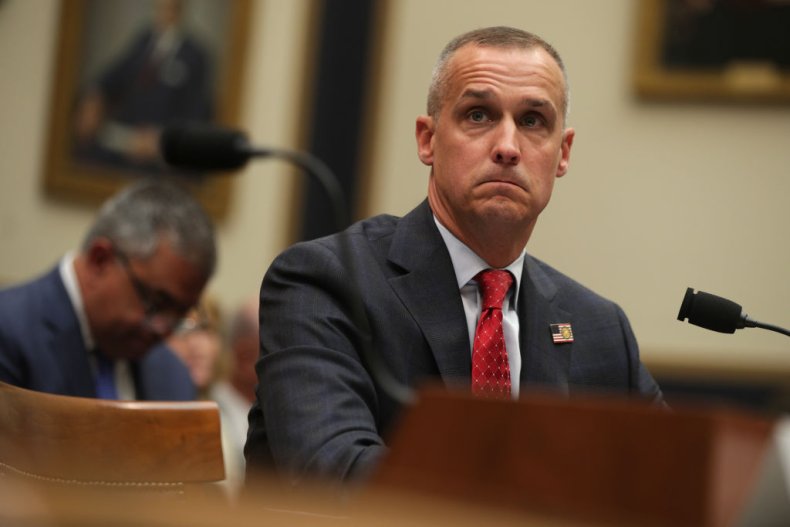 Numerous legal experts—including Republicans and Democrats—have argued that the Mueller report presents a textbook case of obstruction of justice.
In May, more than 1,000 bipartisan former prosecutors signed their names on a petition stating that if Trump were not the president, he would have been indicted on multiple charges of obstruction of justice.
"If he weren't in the White House, President Trump would be charged with serious crimes. This isn't even a close case," the former federal prosecutors said in a video released along with the letter.
Mueller himself stated that he and his team did not conclude that Trump did not commit a crime.
"As I set forth in the report after that investigation, if we had had confidence that the president clearly did not commit a crime, we would have said so," the former special counsel said in May.