CNN Correspondent Breaks Down in Tears on TV During COVID Report: 'This is Not Okay'
CNN correspondent Sara Sidner was brought to tears on a Tuesday episode of New Day amid her report on COVID-19 deaths in Southern California.
During her report, Sidner interviewed Juliana Jimenez Sesma, a woman who lost her mother and stepfather to COVID-19 within 11 days of each other. Sesma had to hold her mother's funeral in a parking lot.
"Don't let this be you," said Sesma. "If you truly love your loved ones, don't let this be you. Continue to take the precaution. Take extra precautions. Exaggerate if you have to.
Following Sesma's comments, the video shifted to a live shot of Sidner, who began to cry as she tried to continue the report.
"This is the tenth hospital that I have been in and to see the way that these families have to live after this and the heartache that goes so far and so wide," Sidner said, gasping for air as tears flowed down her face.
"It's really hard to take. I'm sorry, Alisyn," Sidner continued, addressing New Day anchor Alisyn Camerota.
"No apology needed," Camerota responded. "You've been watching your reporting on the ground throughout this horrific year and we have all been struck by the grief– the collective grief that all of us are in."
Camerota continued to comfort Sidner: "And to see these families who are soldiering through it, who are persevering and who are having to have these funerals in parking lots, like the ones you showed us– it is just a collective trauma that all of us are living through."
"And Sara, we all appreciate the heart that you bring to this every single day as well as your excellent reporting," Camerota added.
Sidner responded by reiterating that the circumstances brought about due to the coronavirus pandemic are "just not okay," saying "these families should not be going through this. No family should be going through this."
She then urged other families to "do whatever you can to keep this from killing your family members, and your neighbors and your friends and your teachers and doctors and firefighters."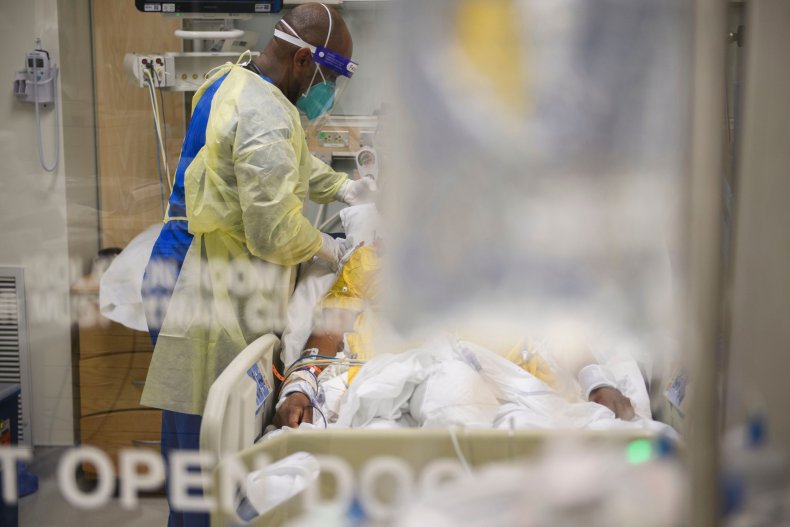 Sidner's segment came as the U.S. reports over 22.7 million cases of coronavirus and 378,000 deaths since the pandemic began in March 2020, according to John Hopkins University.
California has reported more than 2.7 million cases and 30,000 deaths over the course of the pandemic, according to data from The New York Times.
On January 11, the state recorded 40,540 new cases of COVID-19 and 381 deaths. Over the past week, California has seen an average of 42,215 new cases each day, a 7 percent increase compared to the two weeks prior.
"I'm still not okay after seeing the heartbreak in the City of Angels because of the coronavirus. I know that being there to see the destruction it's doing to families is small in comparison to the pain the families feel," Sidner said in a Tuesday tweet.
Newsweek reached out to Sidner, but didn't hear back in time for publication.