CNN Airs Footage of Large Trump Protests in London Moments After President Calls Them 'Fake News'
CNN did a quick fact check of Donald Trump on Tuesday morning, showing large scale protests against the president taking place in London moments after he said during a press conference with British Prime Minister Theresa May that they were "fake news."
"I just want to do a quick fact check on the president," CNN's Jim Sciutto said, "because the president was asked about the protests in the U.K. to his visit, and he claimed that they were 'fake news.'" The screen then cut to a massive demonstration, featuring an effigy of the president sitting on a toilet with his pants down while tweeting from his phone.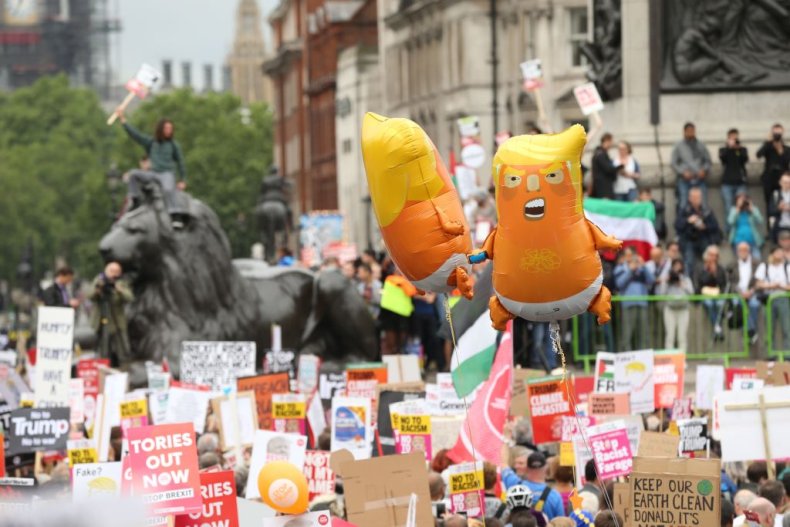 "Let's just show you some video of the protests taking place right now at Trafalgar Square," Sciutto continued. "That uh, effigy I suppose you could call it, of President Trump there tweeting, not only there in Trafalgar Square, where they appear to be fairly well attended, but there were some boos against the president as he entered the press conference."
"So, the president claimed the protests were fake news, there they are for your own eyes to see," the journalist said.
Photos and videos of massive demonstrations against the president have been widely circulated by British and international media as well as on social media. Demonstrators have flown the now iconic Trump Baby Blimp, which represents the president as a massive orange baby wearing a diaper. They have also used the effigy displayed by CNN's fact check, showing the president tweeting while apparently relieving himself. Ollie Nancarrow, a British 18-year-old, also mowed a giant penis, a polar bear and the message "oi Trump ... climate change is real" in his lawn close the airport where the president arrived in the UK.
National polls in the UK show that 67 percent of the country has an unfavorable view of the U.S. leader, whereas just 21 percent have a positive opinion. Protesters projected a comparison of national opinions of Trump versus former President Barack Obama on the historic Tower of London, in an apparent bid to get under the skin of the president who often seems determined to dismantle his predecessor's legacy. According to figures displayed by the projection, Obama's approval sat at 72 percent compared to Trump's 21 percent.
Despite the large and highly visible demonstrations against Trump, the president has repeatedly insisted that they are not real.
"The relationship with the United Kingdom is very strong. Tremendous crowds of well wishers and people that love our Country," the president tweeted on Monday. "Haven't seen any protests yet, but I'm sure the Fake News will be working hard to find them."