CNN Guests Debate If Justin Amash's Claim Donald Trump Committed Impeachable Offenses Setting Up 2020 Presidential Campaign?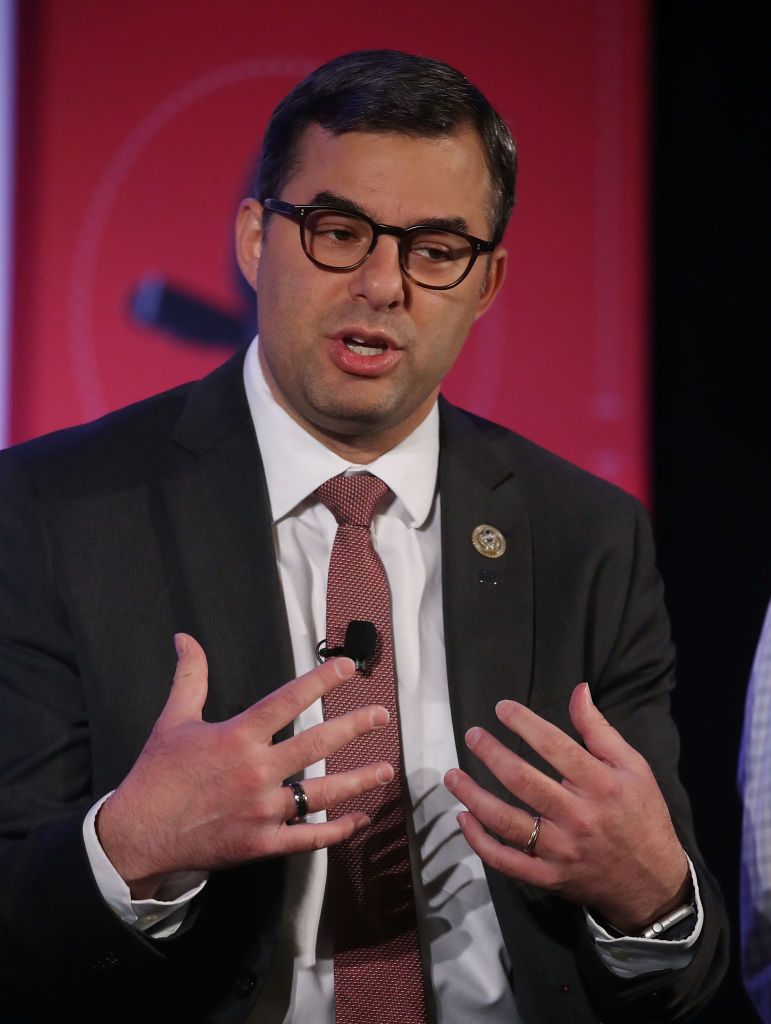 Hours after Republican Rep. Justin Amash made headlines for becoming the first member of his party to call for the impeachment of President Donald Trump, two CNN guests were debating the motivation behind the Michigan lawmaker's lengthy Twitter thread.
Washington Examiner editor and commentary writer Siraji Hashmi and Washington Post assistant editor and CNN political commentator David Swerdlick both appeared on CNN Newsroom to discuss Amash's tweets, agreeing that the congressman could be putting his name out there to generate recognition for a 2020 presidential campaign.
Amash is a Republican, but previously stated he has considered running on a Libertarian ticket against Trump, of whom he has been a frequent critic.
When questioned by CNN Newsroom host Ana Cabrera on if Amash's tweets were a signal of change in the GOP or setting up a campaign announcement, Hashmi went with the latter.
"I would agree that Justin Amash is thinking about a 2020 run," Hashmi said. "He said to Roll Call in April of this year that he's thought about running on the Libertarian ticket. And you have to think about the actual thread that Amash wrote, he said that (Attorney General William) Barr was misleading, or deliberately misleading or he intended to mislead, which suggests that he knows what Barr's intentions are, and he doesn't give specific examples of what he was misleading on. "
Hashmi continued to say that most of the debate regarding special counsel Robert Mueller's report and the four-page summary written by Barr which was delivered to Congress has been around obstruction of justice and if Trump did or did not seek to obstruct it. "The question of impeachment, which is what Amash is actually going after, that is a political question, not a prosecution-type question," Hashmi said, adding that Amash does not understand the "high standard" needed to begin impeachment proceedings and that since those standards have not been met, Amash must have an "ulterior motive."
Amash, who represents Michigan's third district, said on Twitter Saturday that he read the entire Mueller report and had come to four conclusions, "1. Attorney General Barr has deliberately misrepresented Mueller's report. 2. President Trump has engaged in impeachable conduct. 3. Partisanship has eroded our system of checks and balances. 4. Few members of Congress have read the report."
In the subsequent thread, Amash said that Barr's "misrepresentations" of Mueller's report were "significant but often subtle" and done in such a way that the attorney general hoped people would not notice. The congressman added that the report "reveals that President Trump engaged in specific actions and a pattern of behavior that meet the threshold for impeachment," and blamed partisanship for so many members of Congress — both Republican and Democrat — for having not read the report and letting party alignment determine their position on what Mueller's 400-plus page document contained.
"America's institutions depend on officials to uphold both the rules and spirit of our constitutional system even when to do so is personally inconvenient or yields a politically unfavorable outcome. Our Constitution is brilliant and awesome; it deserves a government to match it," Amash wrote.
When questioned by Cabrera, Swerdlick agreed with Hashmi that Amash, as the only Libertarian in Congress, would not sway Republicans greatly with his comments on Trump.
"That being said, I think it is notable that you have a member of the president's own party saying essentially that impeachable offenses were committed," Swerdlick said, saying that he is "reading between the lines" of Amash's comments and that Amash is saying he thinks Barr misled the public about collusion. "He has gone further in this Twitter thread than some Democrats have. So I do think now, to your question, it's not going to make Speaker [of the House Nancy] Pelosi go forward with impeachment proceedings on Monday morning at 8 o'clock, but I do think it's going to give fresh fodder to people on both sides of the aisle."
When questioned on if he thought other Republicans would follow Amash's lead to call for impeachment proceedings, Swerdlick said no, but that he felt the congressman saw an opportunity to take a stand in no longer defending Trump, as Arizona Senator Barry Goldwater said to then-President Richard Nixon days before Nixon resigned, or a "possible" presidential campaign on the Libertarian ticket.
Amash's comments drew praise from many Democrats and ire from Republicans, and the congressman was a trending topic on Twitter for much on Saturday night. The five-term lawmaker was retweeted by his fellow Michigan representative, Rashida Tlaib. Tlaib encouraged Amash to come to her office and co-sponsor an bill to begin impeachment proceedings against Trump.
".@justinamash come find me in 1628 Longworth. I've got an impeachment investigation resolution you're going to want to cosponsor," she wrote on Twitter.