CNN Host Confronts Madison Cawthorn Over Trump's Baseless Voter Fraud Claims
CNN anchor Pamela Brown confronted Representative Madison Cawthorn, a North Carolina Republican, over former President Donald Trump's baseless claims of widespread voter fraud—which he helped promote by objecting to the election results in key battleground states when Congress met to certify President Joe Biden's victory.
Cawthorn was one of well nearly 140 GOP members of the House of Representatives who voted to object to the Electoral College votes from Arizona and Pennsylvania on January 6 and 7 when Congress convened to certify Biden's win. The freshman Republican lawmaker persisted with his objections even after a violent pro-Trump mob stormed the U.S. Capitol and temporarily delayed the process.
Despite his objections, Cawthorn signed onto a letter with 16 other freshmen House Republicans to Biden last week, expressing a desire to work in a bipartisan manner.
During an interview with CNN on Saturday evening, Cawthorn said he was not arguing there was widespread fraud when he objected, while repeatedly citing changes to how the election was conducted in Wisconsin as unconstitutional—although he formally objected to the votes from Arizona and Pennsylvania.
"The letter says that you aim to 'rise above the partisan fray'. Yet you were one of 138 Republicans who voted to decertify the election results. You actually did that even after the January 6th riots. So how does that help you reaching your goal of reaching across the aisle and working with the Biden administration?" Brown asked Cawthorn.
Cawthorn described the January 6 insurrection as "despicable," but said it didn't "affect" his thought process about objecting.
"I wasn't doing it on behalf of President Trump. I was doing it on behalf of the Constitution," the GOP lawmaker said.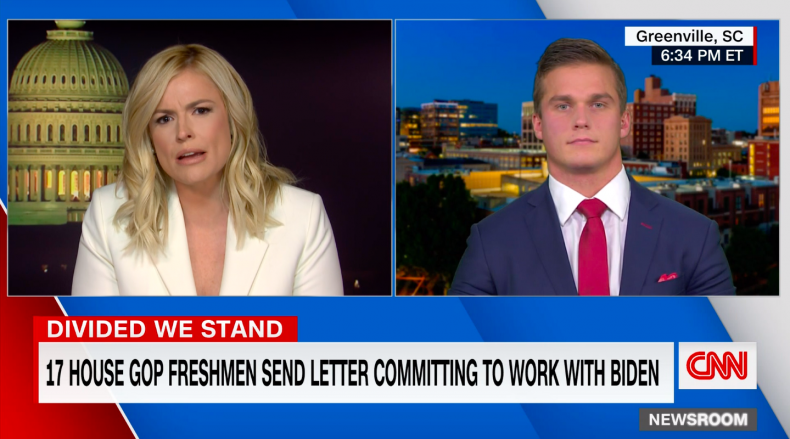 "I think in six key swing states, particularly in Wisconsin, you can see that the state legislature who is the sole body that is supposed to dictate the law that circumvents and is around all of our election laws was circumvented. They subverted the state legislators there and I believe that's a constitutional infraction," he said.
Brown then pressed Cawthorn for "specific examples" of voter fraud. "Can you just share some specific examples of election fraud? What are some specific examples that informed this bold decision, this audacious decision even after the riots took [place] to decertify the results. You must have seen some concrete evidence," she said.
Cawthorn responded by saying he was not objecting based on a belief that voting machines changed votes or that there were ballot dumps, as Trump and his supporters have baselessly claimed. "The thing I was objecting for is things like in, like I said, in the State of Wisconsin, particularly in the town of Madison, there was an appointed official in that town who actually went against the will of the state legislature and created ballot drop boxes, which is basically ballot harvesting that was happening in the parks," he said.
When Brown pointed out that the concern Cawthorn was raising had already been litigated and that a judge appointed by Trump had dismissed the case, the congressman doubled down. He said he did not contest the election results due to fraud or concerns the election was stolen.
"So you wanted to throw out millions of votes without actually seeing any concrete evidence of fraud because that's what you were doing when you were contesting the election. The intent there was throwing out millions of votes," Brown said.
Cawthorn responded by saying he disagreed with Brown's characterization. "That was not my intent. My intent was to hold up the Constitution and setting up ballot drop boxes, which is essentially ballot harvesting in Wisconsin is unconstitutional, because the state legislature said they didn't want that."
Brown continued to push Cawthorn on his objections several more times, while the GOP congressman kept citing concerns about drop boxes in Wisconsin. However, Cawthorn's official objections in Congress were to the results from Arizona and Pennsylvania. He did not address his specific concerns in those states.
The Republican congressman conceded in the interview that Biden is now the constitutionally elected president, despite his and other Republican efforts to overturn the election results.
"Yes, I think I would say that the election was not fraudulent. You know, the Constitution allowed for us to be able to push back as much as we could and I did that to the amount of the constitutional limits that I had at my disposal. So now I would say that Joseph R. Biden is our president," Cawthorn said.
Newsweek reached out to Cawthorn's press secretary for further comment, but did not immediately receive a response.
Brown received praise from fellow journalists and fans on social media for her grilling of the freshman congressman.
"CNN's Pamela Brown challenged Madison Cawthorn to cite evidence of election fraud to back up his vote against certifying the election results. He had nothing," Vox journalist Aaron Rupar tweeted, sharing a video clip of the interview.
Brian Caskey, mayor pro tem in Mills River, North Carolina tweeted that Cawthorn "is probably still trying to figure out what hit him" after the interview.
"Bravo," MSNBC host Mehdi Hasan tweeted, tagging Brown and including a hands-clapping emoji.
Trump's unfounded claims of widespread fraud have been thoroughly litigated. Dozens of lawsuits filed by the former president and his supporters have failed in state and federal courts. Even judges appointed by Trump and other Republicans have noted in their rulings that the claims of widespread fraud were not backed up by evidence.
Former U.S. Attorney General William Barr, who was widely viewed as one of Trump's most loyal and effective Cabinet members, said in early December that there was "no evidence" of fraud that would change the election's outcome. The Cybersecurity and Infrastructure Security Agency at the Department of Homeland Security, which was led by a Trump appointee, said in a November statement that there "is no evidence that any voting system deleted or lost votes, changed votes, or was in any way compromised." The federal agency described the election as "the most secure in American history."