CNN Host Feuds With Biden Campaign Senior Adviser Over Iowa Caucus Results: 'No, No, I'm Speaking Now'
CNN host Brianna Keilar got into a heated exchange with Symone Sanders, senior adviser to former Vice President Joe Biden's presidential campaign, during a discussion about Iowa caucus results Wednesday.
Sanders raised concerns about the "integrity" of the caucus, echoing remarks made by Biden Communications Director Kate Bedingfield on the network the day before, after partial results showed Biden in a distant fourth place. Keilar questioned whether Sanders was claiming the results may not be valid, asking her if she believed the data was "correct."
"Look Brianna, I have not analyzed the back ends of the data," said Sanders. "What we are saying and what we have implored to the Iowa Democratic party are two things. One, we need to make sure we get it right. Getting it right means checking, checking again and triple checking. And making sure that there is a paper trail, the presidential preference cards."
"Don't try to paint this as we're trying to say this is some kind of conspiracy theory," added Sanders.
The two often talked over each other during the lively discussion, Sanders repeating details of the chaotic aftermath of the caucus caused by issues in reporting results, while Keilar repeatedly pressed her on whether she believed the results that had been released were valid.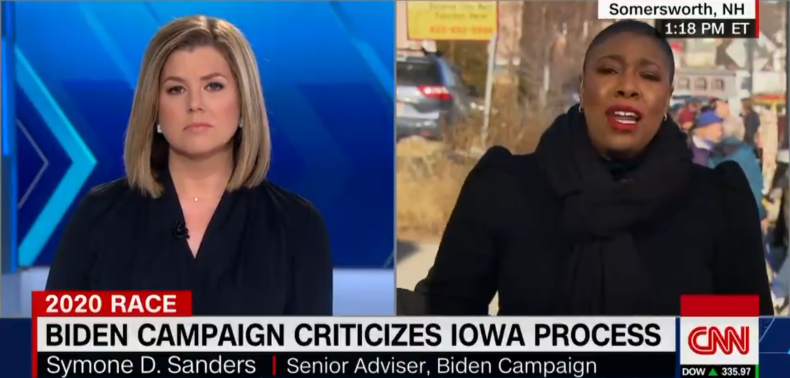 At one point, the host cut off Sanders to play a clip of Bedingfield from the previous day. When Sanders attempted to respond, Keilar cut her off again, comparing her questioning of the election process to tactics some say are used by President Donald Trump.
"No, no, I'm speaking now," said Keilar. "For detractors of President Trump, including you, including a lot of Democrats, one of their major concerns with him is that he throws into question the legitimacy of institutions, not the least of which is the election process. And that appears to be what you are doing by not stating we can trust the numbers we are seeing."
"I'm just looking for clarity in your question," Sanders responded. "Are you equating us raising legitimate questions that everyone can see from Monday night to what Donald Trump and his campaign is doing? Because if that's the case, I think that's pretty dangerous."
Keilar clarified by again repeating her question about whether Sanders believe the partial results that had been released were "correct." Sanders did not directly answer the question, noting that the full results had not yet been reported and that the Biden campaign had asked the Iowa officials to "triple check" the numbers. The host then asked Sanders whether she believed the partial results for a final time.
"Well, I guess we'll have to take the Iowa Democratic party at their word, Brianna," said Sanders.
With 85 percent of the vote reported Wednesday evening, Biden was significantly underperforming, failing to win even a single pledged delegate. The candidate told supporters Wednesday that he wouldn't "sugar coat" the results, calling them "a gut punch."
Sanders formerly served as press secretary for the 2016 presidential campaign of Senator Bernie Sanders, who was closely trailing Pete Buttigieg in the latest results, tying him for the lead in pledged delegates.