CNN Host Praises Donald Trump for Sounding 'Presidential' After State of the Union Tweets
CNN host Alisyn Camerota praised the commander-in-chief for sounding "presidential" in tweets acknowledging that he would not give his State of the Union address until the government shutdown ended.
On Wednesday night, Trump tweeted: "As the Shutdown was going on, Nancy Pelosi asked me to give the State of the Union Address. I agreed. She then changed her mind because of the Shutdown, suggesting a later date. This is her prerogative - I will do the Address when the Shutdown is over. I am not looking for an alternative venue for the SOTU Address because there is no venue that can compete with the history, tradition and importance of the House Chamber. I look forward to giving a "great" State of the Union Address in the near future!"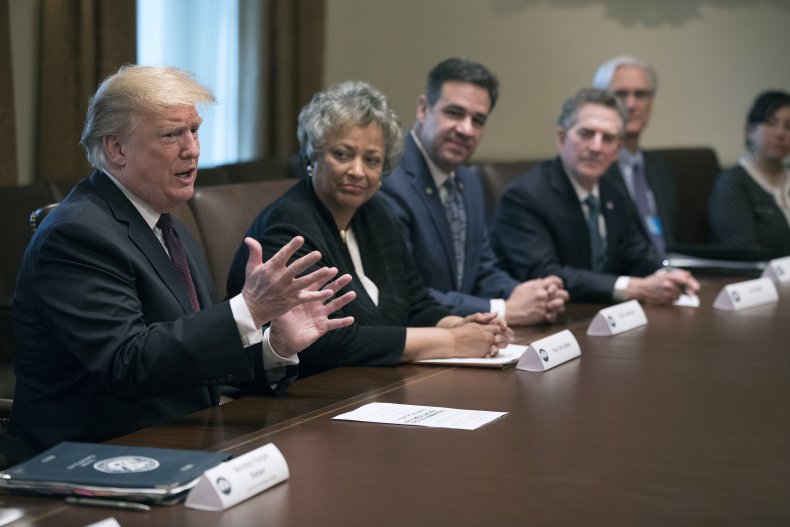 The president's announcement followed confrontation with House Speaker Nancy Pelosi, who last week told Trump that he should postpone his annual speech due to security concerns stemming from the federal shutdown. The two had since faced off, with Trump saying he intended to give the address.
Pelosi sent a letter Wednesday indicating she would not invite the president to make the State of the Union. The House and Senate must pass a concurrent resolution to hold a joint session of Congress, where the president delivers his remarks.
Camerota read some of Trump's tweet on air Thursday and then said, "It was such a different tone from the president. It was so presidential in tone, I just had to take a moment to acknowledge that he's giving her this sort of hat tip that she wins this round and he's not going to do it. So why—why the—such a different tone, the respectful tone, there's nothing derogatory in there, there's no Naughty Nancy. What do you think is going on with the president?"
Lis Power, the director of media intelligence for Media Matters for America, expressed exasperation at Camerota's remarks.
"DEAR GOD, STOP," Power tweeted on Thursday.
Critics have regularly rebuked cable news hosts for lauding Trump's tone.
After Trump's joint address to Congress in 2017, commentator Van Jones—among others—gushed about the president. "That was one of the most extraordinary moments you have ever seen in American politics, period, and he did something extraordinary," Jones said, reported GQ. "He did something tonight that you cannot take away from him. He became president of the United States."
New York Times columnist Michelle Goldberg reminded the media of its past coverage in a column ahead of the president's 2018 State of the Union speech.
"The 2017 address to Congress that won Trump such high marks turned out to be full of lies and distortions," Goldberg wrote. She pled with commentators "not to get too excited should Trump manage to read from a teleprompter without foaming at the mouth or saying anything overtly racist."