Democratic Virginia Senator Mark Warner on Sunday addressed a question on whether the Democratic Party has become "too woke" for voters following recent Republican election gains.
During a Sunday morning segment of CNN's State of the Union, host Dana Bash showed Warner a video of Democratic strategist James Carville complaining that the party is full of "stupid wokeness"—with measures such as the defund the police movement—and that some Democratic politicians should go to a "woke detox center."
Bash then asked Warner, a moderate Democrat, if he believes the party has swayed too far left for some voters.
"Listen, I don't support Defund the Police. Matter of fact, I think you saw Democrats all around who were successful—the new mayor of New York even—who have talked about reinvesting in police," Warner began.
The Virginia senator then added that other issues that have caused political division—such as critical race theory—were "stirred" up by the GOP during the Virginia gubernatorial election, handing Republican candidate Glenn Youngkin a victory.
"There is not a school in Virginia that teaches critical race theory but Governor-Elect Youngkin stirred up the cultural pot there," Warner said. "I think Glenn Youngkin touched a nerve that was felt in Virginia but frankly felt all over the country," he added.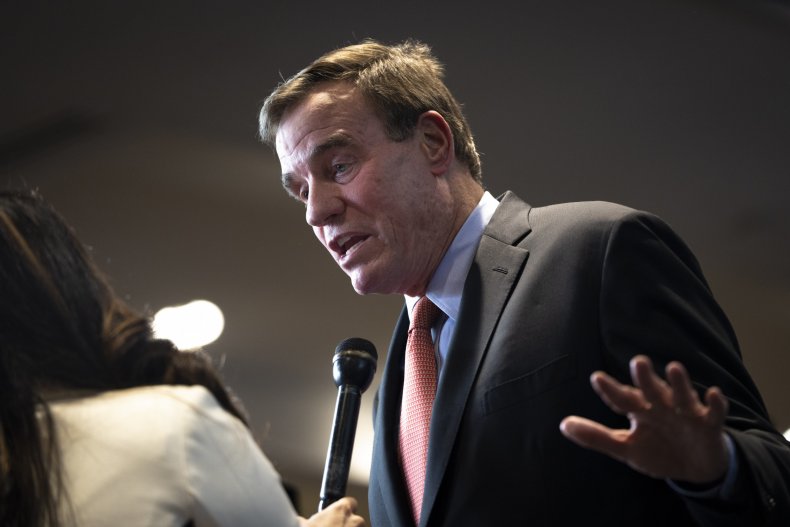 Bash's comments about Democratic 'wokeness' come after the party saw significant election losses last week. In Virginia, Democrats lost both the governor's mansion and control of the state House of Delegates. The GOP also claimed state legislative districts previously held by Democrats in New Jersey, while the Garden State's incumbent Democratic governor, Phil Murphy, won re-election by just a razor-thin margin.
Some experts, including former Democratic Chair and Representative Steve Israel, warned that after last week's losses, the Democratic Party may not be able to hold onto its majority in the House of Representatives during next year's midterm elections.
"This is 2009 all over again," Israel told Politico, referring to the 2010 midterm elections when Democrats lost more than 60 House seats. "The only benefit they [the Democrats] have now over 2009 is knowing just how bad it can get."
On Sunday, Warner said he believes Democrats could have won the gubernatorial race in Virginia if the party would have succeeded in passing President Joe Biden's bipartisan infrastructure bill earlier. After months of negotiations between moderate and progressive Democrats, the legislation was finally passed on Friday.
"The voters of Virginia, the voters of America gave us the presidency, the Senate, and the House. They expected us to produce. They've been hearing about this bipartisan infrastructure bill for months," Warner said. "I wish the House would have moved earlier."
However, the senator later added that: "I think what the American people wanted was to do rational pragmatic things. I actually think that is what the American public hired Joe Biden to do, and I think once we do it, I think you'll see the president's numbers dramatically improve."