CNN Asks 'How Black Will The Royal Baby Be?' and Gets Ridiculed For Piece On Mixed-Race Myths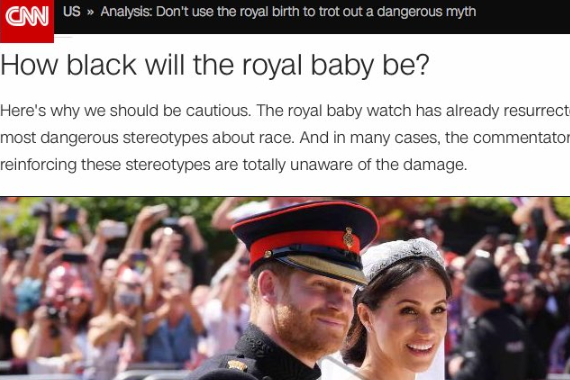 CNN was ridiculed Monday over a widely shared sub headline asking "How black will the royal baby be?" in an analysis piece about rejecting dangerous mixed-race "myths" after the Duchess of Sussex gave birth to a boy this past week.
Political figures, late night writers and even former CNN employees dragged the cable news network's online piece about racial issues surrounding the birth of Meghan Markle and Prince Harry's child. The author, CNN enterprise writer/producer John Blake, pushed back against the concept of another "Great Mixed-Race Hope," pointing to several sensational and racially insensitive articles across the globe describing the birth as the "first Afro-American baby born into the royal family."
The Monday thought piece sought to raise awareness about "commentators who are reinforcing these stereotypes" who are "totally unaware of the damage." But ironically, this assertion prompted other commentators to lash out at CNN with their own accusations of racial unawareness.
"CNN needs more people of color working in the executive, decision-making ranks. Obviously," former CNN American Morning co-anchor Soledad O'Brien tweeted Monday night, citing Late Night with Seth Meyers writer Amber Ruffin's screenshot of the "How black will the royal baby be?" title appearing over the summary and a video of the couple.
Blake, who is biracial and identifies as African-American, cited history for holding "mixed race symbols in positions of power," including former President Barack Obama, to obscenely high expectations and tangible "proof" of yet another "new racial era."
CNN acknowledged the push back but declined several Newsweek requests to comment on the record about the backlash to the analysis piece.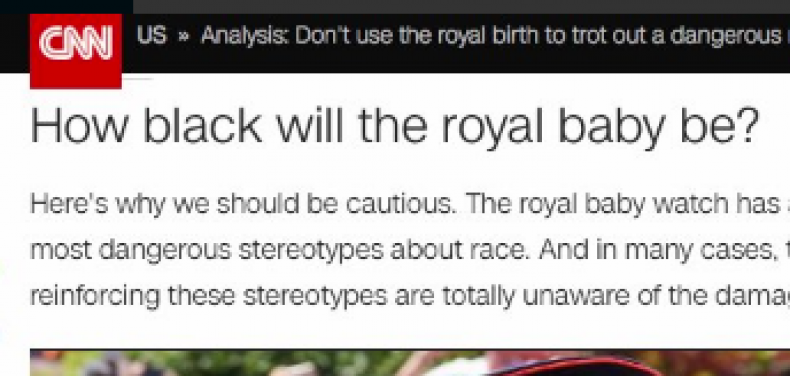 Ruffin simply asked, 'Wut?' which became a sentiment echoed tens of thousands of times over, even if their knee-jerk assessment could be deemed unfair to Blake's overall message.
Many "hot take" responses from those critical of the "how black" sub head took particular issue with the "100% un-ironical" text under the title: "Here's why we should be cautious," CNN's Blake wrote in the first paragraph under the subhead. "The royal baby watch has already resurrected some of the most dangerous stereotypes about race. And in many cases, the commentators who are reinforcing these stereotypes are totally unaware of the damage."
Journalists and political figures piled on the sub headline screenshot via social media Monday night and Tuesday.
"My God @CNN just legitimately asked 'How black will the royal baby be?' **and 100% un-ironically warned** 'commentators who reinforce dangerous racist stereotypes are totally unaware of the damage,'" replied Virginia Democratic state senate candidate and human rights author Qasim Rashid.
"This is what happens when there's 0 oversight and any idiot with an official handle speaks for the whole news organization. Bring back editors who stop you from showing your entire ass," replied The Palm Beach Post writer Leslie Streeter. "No oversight. This tweet needed an editor!"
"Is this real?" an incredulous Eugene Scott of The Washington Post asked.
"Guys. GUYS. Whether the royal baby is SUPER-DUPER BLACK or whether it's NORMAL, let's all agree to not be racist because that's really really uncool, mmkay? -- CNN," quipped Empire and Power screenwriter Eric Haywood.
But Blake's CNN piece may simply be a product of "hot take" Twitter quicksand, with irate replies failing to remark on any of the wider points made by the author in the text. In perhaps one of the most stark indicators of the divide between his analysis and the reality in which his words were received, Blake concluded, "Imagine a child born to a couple like the Duke and Duchess, and no one obsesses over their racial mixture, or how white or black they look."
Blake responded to the Twitter criticism Tuesday morning, writing, "Those who read my entire piece will understand the context. The analysis specifically addresses why classifying a child as X% black is a trap. It's the language & racial ideas from the Jim Crow era. That's the exact point of the our actual headline."
**Update/Correction** -- A previous version of this story described Blake as interracial rather than biracial.