CNN Host Asks Kellyanne Conway About Trump Response to White Nationalism, She Brings Up Clinton, Ocasio-Cortez and NY Times Cartoon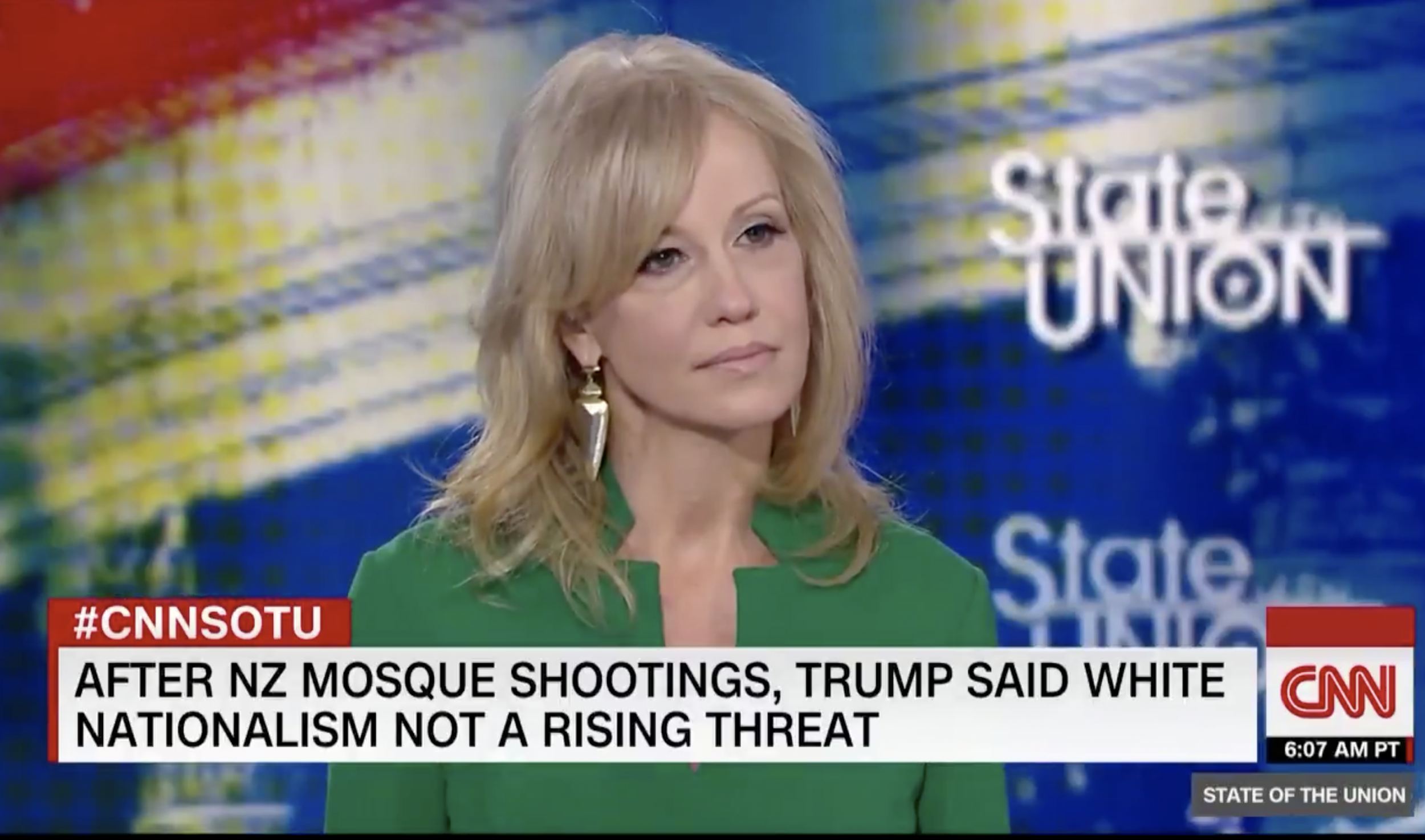 Kellyanne Conway, counselor to President Donald Trump, appeared on CNN's State of the Union Sunday morning, where host Jake Tapper repeatedly attempted to get answers to questions about the president's response to, and concerns about white naitonalism, particularly in the wake of Saturday's deadly attack at a synagogue in Poway, California.
Tapper began the segment by asking Conway what tangible steps the White House would be taking to address concerns about the apparent rise in anti-Semitic attacks.
"Whether they are Muslims in the mosque in New Zealand, whether they're the worshipers in Charleston, South Carolina, at the AME church several years ago, whether you're in Sutherland Springs at a Christian service, whether you're our friends at the Tree of Life synagogue in Pittsburgh, and now in California — we condemn it, and I'm glad that the president, as the leader of this country, is out there condemning, unequivocally, hate crimes," said Conway. "He called it a hate crime, I think, before the officials had in California. And we have to speak out about it; we have to be honest about it, and we have to condemn hate in all of its forms."
Tapper responded in agreement with Conway's sentiment, but noted that "Speaking out against it — that's the easy part," and once again asked what could be done.
"What we have found over time as a nation, Jake, is that many places of worship do not want to become barracks, if you will. They don't want to have the metal detectors outside, they don't want to have the armed guards," said Conway, who then shifted toward discussion of the attackers.
"I think there's some copycatting going on, as you see. People feel influenced by prior acts, and we probably don't always shine a light – which is fine, too — on those who are intercepted and caught before they do the horrible things and their murderous acts," she noted.
This opened the door for Tapper to point out that John Earnest, the alleged shooter at the Poway synagogue, had reportedly penned a manifest that mentioned the March massacres at two mosques in Christchurch, New Zealand. Tapper pointed out, that Trump was asked shortly after those attacks if he thought white nationalism was a growing threat around the world. To which, the president replied, "I don't really. I think it's a small group of people that have very, very serious problems."
"Does President Trump still think that white nationalism is not a growing threat around the world? Is he reconsidering that?" asked the CNN host.
Rather than answer the question directly, Conway responded by bringing up Trump's heavily criticized reaction to the white nationalist Unite the Right rally Charlottesville, Virginia, in August 2017. Even though that two-day event — superficially based around a protest of the city's plan to remove a statue of Confederate General Robert E. Lee — had devolved into a violent spectacle that left one anti-racist protestor murdered and many more injured, the president claimed at the time there were "very fine people on both sides."
"He was talking about a monument discussion," Conway told Tapper on Sunday. "He condemned them — I have it right here, and anybody can pull up his exact statements in the transcript of those conversations almost two years ago, but people have let that lie fly for almost two years. He condemned hatred, bigotry, evil, called out the neo-Nazis and the KKK —
"But he said there were very fine people on both sides," said Tapper
"He was talking about — and if you continue the sentence, he said people were there who had not signed up for the neo-Naziism," Conway continued. "They were there about a park being renamed, and a statue being taken down."
Tapper still wanted to get a more precise answer on this topic.
"My question about this incident, since you brought it up, is: Who were these very fine people?" he asked again, over Conway's attempt to interrupt. "It was called the Unite the Right rally, and it was formed by people like Richard Spencer who is a white supremacist. Friday night was the tiki torch march, with the [chant] 'Jews will not replace us'..."
"Horrible people!" interjected Conway.
"Saturday, Heather Heyer was killed," the host continued, asking once more, "Who were the very fine people he was talking about?"
"Heather Heyer was murdered, and her murderer has been brought to justice," said Conway, not answering the question.
Tapper persisted, "Right, but who were the very fine people?"
"He was talking about the debate over removing statues," said Conway.
When Tapper then pointed out that the president's remarks in 2017 did not appear to be made in the abstract, but were "about people in Charlottesville," that's when Conway steered the conversation in entirely new directions:
"Let me just say something. I'm very concerned — I truly am concerned, because I've seen this — I'm very concerned that the New York Times of all places allowed the distribution, I guess to millions of people — You and I both took to Twitter last night and condemned it, this anti-Semitic cartoon, which I'm not even going to describe the particulars because it's so odious and offensive, and they didn't even apologize for it," she said, referring to a politcal cartoon that appeared in the international print edition of the Times, featuring the Israeli prime minister as a dog with a Star of David collar, leading around a skullcap- and black suit-clad Trump.
Conway wasn't done attempting to direct the discussion away from Trump.
"I see officials who get a lot of airtime and ink, like Alexandria Ocasio-Cortez, congresswoman, who tweets many times about the mosque but never once about Sri Lanka —" she began, before an audibly exhausted Tapper pointed out, "But you brought up Charlottesville."
"No, I'm bringing up white supremacy and how this president has condemned it again and again and people are lying about that," responded Conway.
Tapper then restated his question — "Does President Trump think white nationalism is a growing threat around the world?" — and added, "There are people in law enforcement who think, actually, white nationalism, white supremacy, is a growing threat and now we've had the second fatal synagogue shooting in six months. I'm not saying it's President Trump's fault."
Conway responded by pointing to anti-Christian attacks like last weekend's bombings of several churches in Sri Lanka. Tapper countered by saying there is no dispute that Islamist terror attacks are a serious threat.
"But she wouldn't call it radical islamic terrorism, Hillary [Clinton], at her convention," said Conway, referring to the 2016 Democratic candidate.
"I'm not talking about Hillary, I'm talking about Donald Trump," noted Tapper. "President Trump said he didn't think white nationalism was a growing threat around the world, and I'm asking —"
"Does he think it's a threat?" asked Conway, visibly irritated. "There's no question it's a threat."
Tapper questioned this sentiment. "[Trump] said six weeks ago, I don't really think it's a threat"
"No, he was saying a growing threat. But, it is a threat," answered Conway. "It's horrible wherever it is and it should be driven out and people like Heather Heyer's murderer should be brought to justice and indeed he was and good. May he never see the light of day again."
Tapper also asked about President Trump's most recent comments on Charlottesville. On Thursday, he claimed that his response to the calamity surrounding the rally was "perfect."
Tapper pointed out that several of Trump's closest political allies, including Senator Lindsey Graham and former Chief Economic Advisor Gary Cohn were not pleased by the the president's "both sides" view of events.
"Was his response perfect, yes or no?" asked Tapper
"I think it was twisted for many years," said Conway.
When Tapper asked about Cohn's criticism of the statement, she responded, "Gary Cohn stayed in the White House for many months."
To which Tapper pointed out that Cohn came close to resigning over the incident.
"Yes or no, was President Trump's response perfect?" he asked, again.
Said Conway, "President Trump condemned racism, bigotry, evil, violence, and then took it many steps further and called out neo-Nazis, white supremacists, KKK —"
Tapper once more: "Was his response perfect?"
"That is darn-near perfection, when you're calling out KKK, neo-Nazis and you're saying there were people there who hadn't signed up for that," said the Trump advisor. "I think anytime a president is willing to condemn people who hate other people based on their race or their religion, it's a great day for America and that's what he did and he did it several times."
Trump's 2017 comments have never really faded from the memory of his critics, but they were resurrected last week when former Vice President Joe Biden officially kicked off his presidential campaign with a video that used the "very fine people on both sides" comment, along with the image of Heyer, to go after Trump.
In response, Trump said Thursday that his response to the event had been "perfect" and that the media had taken his words out of context. He claimed to be speaking only about those who attended the Unite the Right rally to protest the removal of the Lee statue. The president also referred to Lee as a "Great general."
On Sunday morning, House Majority Whip James Clyburn mocked the president's explanation for his comments.
"He always said he hates losers," Clyburn said Sunday on ABC News' This Week, pointing out that General Lee was the military commander for the side that lost the Civil War.
"Robert E. Lee was a slave owner and a brutal slave master," said the congressman from South Carolina. "Thankfully, he lost that war."