CNN Mistakenly Labels Alabama as 'Mississippi' After Mocking Trump Over Dorian Path Prediction
CNN aired a graphic mistakenly labeling Alabama as "Mississippi" during coverage which ridiculed President Donald Trump for his inaccurate prediction Hurricane Dorian would hit the Gulf Coast state.
The cable news network's "states of emergency" misnomer on Sunday showed the outline of Alabama but inaccurately labeled the image as "Mississippi." CNN's mislabeling mistake of the neighboring Southern states was broadcast amid several stories, segments and guests who appeared on the network to mock Trump's claim Dorian would potentially hit Alabama.
The National Weather Service issued a correction to the president's hurricane path prediction, which prompted CNN's Brian Stelter and ABC News to pounce on him for spreading false information.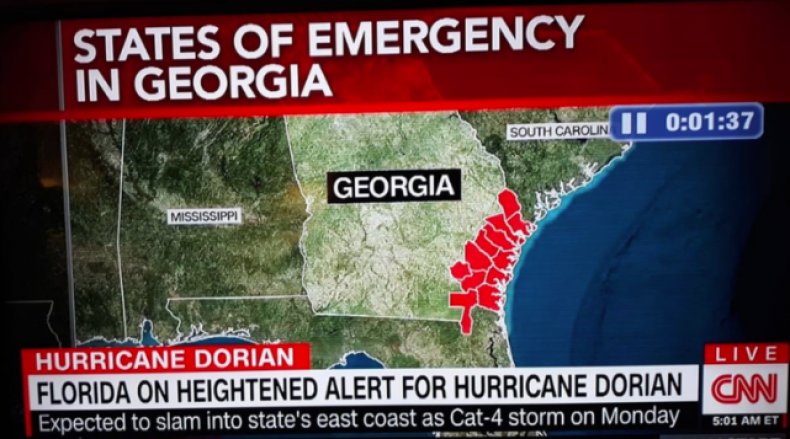 CNN's Alabama versus Mississippi mistake was immediately blasted by pro-Trump social media accounts and other conservative figures who accused the mainstream media of repeatedly labeling "all Trump supporters as ignorant." CNN's Stelter berated Trump in a Tuesday piece highlighting how the president "spread false information during an emergency situation. Not once or twice -- three times."
FTVLive flipped Stelter's words around on him in response to the Mississippi graphic mistake and the CNN media reporter's critical description that "this error showed a fundamental misunderstanding of geography on the part of the president."
"CNN's media critic Brian Stelter likes to say, 'When someone can't get the little stuff right, it makes you worry about the big stuff.' Then I wonder what Stelter would say about this CNN graphic that was on his own network?" the outlet mused Sunday.
"In addition to Florida – South Carolina, North Carolina, Georgia, and Alabama, will most likely be hit (much) harder than anticipated," read the president's initial tweet placing Alabama within Dorian's affected "path of uncertainty." Trump proceeded to engage in an argument over his Alabama claim on Twitter over the last two days and lashed out at ABC News' Jon Karl as he doubled down on the hurricane trajectory.
A video clip from Trump at a FEMA briefing showed the president saying Dorian "may get a little piece of a great place: It's called Alabama."
The Birmingham, Alabama-based NWS Twitter account fact-checked Trump's comments via Twitter Sunday: "Alabama will NOT see any impacts from #Dorian. We repeat, no impacts from Hurricane #Dorian will be felt across Alabama. The system will remain too far east. #alwx."
The massive Students For Trump Twitter account piled on criticism of CNN over the Alabama versus Mississippi mistake -- which many social media accounts said is a common error made by national news outlets. "CNN: *falsely labels all Trump supporters as ignorant* Also CNN: *doesn't know the difference between Alabama and Mississippi* Priceless."
Other pro-Trump accounts lumped all of "leftist" news media outlets together in claims of bias and hypocrisy.
"Something to remember about the brainpower of those over at @CNN Forgetting abt Alabama is pretty bad Forgetting that the State of Mississippi is ON THE MISSISSIPPI... These are weather people? Yep, this is the intellectual level of those at Leftist networks," remarked another "MAGA" mainstream media critic.