CNN, MSNBC Cut Away From Trump's Coronavirus Briefing As Americans Call for End to Continuous Coverage
At least two major broadcasters, CNN and MSNBC, pulled away from coverage of a White House coronavirus task force briefing on Wednesday after it began with the announcement of an "enhanced counter-narcotics operation" in the Pacific Ocean & Caribbean Sea aimed at combating the threat of drug traffickers seeking to exploit the current situation.
Addressing reporters, President Donald Trump began the the announcement by telling reporters that "as governments and nations focus on the coronavirus, there's a growing threat that cartels, criminals, terrorists, and other malign actors will try to exploit the situation for their own gain."
"We must not let that happen," Trump said. "We will never let that happen."
As Trump later fielded questions from journalists on the new development, CNN pulled away from the briefing with Wolf Blitzer telling viewers: "Alright, we're going to continue to monitor this briefing and see if they get back to the issue of the coronavirus.
"That's what we're primarily interested in right now given the horrible numbers that we've been told over the past couple of days: maybe 100,000, maybe as many as 240,000 Americans in the coming weeks and months may wind up dead as a result of this virus."
Bringing on fellow CNN anchor John King to weigh in, Blitzer then accused the Trump administration of "obviously trying to shift the focus, at least partially right now, with this new counter-narcotics program."
King appeared to agree, saying: "It is remarkable Wolf, and some would say shameless. This is a coronavirus task force briefing. The country is in the middle of a pandemic. Americans are afraid. They are tuning into these briefings to try to get information from the White House."
"Amen, amen, amen and congratulations if the United States military and the Justice Department are doing a better job keeping cocaine and other illicit drugs from getting into the country. Good for them and congratulations," King said.
"You can schedule an event at the Pentagon, at the Justice Department or in the White House briefing room if you think it's that big of a deal, but call it what it is. Say, 'we have a major announcement on the war on drugs.' Instead, they walk off the coronavirus task force meeting and the president's trying to have a bit of a political statement here."
"It's a big policy move. And again, let's hope they're right and this is successful and they're keeping drugs out of the United States of America. Good for them for doing that. We should applaud that success. But that's not what this briefing was scheduled for," King said.
MSNBC also made an editorial decision to turn away from the briefing, with host Chuck Todd saying: "First of all, we know those briefings have a tendency to veer in a lot of different directions. Not all of them are informative or relevant in the midst of this crisis. So we will listen as the President talks. And we will make sure we give you a fact check and putting what he says in context on the other side.
"There are several questions that we have today that we are looking to get answered. You just heard a bunch of them on masks. Are we going to be wearing them? What does our summer look like? What's the situation on testing and the medical equipment? So those are the answers we're hoping to get, and obviously, what is the data that he used to make these decisions. If it veers too much off, we will break it and come back here. But for the most part, we want to listen in to the information we hope he is bringing to all of us," Todd said.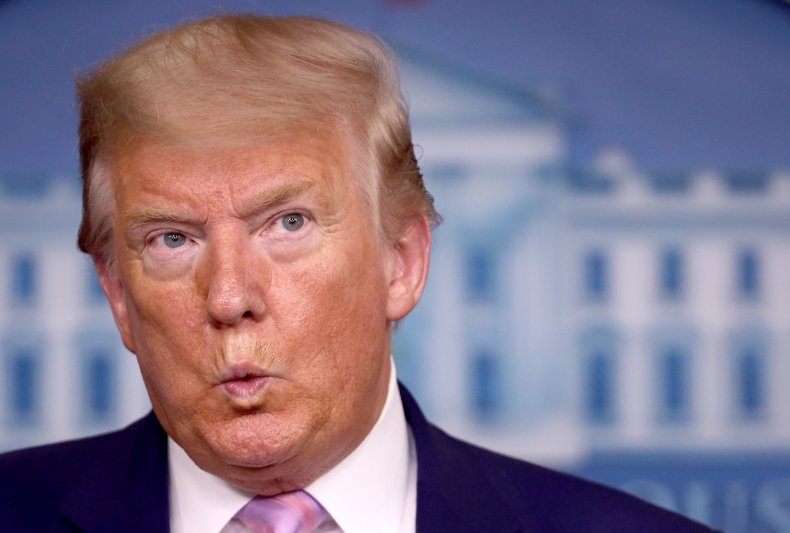 In recent days, there have been growing calls for broadcasters to stop providing live coverage of the briefings in full, and to instead report on the briefings and let those who want to watch them in full view them online.
While outspoken critics like Scott Dworkin, the co-founder of the Democratic Coalition, have been vocal in calling for broadcasters to do more to provide balanced coverage of the briefings, everyday Americans have also made their own voices heard.
One petition started online by a retiree who had grown tired of seeing the constant coverage of Trump's comments during the COVID-19 briefings gained rapid support, attracting more than 200,000 signatures in a matter of days.
Speaking with Newsweek on Tuesday, the creator of the petition, Julie Rochman, a retired insurance industry executive, said she had initially only expected the petition to get around 100 signatures, mainly from family and friends.
She said she was shocked to see that it had quickly gained tens of thousands of signatures from people from across the country.
Rochman said the widespread support for her petition suggested that many Americans were feeling equally concerned about the White House coronavirus briefings becoming increasingly politicized.
"This is not a time for politicking," she said. With the presidential election coming up, Rochman said, "I know it's the 'silly season,' as we used to say in D.C., but it's just not helpful. What people need right now is to feel well-informed and safe and not have somebody, anybody, spreading fear and misinformation and minimizing the impact of the virus."
Newsweek has contacted CNN and the White House for comment. MSNBC did not provide an on-the-record statement on its decision to cut away from the task force briefing.