CNN Panelists Surprised Trump Behaved Perfectly for Bush's Service: "Shouldn't Be News but It Is"
CNN panelists praised President Donald Trump for behaving perfectly in the wake of former President George H.W. Bush's death today, quipping that it "shouldn't be news but it is."
During CNN's Inside Politics on Tuesday, the show's anchor John King said the president was "perfect and beyond gracious" for Bush's ceremonies, seemingly a surprise to all the panelists.
"A confidante told CNN the Trump White House has been, in this source's words, 'perfect and beyond gracious' in assisting with the logistics. This should not be news, but it is," King said.
"There's the rivalry between Jeb and Donald Trump in the primaries. They ran against each other and his past comments about W. and George H. W. Bush. But why is it news? The president has been about pitch perfect here."
CNN White House Correspondent Kaitlan Collins pointed out that White House must be relieved, considering the president's behavior following Senator John McCain's death. "It is such a relief for the people in the White House who lived through the headache that was the John McCain funeral," she said. "There was so much drama that week, people in the White House said it was debilitating to the work environment."
"Given that the last thing he said about H.W. Bush was mocking his Thousand Points of Light, the volunteer foundation he started, I don't think it's a given he acted like this," Collins continued. "But White House officials are relieved that it's gone so smoothly."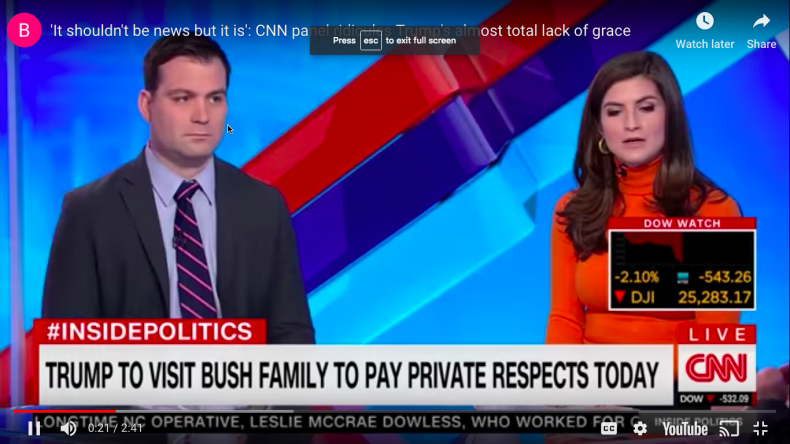 NPR White House Correspondent Ayesha Rascoe then suggested that Trump's good behavior was down to the fact that he was involved, welcome and invited to Bush's service.
"By having him involved and making sure he is invited and making sure that he is welcome, he has been known to kind of be able to change on a dime," she said. "He has shown he can change very quickly, especially if you're nice to him."
Trump is set to attend Bush's funeral at Washington National Cathedral on Wednesday. Ahead of the event, Bush's family have planned to avoid any form of anti-Trump sentiment, reported The Washington Post.
"The comparisons are presenting themselves; we are not heightening them," a Bush confidant told the Post.