No, the CNN Pornhub Video is Obviously Not Real
Some amusing NSFW CNN footage has lightened the election mood somewhat, but we're here to report that it is definitely not real.
News anchors have been working tirelessly this election week as the race between Joe Biden and Donald Trump continues and CNN's John King has become a celebrity in his own right.
A silly clip went viral Friday morning that appears to show a notification from porn website Pornhub popping up on CNN's magic wall.
The clip has been cleverly edited to look like King quickly swipes the notification away and the result is pretty humorous.
Uploaded by an unverified Twitter account, the video has no audio and if you look closely, the Pornhub notification doesn't actually appear on the magic screen, but instead sort of floats over it, making it clear that it was edited in.
Either way, the fake clip is lightening the tense election mood as Biden appears to be edging closer to victory in an endlessly nail-biting race.
The tweet was captioned: "CNN had Pornhub open," and has been liked almost 60,000 times at the time of publishing. It has been viewed nearly three million times as of Friday morning.
A number of people have posted to say the clip is fake.
"Please stop sharing the fake CNN / Pornhub thing, ffs," journalist Jake Ball tweeted.
While comedian Natasha Rothwell joked: "The pornhub CNN video is fake but it will live on as truth in my heart."
Television presenter Piers Morgan was left embarrassed when he sincerely shared the fake video only to have legions of people commenting to make fun of him for believing it.
He later tweeted: "Apparently this is a fake. Still bloody funny though."
King isn't the only anchor who has found newfound popularity this week due to their impressive election coverage—MSNBC's Steve Kornacki has gone viral for displaying exceptional math wizardry live on-air and going for hours without sleep to keep election coverage going on his own magic wall.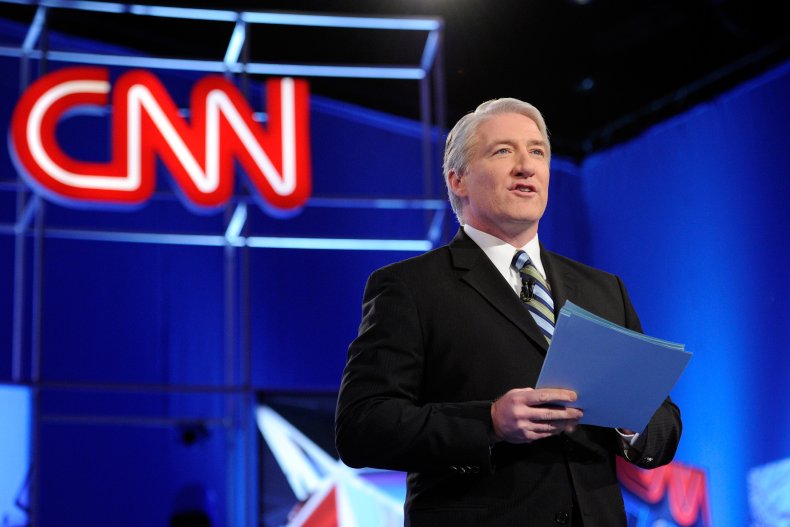 Over on TikTok, both King and Kornacki have both developed new fanbases with the hashtag #johnking garnering fout million views and #stevekornacki getting 561,700 views at the time of publishing.
Currently, Biden has taken the lead in Georgia, narrowly edging ahead of Trump by over 1,000 votes in the early hours of November 6.