CNN Reporter Confronts Taliban Commander: 'How Will You Protect Women?'
CNN Chief International Correspondent Clarissa Ward challenged a Taliban commander over the insurgent group's treatment of women on Monday.
"How will you protect women?" Ward asked.
"The female, the woman can continue their life and we will not say anything for them. They can go to the school. They can continue their education with Islamic hijab," he responded.
Ward, while wearing a hijab, asked, "Like I'm wearing?"
He then clarified that women would be required to wear a niqab, which is a veil worn that covers a woman's entire face except for their eyes. Ward pressed the Taliban commander, asking why women will be required to cover their faces. He said it is required by Islam.
"Because it is in Islam," he said.
Ward pushed back, "Is it in Islam, though, that you have to wear a niqab?" to which he responded, "of course."
During the broadcast, Ward pointed out a beauty salon that used to feature images of women not wearing the niqab had already been painted over.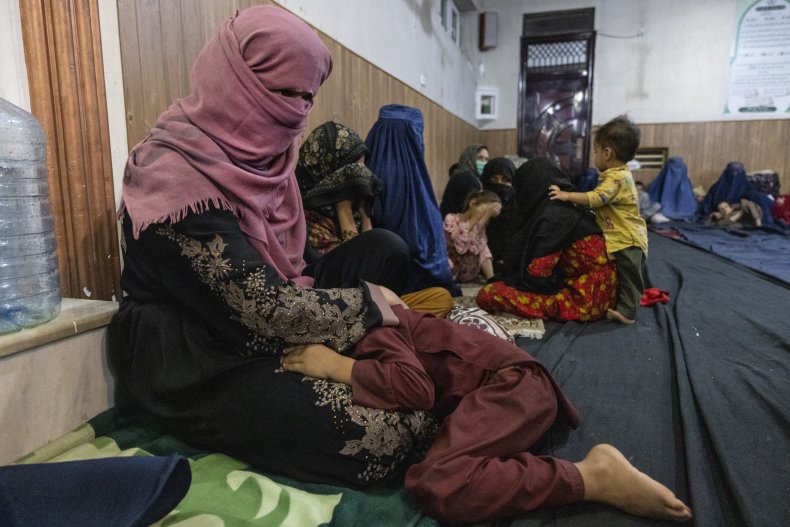 Earlier Monday, Ward was asked by the Taliban to stand to the side because she is a woman. She reported that she has seen fewer women outside, but those who were dressed more conservatively. She also reported that female Afghan journalists are "petrified."
Despite claims by the Taliban that Afghanistan would not return to the brutal rule the group implemented when they previously led the nation, many women are fearing the rights they have won—including getting an education and working—may be all but completely eliminated as the insurgent group has seized control in the nation.
The fundamentalist group ruled the country for five years until the U.S.-led invasion in 2001. They banned girls from getting an education and women from working. Women were not allowed to travel outside the home without men, and public executions were carried out for women accused of adultery, according to the AP.
Zarifa Ghafari, who made history in 2018 by becoming the first female mayor in Afghanistan, said on Sunday she fears the Taliban is going to kill her, Newsweek reported.
"I'm sitting here waiting for them to come. There is no one to help me or my family. I'm just sitting with them and my husband. And they will come for people like me and kill me. I can't leave my family. And anyway, where would I go?" Ghafari told i News on Sunday.
In 2020, when the Trump administration honored her with the International Women of Courage award, she warned that Afghan women are always worried for the future because they "have not forgotten the reign of the Taliban."