CNN Reporter Resumes Covering George Floyd Protest After Arrest, Says Officer Was Just Following Orders
On Friday morning, CNN reporter Omar Jimenez resumed covering the George Floyd protests in Minneapolis after being arrested, stating that the officers that made the arrest told him they were just doing their job.
"I was actually talking to the officer that was leading me away, I was like 'Hey man, we're gonna be out here for the next few days. What is the guidance of where we should be?' " Jimenez said after being released by police. "And he said, 'Look, I don't know, man. I'm just following orders.'"
The arrests were made by Minnesota State Patrol at around 6 a.m. ET during a live report of CNN's morning program, New Day. Jimenez and his crew were covering the protests against police brutality following the death of Floyd, a black man that died after being held down by a Minneapolis police officer's knee.
"You're under arrest," one officer said in the middle of Jimenez's report, to which he replied by saying, "OK, do you mind telling me why I'm under arrest? Why am I under arrest, sir?"
"You're arresting him live on CNN. We told you before we're with CNN," one member of the CNN crew could be heard saying off-camera while filming.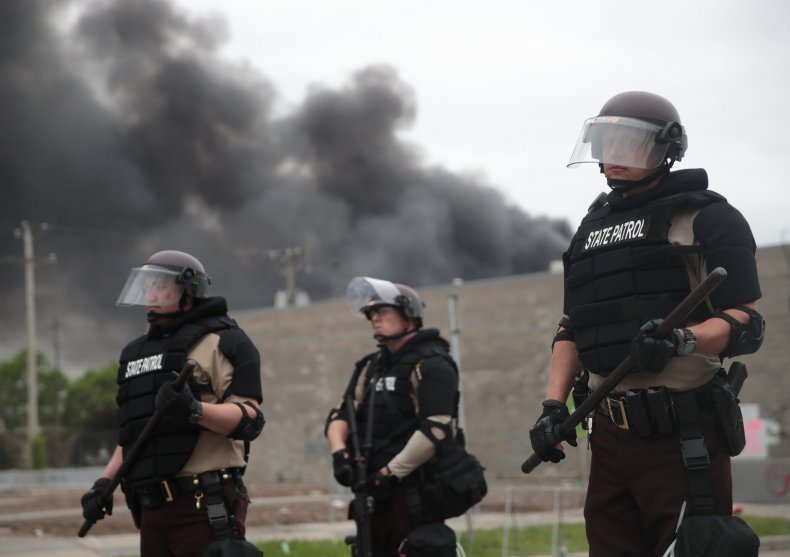 Following Jimenez's arrest, CNN's public relations team released a statement on their Twitter account, saying that authorities in Minnesota, including Governor Tim Walz, "must release the 3 CNN employees immediately.
"A CNN reporter & his production team were arrested this morning in Minneapolis for doing their jobs, despite identifying themselves - a clear violation of their First Amendment rights," CNN added in their statement posted to Twitter.
Jimenez and members of his crew were released about an hour later, and afterward, Jimenez pointed out that "as far as the people leading me away, there was no animosity there, they weren't violent with me."
On Friday morning, the Minnesota State Patrol took to Twitter to explain the situation and wrote, "In the course of clearing the streets and restoring order at Lake Street and Snelling Avenue, four people were arrested by State Patrol troopers, including three members of a CNN crew. The three were released once they were confirmed to be members of the media."
The arrest sparked outrage across social media, with many pointing out the fact that the CNN team had identified themselves as journalists and were conducting a live report of the protests while the incident occurred.
"We condemn the arrest and detention of a crew of @CNN journalists who were simply doing their jobs in a tough situation on the ground in Minneapolis," MSNBC's public relations team wrote on their Twitter. "This is a time when the work of journalists continues to be necessary to inform and educate the public."
The state's governor issued an apology for the "totally unacceptable" arrest shortly after. According to CNN, Walz said he accepted full responsibility for the incident.
Newsweek reached out to the Minnesota Department of Public safety for further comment on the incident but did not receive a response in time for publication.