CNN's Jake Tapper Is Alt-Right Lackey, Liberal Activist Linda Sarsour Says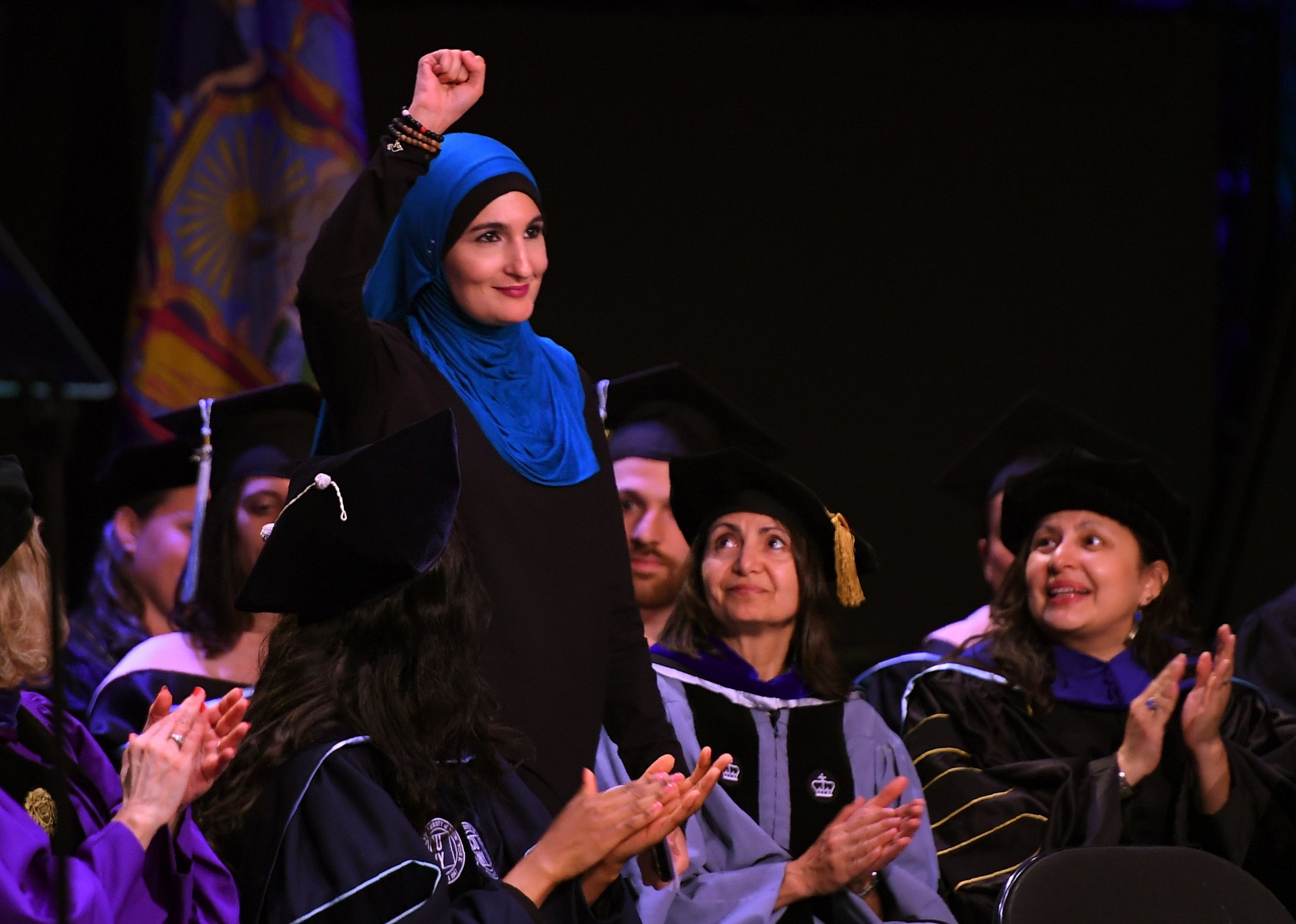 CNN's Jake Tapper is used to taking heat. President Obama mocked him at the 2016 White House Correspondents' Dinner ("Tapper left journalism to join CNN"), while one of the emails from Hillary Clinton's campaign, published by WikiLeaks, had her campaign chairman, John Podesta, calling him a "dick."
But the criticism leveled on Tuesday against Tapper by liberal activist and Women's March co-founder Linda Sarsour has struck many as malicious, misguided and unjustified, though others defended her ferocity. More broadly, the spat has revived arguments on the political left about how much to emphasize identity politics and the kind of social-justice discourse that was central to the Black Lives Matter movement. While some believe that a measure of militant rhetoric is necessary, others worry that it will turn away centrists who are necessary to Democrats' electoral chances in 2018 and beyond.
The origin of the Tapper-Sarsour brouhaha was a tweet from the Women's March account celebrating the birthday of Assata Shakur, a black militant who killed a New Jersey state trooper in a 1973 shootout. She was eventually caught and imprisoned but escaped in 1984 to Cuba, where she still lives today. A return to the United States is unlikely, since she is on the FBI's "most wanted terrorists" list.
What, exactly, Shakur has to do with the resistance to the presidency of Donald J. Trump is difficult to say. On its Twitter account, the Women's March posted a multipart justification of its celebratory tweet:
Tapper, though, was having none of it. On his show, The Lead, he frequently evinces visceral annoyance at shoddy thinking, hypocrisy and grandstanding. He is not a huge fan of blowhards, either. Victims of his criticism have included close Trump adviser Kellyanne Conway, whose evisceration by Tapper went viral.
This time, it was Sarsour and her fellow liberals, whom he chided in a tweet:
Sarsour chose to respond by branding Tapper a member of the alt-right, a loosely defined movement that includes nativists, nationalists, anti-Semites, Islamophobes and anti-establishment meme warriors. Under no definition of the term, however, would Tapper, who is Jewish and a long-standing member of the Beltway media-political nexus, belong in that category.
He answered, in turn, by pointing to Sarsour's own history of inflammatory statements, which have often come in defense of her Muslim faith but which sometimes lack a measure of discretion.
The exchange continued, with Tapper pointing to a tweet, since deleted, in which Sarsour appeared to advocate for the genital mutilation of Ayaan Hirsi Ali, a former Muslim who has become a vociferous critic of that faith, one embraced by many conservatives.
In an email on Wednesday morning, Sarsour explained her position—and maintained it. "I never said he was a member of the alt-right," she told me. "I said in a midst of a smear campaign against me from the alt-right he joined in. His tweet mentioning me to his million followers was random and unnecessary."
It is true that Sarsour has routinely been harassed by members of the far right, who seem to dislike her proud shows of Islamic faith nearly as much as her shows of political liberalism. This time, though, her critics came from all sides:
An especially withering and incisive assessment came from Emily Shire of The Daily Beast, who compared Sarsour to Trump in her baseless denunciation of unfavorable media coverage.
The concern Tapper raised — about progressives standing with violent radicals — speaks to a much larger problem regarding the intersectionalist approach to social justice movements. On the one hand the intersectional feminist movement has been making strange bedfellows; on the other, it has been increasingly hostile to those who question those additions.

When Sarsour was asked in an interview in The Nation about whether Zionist feminists were welcomed in the modern, intersectional feminist movement in March, she said they were not. "I would say that anyone who wants to call themselves an activist cannot be selective," she replied.

That means no support of any kind for Israel. No criticism when the Women's March formally champions a convicted murderer like Shakur.
Sarsour's "attempt to slander" Tapper, as Shire calls it, is only her latest attempt to silence critics. This winter, she loudly denounced a Dartmouth student who confronted her at a talk there, wondering why a "young white man" was challenging her at "an event organized by an Asian American." He'd wanted her to account for the infamous female genital mutilation tweet, which she dismissed as "stupid shit."
Last week, The Forwardreported that Sarsour's project meant to restore Jewish cemeteries vandalized in a rash of attacks following Trump's election, had not distributed funds as expediently as some had hoped.
Sarsour responded with a Facebook post. "I am exhausted," the post said in part. "I am tired of the lies, lies and more lies."
This article has been updated to more accurately describe Sarsour's efforts to restore vandalized Jewish cemeteries.