Trump Backs Manager, Disses NATO, and the Best Moments from CNN's GOP Town Hall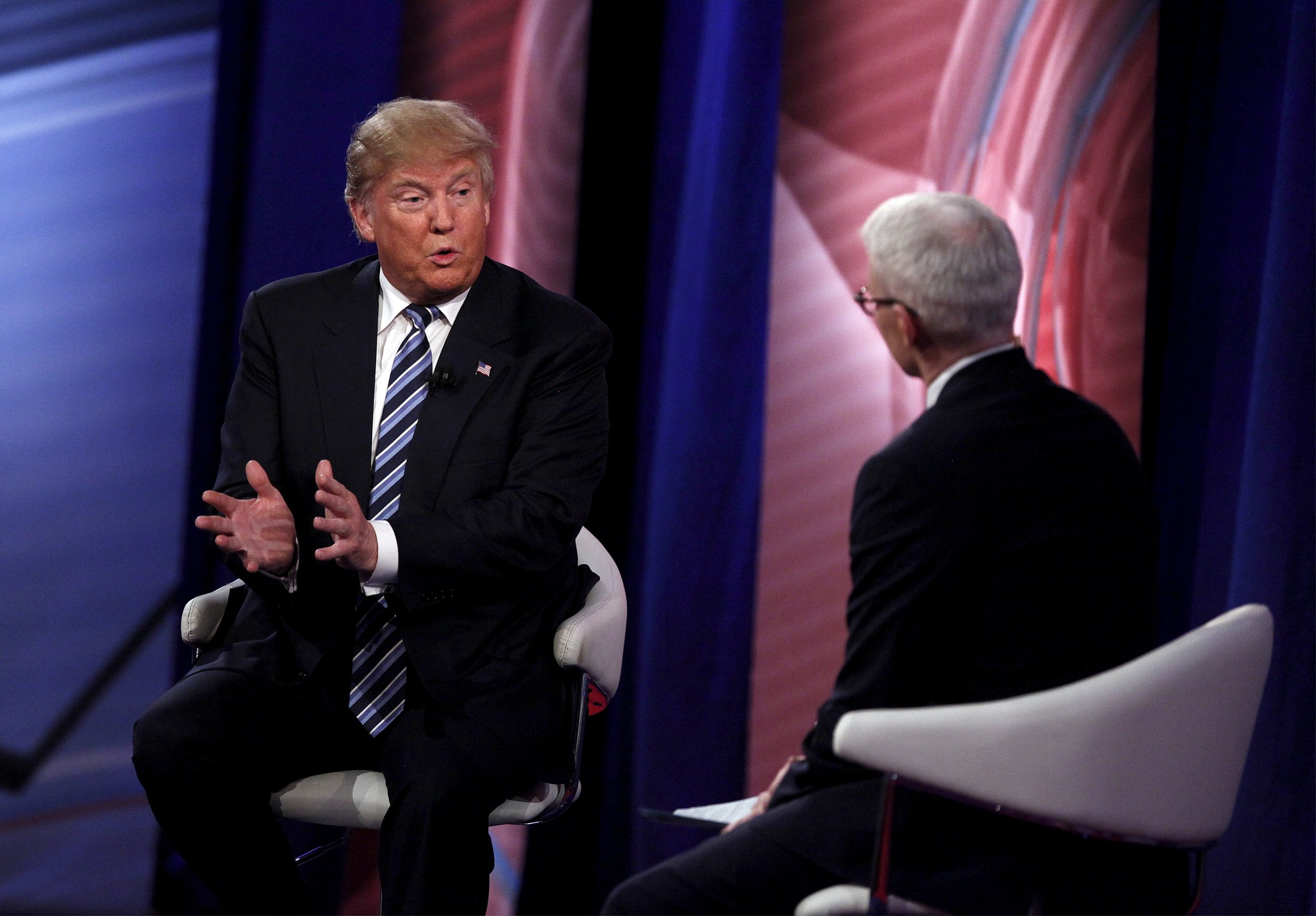 11:00 p.m. ET That's a wrap. Anderson Cooper asks Kasich if they can do this again. Given the ratings, it's a safe bet CNN will always be ready for one of these as are the other networks. And since Trump says he likes the Town Hall format, bet on more of these. See you tomorrow night for MSNBC's version of this.
10:46 p.m. ET: Kaisch plays the heaven card. There's another life after this one, the Ohio governor insists in response to a question about his pro-life credentials. —Taylor Wofford
10:37 p.m. ET: Kasich doesn't vow to support the GOP presidential nominee. Says he wants to let the campaign play out. Rebuffs opportunity to say Trump is dividing the country. —Matt Cooper
10:09 p.m. ET: Kasich is hyping the only reason Republicans would want to vote for him: he's polling well against Hillary Clinton. Cruz and Trump both lose to Hillary Clinton in most head-to-heads. In fact, recent polls show that Kasich and Sanders are the only politicians in both parties that American voters actually like. —Taylor Wofford
10:06 p.m. ET: John Kasich says he'd fire a campaign manager if he was accused of battery, as Trump's campaign manager has been. "Of course I would," Kasich says. —Taylor Wofford
9:50 p.m. ET "I have been treated very unfairly," Trump said, seeming to break his pledge to support the GOP nominee. The mogul said the RNC had been unfair to him. But he said "I love the Republican party" and wasn't entirely clear if he would back Ted Cruz as the nominee. "I watched him tonight with you. I don't want his support," Trump said but then added "If he wants to support me, that would be wonderful." —Matt Cooper
9:45 p.m. ET Well, look for some follow up tomorrow on Trump's comments that NATO is outdated. The mainstay of European security since World War II is unprepared, Trump said, to deal with the current threat of terrorism and that the organization is structured so that the U.S. carries too much of the burden. "NATO has to be changed or we have to do something," he said. "It's unfair to our taxpayers and our people." —Matt Cooper
9:10 p.m. ET Trump is standing by Lewandowski. Says the tape clears him and it's his tape. Trump takes out the statement of Michelle Fields, the reporter who filed charges against Lewandowski. "It would so be easy for me to terminate this man, ruin his life," Trump said, saying he's a loyal person. "I stick up for people." He also said Fields was grabbing him and joked: "My arm's never been the same, folks." —Matt Cooper
8:55 p.m. ET Victoria, a likely Cruz voter from Brookfield, asks Cruz what he has done and what he will do to convince women to vote for him. Cruz launches into a history of the strong females in his life, chiefly his mother, a working-class Irish-Italian from Delaware who was the first person in her family to go to college and told Ted she didn't want to learn to type so that no man could ever ask her to type something up for him (this particular anecdote draws applause from the crowd). Cruz also gives props to his wife Heidi. "When you're married to a strong woman professional, you see the nonsense that women deal with in the business environment," Cruz says. "You see the garage they put up with and it makes you mad." Cruz eventually gets around to policy, sort of—"I believe every issue is a women's issue"—but ultimately comes across as borderline gracious. Then again, the bar set by Donald Trump on the female front is basically underground. —Kira Bindrim
8:50 p.m. ET Cruz gets the can-you-support-a-dude-who-attacks-your-wife question. The Texan ducks and says Trump won't be the nominee. "I think nominating Donald Trump would be an absolute train wreck....I don't want to see the White House handed over to Hillary Clinton....The answer to that is to beat him at the ballot box," Cruz said.
An earnest UW student with a GOP lapel pin asks a balancing-security-and-safety question, a good one for Cruz who'd been a critic of the NSA surveillance program. His answer leans a little more security here, turning it into a question of the competency of the Obama administration. —Matthew Cooper
8:35 p.m. ET A Wisconsin dairy farmer asks Cruz what he would do to maintain the Wisconsin dairy industry's labor force, which is composed largely of immigrant labor. Cruz mostly dodges the question, instead saying how he would tighten border security. He also brings up the example of an Arizona pepper farmer who hired American workers at a higher wage to do the same jobs immigrant laborers had been doing after Arizona passed strict immigration laws. Somehow, I don't think this Wisconsin dairy farmer is very comforted by Ted Cruz's answer. —Taylor Wofford
8:25 p.m. ET A questioner asks Cruz what he thinks his greatest weakness is. Cruz jokes that, like in a job interview, this question is complicated. But Cruz doesn't take the bait, instead telling the questioner that his greatest weakness is that he's too driven. "I'm hard-charging. That means I've stepped on some toes," Cruz says. —Taylor Wofford
8:10 p.m. ET Well, Anderson Cooper kicked off the evening by asking if Cruz would dismiss his campaign manager if they'd been arrested for battery. Cruz said he would. Obviously this was a reference to Trump's manager, Corey Lewandowski, having been arrested today. From there it was a can-you-win polling question and now one about Obama's reaction in the wake of the Brussels attack. Cruz was asked about his call for monitoring Muslim neighborhoods. Cruz makes a distinction between Islamists and Muslims, the former, he said, are radicals. Cooper asked whether the New York City monitoring program that has been discontinued was a success. Cruz insisted it was despite New York's police commissioner saying it wasn't. Nothing shocking so far. —Matthew Cooper
8:05 p.m. ET It's town hall time again. CNN is sponsoring tonight's presidential town hall from Milwaukee,. Ted Cruz, Donald Trump and John Kasich will be interviewed separately in front of a studio audience, Wisconsin voters who will pose questions to the candidates. Join me and Newsweek's Taylor Wofford as we follow the evening's fireworks. —Matthew Cooper