CNN fired back at President Donald Trump Wednesday after he again accused the network of running "fake news" stories about him and his administration, and his insult against reporter Jim Acosta as a "rude" and "terrible person."
The cable news network labeled the president and his attacks against the media as "disturbingly un-American" in a statement released shortly after his nearly 90-minute news conference a day after the midterm elections. CNN also defended Acosta and other reporters from Trump.
"This President's ongoing attacks on the press have gone too far," the statement read. "They are not only dangerous, they are disturbingly un-American. While President Trump has made it clear he does not respect a free press, he has a sworn obligation to protect it. A free press is vital to democracy, and we stand behind Jim Acosta and his fellow journalists everywhere."
The president initially used the press conference to proclaim a "tremendous success" in Tuesday's midterms after Republicans improved their majority in the Senate by two seats and also claimed victory in governor's races in Florida and Georgia.
But after Trump turned to questions from reporters, the conference quickly devolved into chaos. Trump called on Acosta, who pressed him on labeling the migrant caravan moving north through Mexico from Central America as an "invasion."
Trump said they had a difference on opinion and tried to move on to another reporter, but Acosta refused to turn the microphone over to a White House aide and followed up with a question about the special counsel's investigation of Russia's meddling in the 2016 election.
Acosta asked if the president was "concerned" about the probe, and Trump answered he was not because he had done nothing wrong.
Acosta persisted and still refused Trump's attempts to take other questions before the president unleashed some strong vitriol on the CNN correspondent.
"I think you should let me run the country and let you run CNN," Trump said. "CNN should be ashamed for himself having you work for them. You are a rude, terrible person."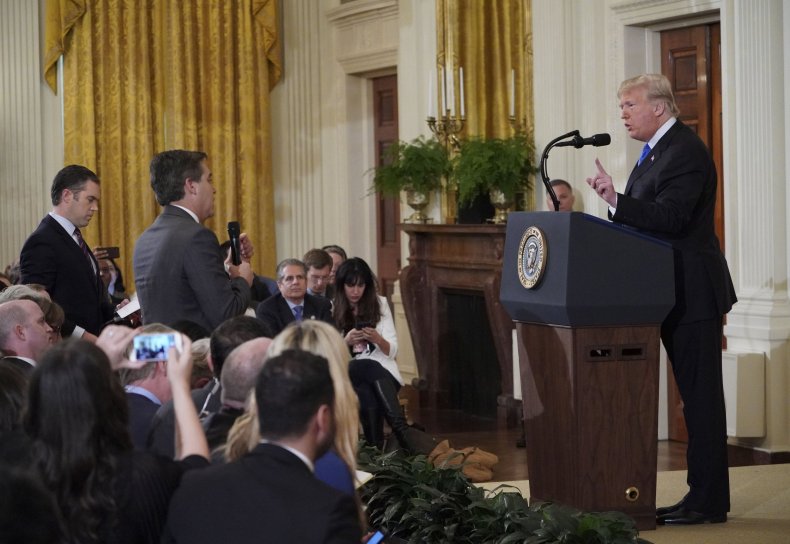 CNN had long feuded with Trump, during his 2016 campaign, the transition to the White House and his almost two years as president. The president routinely chastised CNN as "fake news" as he ran for the country's highest office, and later lashed out at Acosta after the network published a report about the intelligence community briefing the president-elect with respect to the Trump-Russia dossier, which alleged possible collusion between his campaign and Russia to win the 2016 election.