CNN's Jim Acosta Says He Took More Questions From Hecklers Than Donald Trump Takes From Press
CNN Reporter Jim Acosta has commented that he answered more questions from heckling Trump supporters at a MAGA rally in Florida than President Donald Trump has taken from the press recently.
Acosta's comments came as he was interrupted by Trump supporters chanting "CNN sucks" during his live segment from the Tampa rally on Tuesday.
Speaking to Anderson Cooper live from the rally, the pair discussed the slowdown in White House press briefings in recent weeks and the apparent reluctance of Trump and White House Press Secretary Sarah Huckabee Sanders to take questions from the press.
Cooper observed that the president has refused to answer reporters' questions 16 times in just six days, asking Acosta whether there was any reason for doing so other than Trump wanting to avoid answering certain awkward questions.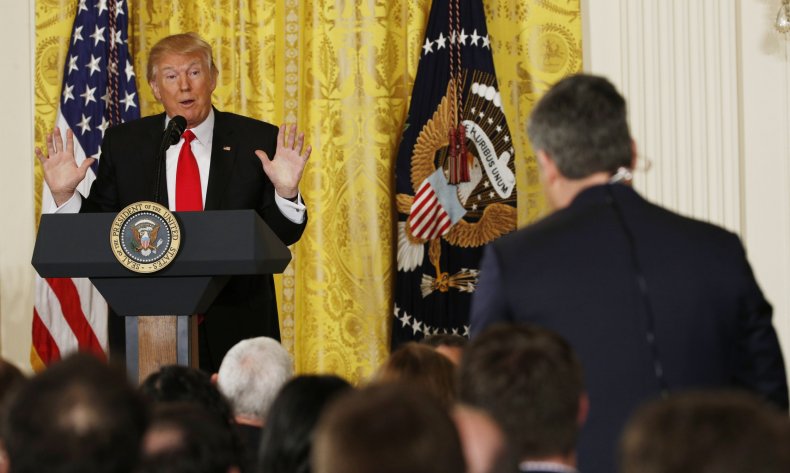 "You're going to hear some folks here letting their feelings be known at this rally here in Tampa, about how they feel about CNN, but Anderson I think the honest answer to your question is that this White House is obviously hiding from the press," Acosta said. "They're hiding the President from the press. They are hiding the press secretary from the press."
Acosta himself has been shut down by the president on previous occasions, with Trump refusing to take a question from the CNN reporter during a joint press conference with British Prime Minister Theresa May.
"No. CNN is fake news," Trump said in response to Acosta's attempt to ask a question at the press conference. "I don't take questions from CNN. CNN is fake news. I don't take questions from CNN."
Acosta lamented the lack of on-camera press briefings of late, suggesting the explanation was simply that the president and his press team wanted to steer the conversation and control what was being asked.
"I think, Anderson, the only conclusion you can draw at this point is they just don't like the questions right now," Acosta said.
"And it's amazing, Anderson. You're hearing some of the insults being hurled at us right now. I've been talking to some of these folks this evening, even though they're being pretty negative towards us right now. I answered a bunch of questions from some of these Trump supporters here about all sorts of things, a lot more questions than the President has taken from us in recent days, Anderson."