CNN's Brian Stelter Accuses 'Right-wing Smear Machine' of Spreading Lies About Kavanaugh Accuser
CNN host Brian Stelter hit out at right-wing media outlets on Sunday for "spreading lies" about Christine Blasey Ford, the Palo Alto University professor who accused Supreme Court nominee Brett Kavanaugh of having sexually assaulted her in the 1980s.
Naming and shaming Fox News hosts Laura Ingraham and Mark Levin, as well as The Drudge Report, for being among the "bright lights of the right" who helped spread misinformation about Ford, Stelter implored viewers to "try to put yourself in Christine Blasey Ford's shoes for a minute."
"You lived with this trauma for years. You kept it a secret," Stelter said of Ford's allegation that Kavanaugh sexually assaulted her at a house party in 1982, when both were still in high school.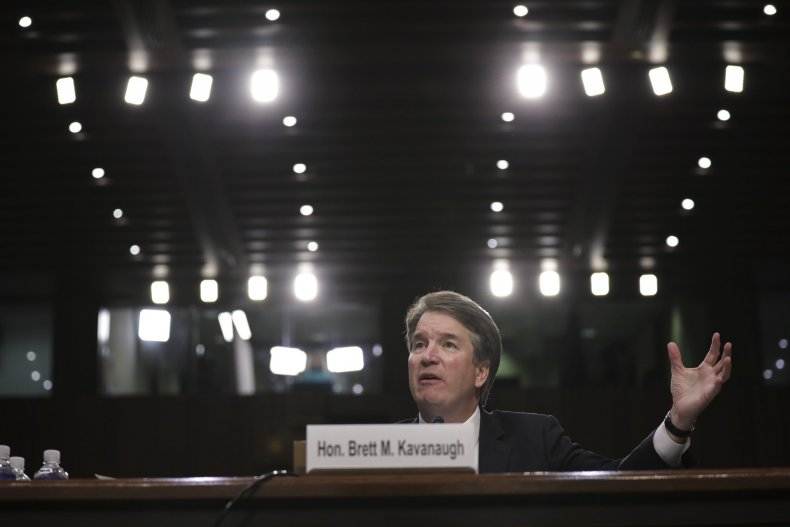 "You felt like your civic responsibility to speak out outweighed your anguish and terror about retaliation," Stelter said. "Now, if you're Ford you're living in a hotel, you're staring down death threats, you're thinking about testifying."
"The president of the United States is tweeting about you, casting doubt on your story," he continued. "And everybody on TV is talking about you. Of course, none of them actually know you, but they all sound like they do. They all sound so confident, like they want to know the truth, like they do know the truth. But only you know your truth.
"But," Stelter said, "it's even worse on the internet. Social media is full of lies about you."
"All of a sudden, all these smears, all these hoaxes from people who are pretending like they know you."
Stelter shared several "examples of this misinformation," including how on Monday, "the right-wing smear machine dug up mean reviews from RateMyProfessor.com."
"The only problem was that the reviews were of a different professor Ford, Stelter said. "Seriously. I'm not making that up."
Indeed, the reviews, which were largely negative, were pointed at by several right-wing media platforms as demonstrations of Ford's character, despite being about an entirely different Professor Christine Ford, who reportedly teaches at Stanford University.
While the accusation initially appeared on little-known news websites such as Grabien, they were also shared by several right-wing outlets and personalities, including Ingraham, who tweeted a link to the story, and the Drudge Report, which featured it on its home page.
"All week long, actual news outlets have had to chase down and debunk lies about Ford," Stelter lamented.
"Some of these hoaxes were about straight up trying to discredit her as a Democratic activist determined to take down Kavanaugh," he said.
But some of it "was more subtle, was just about sowing doubt, creating uncertainty," Stelter said.
Read more: Read Christine Blasey Ford's full unredacted letter accusing Brett Kavanaugh of sexual assault
Specifically, he pointed to claims from Fox host Tucker Carlson, who questioned Ford's claims on-air, asserting that "human memory is unreliable."
He also raised Ethics and Public Policy Center chief Ed Whelan's baseless "conspiracy theory" that Ford may well have been assaulted in 1982, but likely confused Kavanaugh for another then-teenager who bore a similar appearance to the judge.
"He's the head of an ethics center!" Stelter exclaimed, pointing out that even after Whelan was forced to apologize over his unfounded allegations, his claims still appeared on Fox and Friends the next morning, giving his allegations "validity."
"A week of smears, a week of lies, put yourself in her shoes," Stelter said, once again referring to Ford.
"What would you be feeling right now?" he asked.
Noting that it would be an "intense week ahead," with both Ford and Kavanaugh expected to testify before the Senate Judiciary Committee on Thursday, Stelter said, "Whether she does testify or not...I think we should try to keep in mind what she might be feeling, and what Kavanaugh might be feeling, as everybody else talks about them, all around them."