CNN's Brian Stelter Compares Tucker Carlson to Alex Jones: 'Conspiracy-Monger'
CNN host Brian Stelter on Sunday questioned whether Tucker Carlson had become the "new Alex Jones"—after the Fox News host accused the Biden administration and National Security Agency (NSA) of spying on his TV show in an effort to get him removed from the network.
On Monday, Carlson claimed he was being targeted by the NSA as part of a politically motivated effort to get his program, Tucker Carlson Tonight, off the air. He cited an anonymous whistleblower and their disclosure to his team about a related story.
That information "could have only come directly from my texts and emails. There's no other possible source for that information, period," Carlson said. "The Biden administration is spying on us. We have confirmed that."
The NSA quickly denied the allegation, saying it only targets "foreign" individuals, but Carlson continued to claim throughout the week that the agency monitored his electronic communications and is planning to leak them.
"Carlson is a conspiracy-monger, but he's far from the first," Stelter said on CNN's Reliable Sources. "Carlson is sounding more and more like InfoWars host and notorious conspiracy theorist, Alex Jones. You can hear the similarities."
Stelter aired clips of the two right-wing personalities espousing controversial theories—from questioning the safety of the coronavirus vaccine to alleging that FBI operatives organized the Capitol riot on January 6.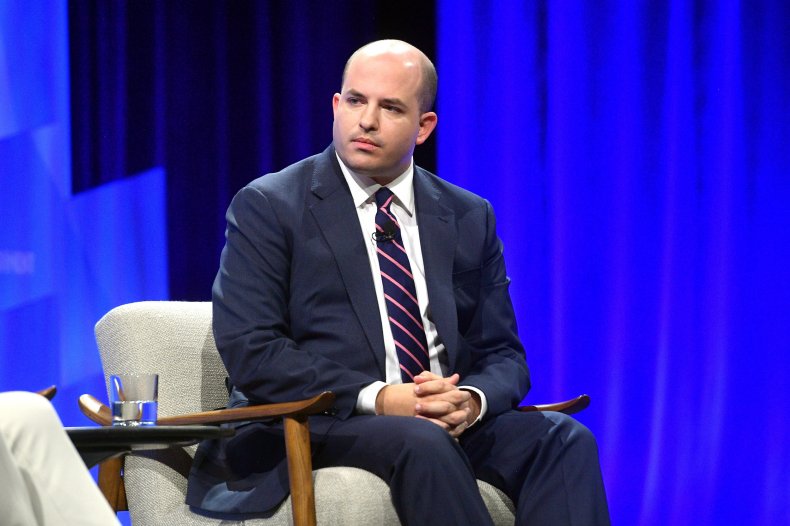 "I think the sound speaks for itself, is it a stretch to say that Tucker Carlson is the new Alex Jones?" Stelter asked.
CNN senior media reporter Oliver Darcy affirmed his suggestion: "It's not a stretch Brian, Tucker Carlson is the new Alex Jones. If you watch Tucker Carlson's program and you watch Alex Jones' program, they might differ a little bit in antics and the way they deliver their message, but that message to viewers is consistent and it's pretty identical."
Darcy noted that Carlson's pivot to mirroring Jones was significant because "these far-right conspiracy theories used to be confined to the InfoWars section of the internet."
"I remember when the Republican Party and Fox News mocked Alex Jones and said that guy is crazy," he added. "But now, Fox's face is effectively Alex Jones. The de facto leader of the Republican Party is touting the same stuff that Jones touts on his show."
In recent months, the Republican Party has devolved into an intra-party battle between the Trump wing and an establishment wing eager to end his grip on the party. Several congressional members have backed former President Donald Trump's baseless claim that voter fraud caused his election defeat, and a few have even indicated support for the QAnon conspiracy theory.
On Wednesday, House Minority Leader Kevin McCarthy called for a probe into the NSA following Carlson's allegation of spying.
Newsweek reached out to Fox News representatives for comment. This story will be updated with any response.