CNN's Stelter Labels Trump the 'InfoWars President,' Condemns Him For Retweeting Far-Right Figures Banned by Facebook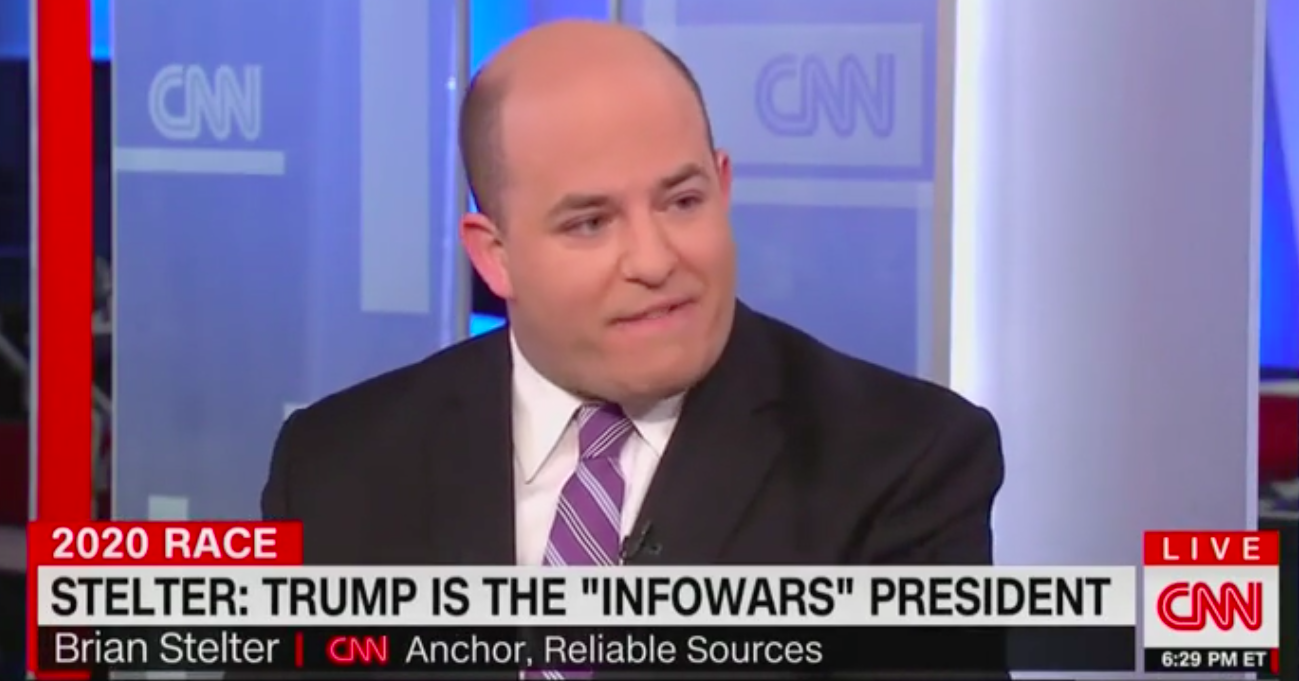 CNN host Brian Stelter on Sunday labeled Donald Trump the "InfoWars president" and condemned him for retweeting far-right internet figures over the weekend, some of whom were permanently banned by Facebook on Thursday for posting content that promotes violence and hate.
Following a segment on Biden and other 2020 democratic candidates, CNN anchor Ana Cabrera launched the discussion of Trump's move to retweet far-right internet personalities. "The man they're all competing to replace is President Trump… Brian you're calling this the 'InfoWars' presidency," she said. "Give us some idea about what the president has been up to."
"Because of what we've seen on Twitter this weekend, all weekend long, [the president] retweeting far-right internet personalities. In some cases, figures who have been banned by Facebook in the past few days," Stelter, who hosts the CNN show Reliable Sources, said. "Facebook came out and announced it's banning six individuals and one website, InfoWars, because it says these are dangerous individuals that are abusing their Facebook accounts and breaking the rules."
"The president is campaigning against the Facebook ban, supporting these individuals, and retweeting figures who are known through InfoWars," the political commentator added, explaining that InfoWars is "that Alex Jones website, full of conspiracy theories and lies."
InfoWars "is something so far beyond what you'd even see on Fox News," Stelter added, "and yet the president is embracing that audience rather than rejecting it. I think because, once again, he's tapping into that sense of grievance or resentment in politics that he always taps into."
Stelter went on to note that Trump over the weekend also talked about "how [special counsel Robert] Mueller should not able to testify," a move which "taps into the sense that he is the victim of a hoax, of a campaign against him."
Trump is also now saying that "two years of his presidency was stolen from him," the host concluded. "That's really strong language. Any candidate on the Democratic trail would be harshly criticized for talking the way the current president talks."
"He's so angry and yet he could be celebrating. The president got some incredible economic numbers this week," Cabrera added.
Facebook Inc. on Thursday permanently banned several controversial internet figures from its Facebook and Instagram social media platforms for breaching their policies against dangerous individuals and organizations, including far-right conspiracy theorist Alex Jones and Laura Loomer, religious leader Louis Farrakhan, UK conspiracy theorist Paul Joseph Watson, far-right influencer Milo Yiannopoulos and white nationalist Paul Nehlen.
"We've always banned individuals or organizations that promote or engage in violence and hate, regardless of ideology," a Facebook spokesperson said in a statement to CNN Business. "The process for evaluating potential violators is extensive and it is what led us to our decision to remove these accounts today."
Following Facebook's announcement, Trump appeared to criticize the social media platform's move. "I am continuing to monitor the censorship of AMERICAN CITIZENS on social media platforms," the president tweeted on Friday. "This is the United States of America — and we have what's known as FREEDOM OF SPEECH! We are monitoring and watching, closely!!"
A day later, Trump retweeted a post by Watson, one of the figures banned by Facebook, urging his supporters to "keep up the pressure" on the social media company. Later, the president retweeted another post where the 36-year-old British radio host and YouTube personality wondered why his words were deemed "dangerous" by Facebook moderators.