CNN's Don Lemon Sued for Allegedly Assaulting Man at Hamptons Bar: He Was 'Vigorously Rubbing His Genitalia'
A bartender has accused CNN host Don Lemon of assaulting him at a bar in New York last July, according to a new lawsuit.
The lawsuit, filed in Suffolk County, New York on Sunday, claims that Lemon assaulted Dustin Hice at a bar in Sag Harbor in July 2018. Hag said he recognized Lemon at the location and offered to buy the television host a drink, according to the lawsuit. Although Lemon declined the offer, the host later approached Hice and allegedly assaulted him.
Lemon placed his hands down his pants and "vigorously [rubbed] "his genitalia," the lawsuit alleges. The host then shoved his fingers under Hice's nose before then proceeding to ask the plaintiff sexually aggressive questions, such as, "Do you like p*ssy or d*ck?"
"Mr. Lemon, who was wearing a pair of shorts, sandals, and a t-shirt, put his hand down the front of his own shorts, and vigorously rubbed his genitalia, removed his hand and shoved his index and middle fingers into [Hice's] moustache under [Hice's] nose," the lawsuit said.
Newsweek subscription offers >
Hice, who at the time worked as a bartender at another Hamptons bar, was reportedly a patron at the bar during the alleged incident. The plaintiff said he was "shocked and humiliated" when he left the location that evening.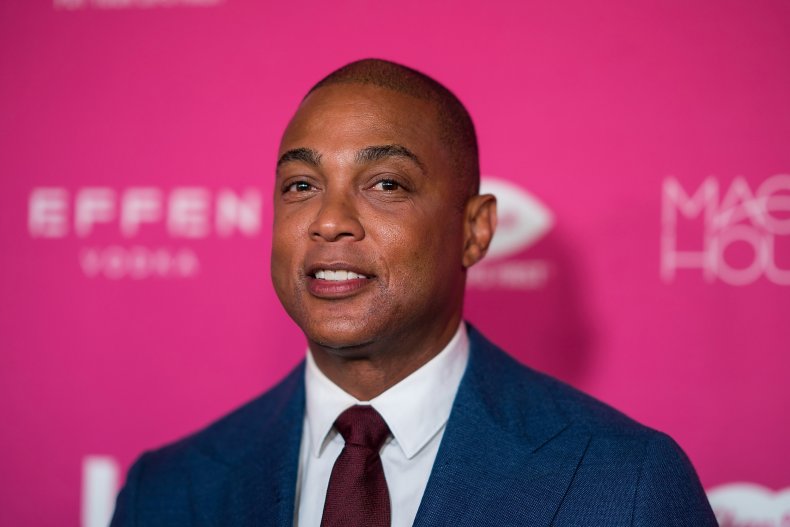 In a statement to Mediaite, a CNN spokesperson said Lemon "categorically denies" the allegations and claimed Hice filed the suit because he dislikes CNN. "The plaintiff in this lawsuit has previously displayed a pattern of contempt for CNN on his social media accounts," the spokesperson added. "This claim follows his unsuccessful threats and demands for an exorbitant amount of money from Don Lemon."
Hice's lawyer rejected CNN's dismissal of the lawsuit and defended his client's social media activity. "The assertion that Mr. Hice would put himself through the painful process of filing a sexual assault lawsuit against his attacker all because he doesn't like a cable TV station is ludicrous," Hice's attorney said in a statement. "Rather, he took down his social media accounts on the day he filed the lawsuit against Don Lemon because he's a private citizen and wants to protect himself from CNN's heavy-handed tactics."
Newsweek subscription offers >
According to Mediaite, an Instagram account suspected of belonging to Hice posted a photo of the plaintiff in January 2017 in front of a CNN building in Atlanta. The post was captioned: "Touring the #CNN center today...or as #Trump would say 'the home of Fake News' lol."
CNN's Don Lemon Sued for Allegedly Assaulting Man at Hamptons Bar: He Was 'Vigorously Rubbing His Genitalia' | News