CNN's Don Lemon Takes Down Melania Trump's 'Be Best' Campaign: 'It's Completely Irrelevant'
CNN anchor Don Lemon has dismissed First Lady Melania Trump's "Be Best" anti-bullying campaign, suggesting that in the context of her own husband's behavior the initiative is totally irrelevant.
Speaking to a panel of analysts, Lemon suggested the first lady's comments at a speech in Washington on Thursday were disingenuous and irrelevant given President Donald Trump's repeated use of social media to harass and malign his opponents.
Melania's "Be Best" campaign is her flagship initiative. Launched in May, it is designed to "help our children manage the many issues they are facing today, including encouraging positive social, emotional, and physical habits," according to the White House webpage detailing the project.
The first lady spoke Thursday at the Family Online Safety Institute conference. During her speech, Melania said, "It is not news or surprising to me that critics and the media have chosen to ridicule me for speaking out on this issue, and that's OK."
"I remain committed to tackling this topic because it will provide a better world for our children," she added, "and I hope that like I do, you will consider using their negative words as motivation to do all you can to bring awareness and understanding about responsible online behavior."
But the first lady's words did not go down well with Lemon. On Thursday morning, the president had attacked Special Counsel Robert Mueller and the Democratic Party in a five-tweet rant. Trump accused the mainstream media of being "very dishonest," and suggested—with no evidence—there had been collusion between Russia and the Democrats.
Discussing Melania's comments, Lemon said. "Considering especially the tweets this morning from her husband, why is this relevant right now?" In a reference to the controversial jacket Melania wore in response to criticism of the Trump administration's separation of migrant families and use of child detention centers, he added, "I don't really care, do you?"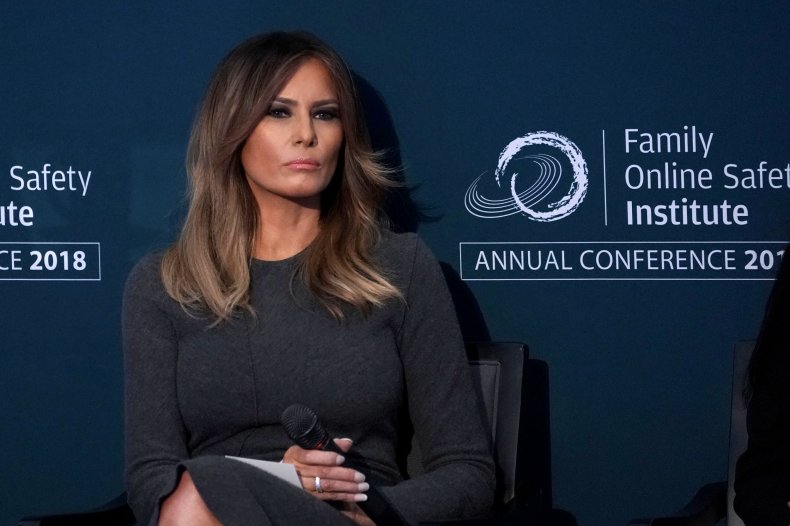 Commentator Frank Bruni replied, "It's completely irrelevant right now, and Melania Trump just continues to be a deeper and deeper and greater mystery."
"Something is going on in this White House between the first lady and the president, and all of this, I think, is some sort of drama that we can't begin to understand," Bruni added.
The first lady's anti-bullying campaign has been undermined by her husband's prolific abuse of opponents and critics. During his campaign and since winning the presidency, Trump has consistently used Twitter to launch xenophobic, misogynistic and aggressive attacks on a range of targets, usually without evidence and often while peddling baseless conspiracy theories.