CNN's Jake Tapper Confronts Blinken on Biden Bearing Blame for 'Disastrous' Afghanistan Exit
Secretary of State Antony Blinken on Sunday defended what many critics are calling a "disastrous" U.S. withdrawal from Afghanistan amid a rapid takeover by the Taliban.
Appearing on CNN's State of the Union, Blinken was asked by host Jake Tapper whether President Joe Biden deserves blame for his handling of troop withdrawals.
"I think, again, the issue here is not just the withdrawal of U.S. forces, it's how they were withdrawn," Tapper said. "The rapidity, the hastiness...Does President Biden not bear the blame for this disastrous exit from Afghanistan?"
Tapper also cited an analysis of the exit by Ryan Crocker, the U.S. ambassador to Afghanistan from 2011-2012 under former President Barack Obama, in which he called Biden's withdrawal "a handover to the Taliban."
"I'm left with some grave questions in my mind about [Biden's] ability to lead our nation as commander-in-chief," Crocker wrote. "To have read this so wrong—or, even worse, to have understood what was likely to happen and not care."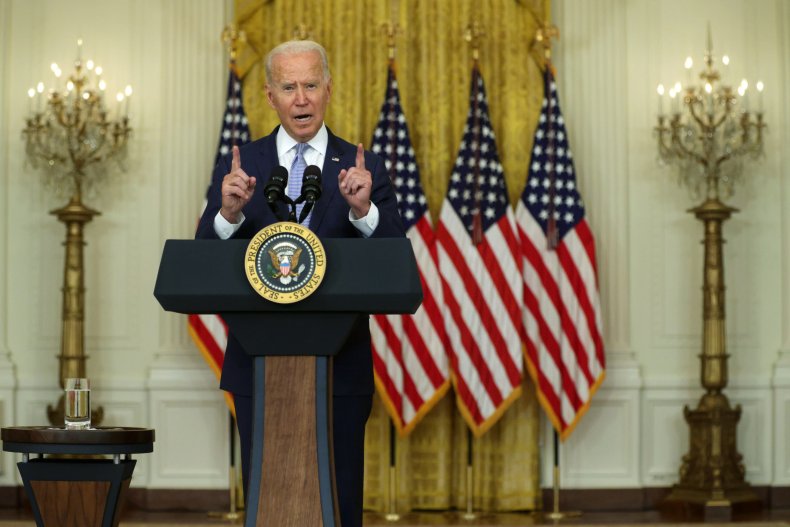 "We've known all along, said all along—including the president—that the Taliban was at its greatest position of strength at any time since 2001 when it was last in charge of [Afghanistan]," Blinken said in response. "That is the Taliban that we inherited. And so we saw that they are very much capable of going on the offensive and beginning to take back the country.
"But, at the same time, we had invested, over four [presidential] administrations, billions of dollars, along with the international community, in the Afghan security and defense forces. Building a modern military with sophisticated equipment, 300,000 forces strong, with an air force that the Taliban didn't have. And the fact of the matter is, we have seen that that force has been unable to defend the country. And that has happened more quickly than we anticipated."
Biden, in a statement released Saturday, backed his decision to continue withdrawing troops and blamed former President Donald Trump, saying his predecessor left the Taliban "in the strongest position militarily since 2001."
"When I became President," he wrote, "I faced a choice—follow through on the deal, with a brief extension to get our forces and our allies' forces out safely, or ramp up our presence and send more American troops to fight once again in another country's civil conflict. One more year, or five more years, of U.S. military presence would not have made a difference if the Afghan military cannot or will not hold its own country. An endless American presence in the middle of another country's civil conflict was not acceptable to me."
Trump has, conversely, blamed Biden for not "following the plan" that his administration left in place for dealing with Afghanistan.
As U.S. troops depart from Afghanistan, Taliban forces continue to make significant advancements, quickly taking control of major cities. On Sunday, the insurgents began to enter capital Kabul "from all sides," as one official described it, demanding that the government surrender control peacefully. Afghan President Ashraf Ghani has reportedly fled the city for Tajikistan.