CNN's Jake Tapper Presses Cory Booker for Details on Gun Control: 'I Hear You Not Talking About This Specific Massacre'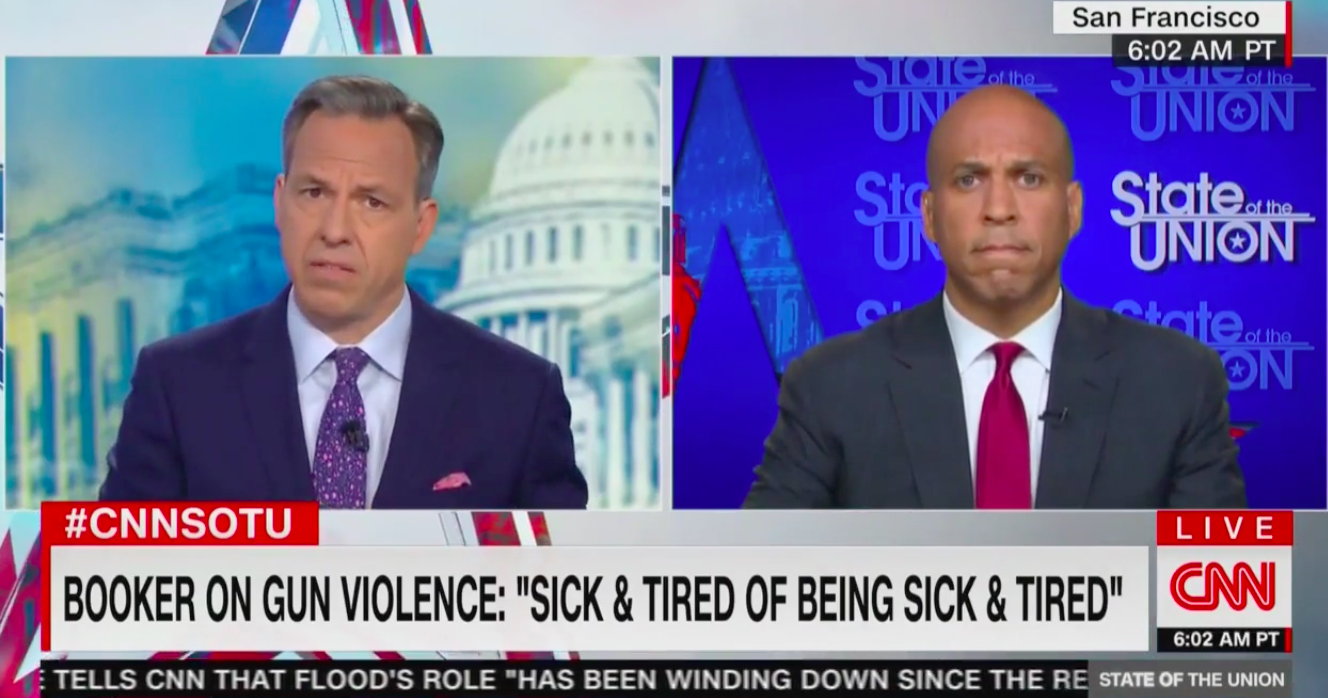 CNN host Jake Tapper on Sunday pressed 2020 presidential candidate Senator Cory Booker to go into specifics on what he would do about gun control following Friday's mass shooting in Virginia Beach that left at least 12 people dead and four wounded.
During Booker's appearance on State of the Union earlier today, the show's host asked the New Jersey Democrat what he would have done to prevent the Virginia massacre.
"You said yesterday that mass shootings in America 'cannot just go on in our country.' And you have unveiled a comprehensive gun reform plan," Tapper said, referring to Booker's speech at the California Democratic Party convention on Saturday. "Now, ATF says that the two weapons used in the attack were handguns, not semi automatic assault rifles. They say that they were purchased legally. How would your plan have stopped this tragedy, if at all?"
Rather than address the question, Booker began discussing the prevalence of gun violence in general across America.
Newsweek subscription offers >
"This is a tragedy today, but you know that every single day in the United States of America, in the aggregate, we have mass shootings that go on in neighborhoods like mine," he said. "I live in an inner-city black and brown community. You were there yourself. Moments after you left, we had another shooting in my neighborhood."
The 50-year-old senator then reiterated his remarks made on Saturday which promoted Tapper to ask for further details. "We are not helpless to stop this. This is a uniquely American problem," he said. "We have carnage in our country at levels that no other nation sees."
"I have a comprehensive plan that people say is bold," Booker continued. "But I will tell you that — I will tell you what. It's not bold. It's common-sense, evidence-based things that we can do to lower gun violence."
Tapper interrupted Booker to restate his question. "I'm sorry to interrupt, but you keep saying, 'We're not helpless.' So, I'm saying: What would have prevented this tragedy?" he asked again. "I think that's one of the issues that people wonder about when there are these horrible tragedies. What steps specifically would have stopped the massacre in Virginia Beach?"
Newsweek subscription offers >
Despite Tapper pushing for specifics, Booker continued to evade the question with further general comments on gun control. "You have taken a look at the 16, 17 things we have in my plan that would drop the levels of violence overall, from one-handgun-a-month laws, all the way to investing in the kind of mental health and the kind of community empowerment strategies that would do something about it."
"I hear you not talking about this specific massacre, but talking about gun violence in general," Tapper interjected. "Let's talk about your proposals in general."
Later in the segment, Tapper asked Booker another specific question about passing gun control measures, noting that the most recent Democratic president could not, despite the partly briefly controlling both chambers of Congress.
"How will you be able to get something passed [through Congress], where Obama and Biden were not able to?" asked Tapper.
"Just because we failed in the past, doesn't mean we will fail in the future. I believe it takes grit and fight and will. We can muster that in the United States to do common sense things that do not take away people's second amendment rights," Booker answered.
At least 12 people are dead and four others hospitalized after a gunman entered a municipal building in Virginia Beach on Friday and opened fire. Authorities said the suspect, 40-year-old DeWayne Craddock, used a pair of .45 caliber pistols that he is believed to have purchased legally in 2016 and 2018.
Craddock died on Friday after a gunfight with law enforcement.
When Booker announced his 2020 presidential bid in February, the New Jersey senator was widely considered one of the leading candidates in the crowded Democratic primary. In recent weeks, Booker has been scoring roughly two percent in most polls, a figure far behind Sen. Bernie Sanders of Vermont and former Vice President Joe Biden but ahead of more than half of the lower-profile candidates.
Booker appeared alongside 13 other Democratic hopefuls, including Sens. Bernie Sanders, Kamala Harris and Elizabeth Warren, in San Francisco this weekend for the California Democratic Party's annual convention. During the event, 2020 candidates discussed with primary voters their plans on gun control, immigration reform, income inequality and healthcare.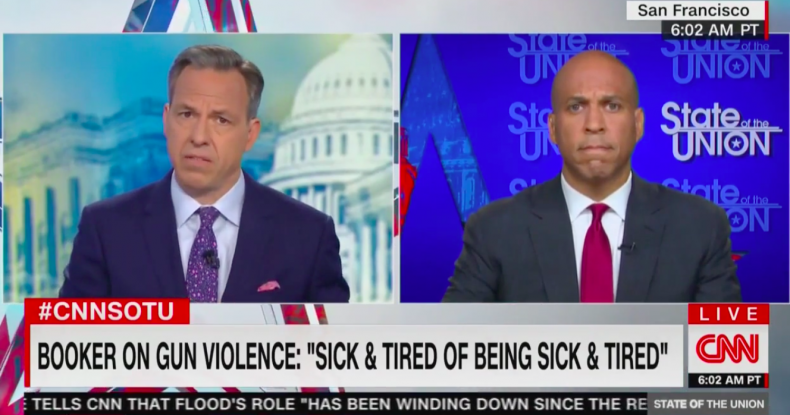 CNN's Jake Tapper Presses Cory Booker for Details on Gun Control: 'I Hear You Not Talking About This Specific Massacre' | U.S.