CNN's Jim Acosta Condemns 'Matt Gaetz and His Partner in Slime, Marjorie Taylor Greene'
CNN anchor and chief domestic correspondent Jim Acosta on Saturday condemned Republican Reps. Matt Gaetz of Florida and Marjorie Taylor Greene of Georgia for "inciting their crowds" on their America First tour.
In a sobering segment on CNN's Newsroom, Acosta addressed "the Big Lie" that's dividing the country and allegedly threatening America's democracy.
"Memorial Day should be a time to come together to remember those who died fighting for this nation's ideals. Yet, American democracy is at risk," he said. "According to some recent polling, a majority of Republicans believe Donald Trump is the true President right now. A separate poll found that one quarter of Republicans—23%—agree with the conspiracy theories linked to the QAnon movement."
Acosta accused Republican lawmakers of "shielding" Trump, "the man who unleashed this era of unhinged thinking."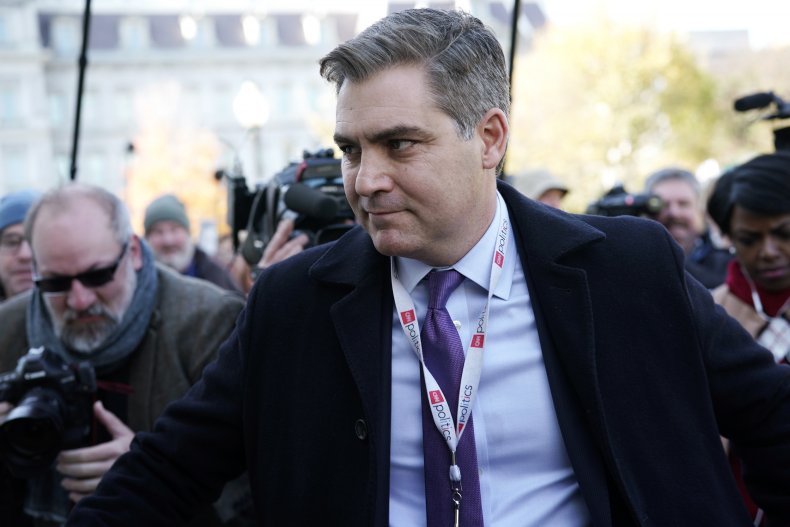 The Democrat-led House voted 217-175 to form an independent commission to probe the January 6 Capitol riot. But on Friday, the bill was blocked in the Senate by Republicans. Only six GOP senators crossed party lines to support the measure, which failed on a 54-35 vote.
"The Senate GOP blocked an independent commission that would have investigated the insurrection at the Capitol, and [Trump's] role in stoking it," Acosta said.
"Some of the GOP sound as if the rebellion hasn't ended," he continued, before accusing "Matt Gaetz and his partner in slime, Marjorie Taylor Greene" of "traveling the country and inciting their crowds."
In the aftermath of the 2020 election, a GOP rift has broken out between the Trump wing and the establishment wing impatient to end his grip on the party.
Greene and Gaetz, two close allies of the ex-president, have been traveling to various states in America to push Trump's false claim that widespread voter fraud caused his election defeat. Earlier this week, Greene said that she and Gaetz were "taking charge" in the Republican intra-party battle.
During a recent American First rally, Gaetz told the crowd, "We have a second amendment in this country and I think we have an obligation to use it ... the second amendment is about maintaining within the citizenry, the ability to maintain an armed rebellion against the government if that becomes necessary. I hope it never does."
Acosta noted that Greene had recently "compared mask wearing requirements to the Holocaust and linked Democrats to Nazis."
"Shameful," he said. "What would the Greatest Generation that defeated the Nazis think of seeing swarms of domestic terrorists invading our capitol to overturn the results of an election. What would they think of the cowardice on display this week in the Senate, on this Memorial Day. What would the Greatest Generation think of us? Are we the worst generation?"
Newsweek reached out to Matt Gaetz and Marjorie Taylor Greene's office for comment. This story will be updated with any response.