CNN's John King Criticizes Nunes Over Alleged Ukraine Connection, Calls His Evasion of Questions 'Horsesh*t'
CNN host John King called Rep. Devin Nunes' (R-Calif.) response to being asked directly if he had met with former Ukrainian prosecutor Viktor Shokin "horseshit" on Inside Politics today.
Nunes had been accused of meeting Shokin in Vienna in 2018. Shokin was allegedly investigating Hunter Biden when he was removed from his position after pressure from former Vice President Joe Biden. Nunes has refused to say whether the allegations were true although he has said they were "demonstrably false."
"Bottom line," Maria Bartiromo of Fox News asked Nunes on Sunday, "were you in Vienna with Shokin?"
"I really want to answer all of these questions and I promise you I absolutely will come back on the show and answer these questions," Nunes said. "But because there is criminal activity here, we're working with the appropriate law enforcement agencies but I think you can understand that I can't compete by trying to debate this out with the public media when 90 percent of the media are totally corrupt."
"Forgive me, but horseshit," King said, commenting on the Fox News clip.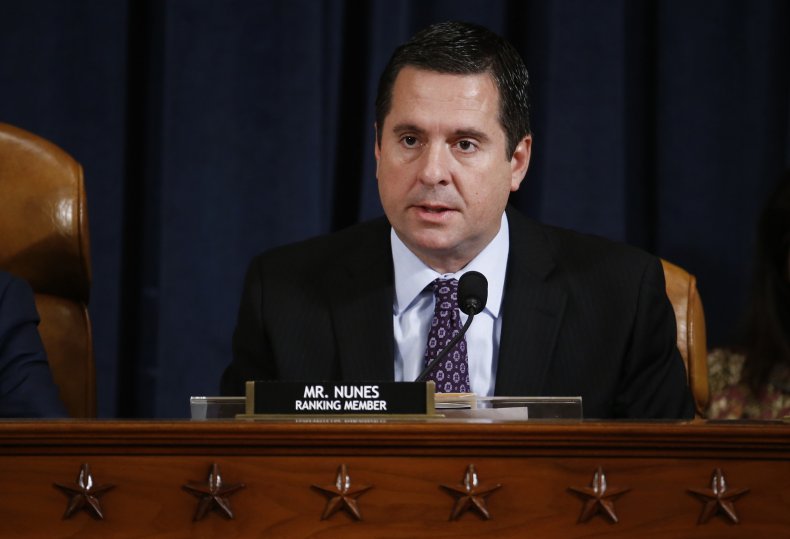 "This is easy," King continued. "He was on a plane with staff that went somewhere during this timeframe. There are either passports stamped or if they did on a classified basis, there's a crew on the plane. There's the crew of his staff."
"He could go into a meeting with the Group of 8, including the speaker Nancy Pelosi, say 'This never happened,' and force a Democratic speaker to issue a statement saying, 'We looked at the documentation, he demonstrated this is demonstrably false.' If this is demonstrably false, demonstrate it," King added.
Nunes has threatened to sue both CNN and the Daily Beast for reporting the allegations. Reports by the news sources indicate that the meeting between Nunes and Shokin was allegedly arranged by Lev Parnas, an associate of Rudy Giuliani who was arrested while trying to flee the country in October. Parnas and his business associate, Igor Fruman were charged with funneling foreign donations into U.S. political campaigns.
"I've been used to this for the last three years," Nunes told Fox News on Sunday. "The House Intelligence Committee Republicans, we continue to expose Democrat corruption over and over again. And what always happens is right when we expose them... they go out to kill the messenger."
"So this week, another fake news story. The problem with this week's fake news story is we actually caught them," Nunes continued. "And we caught them badly and it also involves criminal activity. We are going to take both CNN and the Daily Beast likely into federal court, right after Thanksgiving and we hope they cooperate."
"So we hope that CNN and Daily Beast will cooperate with the court," Nunes added. "They should comply with the subpoenas once we file this and go through different depositions. It should be fun."