CNN's Toobin and Dershowitz Feud Over Whether Trump Can Be Impeached for Abusing Power: 'You Are Wrong!'
Former Harvard law professor and member of President Donald Trump's legal defense team Alan Dershowitz told CNN host Anderson Cooper on Tuesday that the president cannot be impeached for abuse of power. CNN legal analyst Jeffrey Toobin vehemently disagreed with Dershowitz's interpretation of the meaning of the phrase "abuse of power."
Much of the heated discussion revolved around an article published Monday in The New York Times by professor Nikolas Bowie in which he claims Dershowitz's assertion that Trump cannot be convicted since he has not been accused of criminal activity.
"Even if you think impeachment requires a crime, as I do," Bowie wrote, "that belief hardly supports the president's defense or Mr. Dershowitz's position. President Trump has been accused of a crime. Two in fact: 'abuse of power' and 'obstruction of Congress.'"
After Toobin said that Dershowitz was "the only scholar" who equated maladministration with abuse of power, Dershowitz referenced Bowie's article in the Times.
"Professor Nikolas Bowie says that almost exactly," Dershowitz said. "He says that maladministration, abuse of office, abuse of power—read it in The New York Times."
"I've read that article and let me finish, Alan. Let me finish," said Toobin. "Nikolas Bowie, in that article, says you are wrong!"
"He thinks I'm wrong and yet he agrees with me that maladministration, abuse of power and abuse of office are essentially the same," Dershowitz said. "I'm not quoting him for his conclusion. I'm quoting him for the point that you just made saying no scholars think that abuse of power is the same as maladministration."
"The best you can do is quote a scholar who thinks you're wrong?" Toobin asked in response.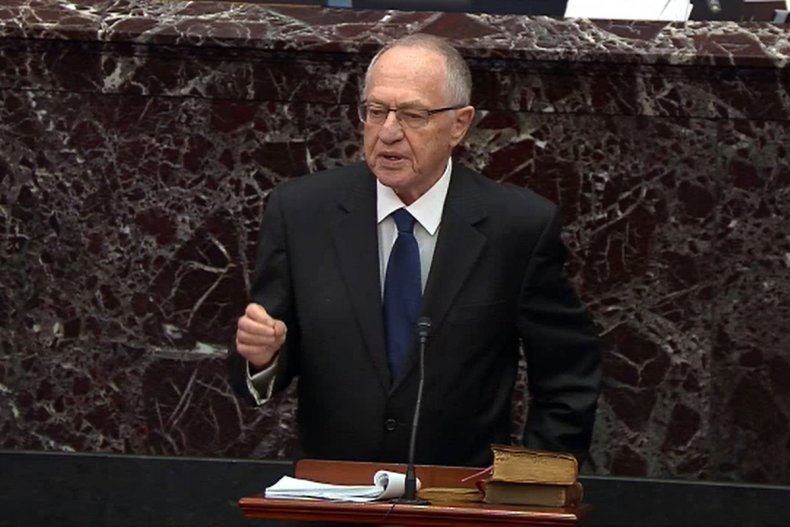 Dershowitz contended that the definitions of maladministration and abuse of power were "vague."
"They're open-ended and practically every president has been charged with abuse of power. Practically every American president," he said.
Dershowitz clarified his position on the definition of abuse of power by telling Newsweek, "There is no definition. That's my point."
"Nearly every president has been accused of abuse of power by opponents," Dershowitz continued. "It means different things to different people. It is standardless and vague. That why the framers never would have accepted it, as they didn't accept 'maladminstration' which is similar to abuse of power."
Trump is accused in the first article of impeachment with abuse of power, having allegedly "solicited the interference of a foreign government, Ukraine, in the 2020 United States Presidential election."
Trump allegedly asked Ukraine President Volodymyr Zelenskiy to announce a criminal investigation into the activities of his political rival, former Vice President Joe Biden, and Biden's son Hunter. In exchange, Trump would provide Ukraine with approximately $400 million in military aid.
"In all of this, President Trump abused the powers of the Presidency by ignoring and injuring national security and other vital national interests to obtain an improper personal political benefit," reads the article of impeachment. "He has also betrayed the Nation by abusing his high office to enlist a foreign power in corrupting democratic elections."
Some Senate Republicans have claimed that the president cannot be impeached, questioning whether the president's alleged request for a political probe into the Bidens actually occurred.
"We are clear in our position that there was no quid pro quo," said Jay Sekulow, one of Trump's defense attorneys.