Co-Ed College Quidditch Teams Tackling Gender Inequality in Sports
Given its unconventional and recent origins in the fictional book series Harry Potter, quidditch doesn't always get the same respect as more traditional college sports. However, as one of the only mixed-gender sports available, players and teams are committed to making meaningful progress with regard to gender equality in athletics.
Once reserved for J.K. Rowling's characters on flying broomsticks, college students are able to join quidditch teams on campuses nationwide. A combination of rugby, dodgeball and tag, quidditch is an immensely physical sport involving seven players per team, each attempting to score more points than their opponents. The inherent characteristic of teams being mixed-gender is one that some consider instrumental in players being valued for their skill, regardless of body type.
Title IX mandated under federal law that people could not be excluded from educational programs or activities, including sports, on the basis of sex. Almost fifty years after Title IX was passed, gender inequality is a topic that continues to dominate discussions of athletics at all levels.
In March, the United States Women's National Team filed a complaint against the organization, alleging its players were denied equal treatment to their male colleagues. After their victory at the World Cup, fans chanted "equal pay" and the players have used their time in the spotlight to advocate for equality in their sport.
Sarah Woolsey, executive director of U.S. Quidditch, the national governing body, told Newsweek gender equality is a "key value" of quidditch. Mixed gender teams, Woolsey said, create opportunities for everyone to play and compete together equally, therefore teaching players to respect and value everyone based on their ability and not gender identity.
"What matters is a player's work ethic, dedication, and performance on the pitch, all of which are not determined by gender," Valarie Gabbard, vice president of the Miami University Ohio team told Newsweek. "Everyone is just there to play the game and do their part to contribute to the team's success."
Peyton Burrow, president of the University of Virginia's team, said co-ed teams "definitely" reduce inequality, especially at the collegiate level. Several players credited U.S. Quidditch for establishing the "9 ¾ rule" (another Potter-inspired moniker) for helping to reduce inequality. Although the rule bars a male-only match, players noted it's rare for teams to deviate from the maximum number of male players allowed on the field.
"While I know that my female teammates are just as capable and athletic and knowledgeable about the game as our male teammates, the hesitancy to put in more than two of us at a time can make it feel as though we are not the vital pieces of the team that we are," Serena Monteiro, a Tufts University player, said.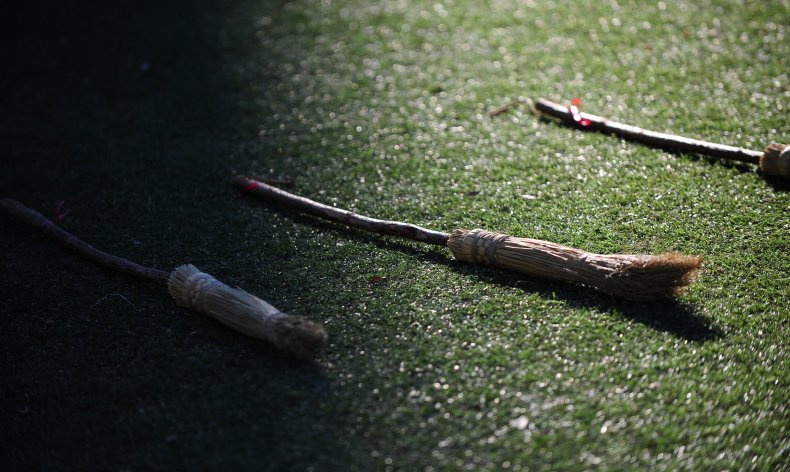 Frankie Matos, Jr., a member of Harvard University's team, agreed that co-ed teams help reduce inequality in sports, but also acknowledged that quidditch isn't a utopia. Along with teams rarely electively choosing to play non-males over males, Matos said positions aren't created equal.
For example, he's only seen one non-male keeper, a position similar to a goalie, because it requires a person to be tall enough to reach the top of the hoop and physical enough to tackle a chaser, a scoring position. Seeker, the position responsible for capturing the snitch, a ball that ends the game, he said, is also largely reserved for male athletes because long arms are advantageous.
"At the non-competitive level and at scrimmages, teams are much better about allowing non-male players to seek, but the fact that it doesn't happen in competitive play says something," Matos explained.
Despite teams being mixed-gender, Finn McGarghan, captain of Tufts University's team, said there are clear roles based on gender that are "rarely crossed." He said non-male players will be used as "placeholders" for the 9 ¾ rule or moved to a different position to make room for a male player.
"While a few teams do use a zone, when defending in a man-to-man defense, the defending chasers will almost always mark the three males and leave the female player open," McGarghan said. "This is a very clear message of 'we do not think your female player is as good as any of your male players.'"
People discrediting non-males based on their gender is a fact of life and Gabbard said changing that mindset can't be solved solely through club sports. However, she noticed that in co-ed sports, such as quidditch, people will praise a non-male's performance without mentioning gender.
Burrow acknowledged that her team will play non-male athletes as seekers when they're defensive seeking, meaning they're not actively pursuing the snitch, to give their first string seeker a break. However, given that the game is driven by strategy as much as strength and skill, she said being a member of the team is doing what's in the best interest of the team.
"We all have a job to play and we all know what is in order to help the team do it's best," Burrow explained.
Allison Lenhart, a member of Pennsylvania State University's team, has seen players of different genders succeed in each position and echoed Burrow in the sentiment that strategy contributes largely to being able to win.
"Some players are more agile and prefer to use quick manoeuvres to avoid being hit but other players prefer a more aggressive method where they can simply run through opposing players," Lenhart said. "In teaching people how to play the game we are able to see what works best for us as a team and as individual players."
Quidditch as a co-ed sport may not be perfect, but none of the athletes would prefer to play on teams separated by gender. For one, it's what makes the sport unique and a great experience on and off the field. Plus, if the sport wasn't co-ed, Gabbard and Monteiro had a good idea of which gender's team would thrive and which would suffer.
"This is the unfortunate truth, but being able to show the world that our sport involves big, athletic men making big hits can bring a sense of legitimacy to quidditch when it may otherwise be shrugged off as a game played by a 'bunch of nerds,'" Monteiro said. "Another concern of mine would be that with separate leagues, attention would shift all the way to the men's league and away from the women's."