What Is Co-Star? The App Using Astrology to Build Better Communities on Social Media
Not everyone believes in astrology, but more than 4.5 million check their phones every morning for an astrological notification from Co-Star, a "hyper-personalized" astrology app.
There are tons of astrology apps on the market, Channing Tatum recently freaked out over one, but what makes Co-Star different is the brutally honest nature of the readings. Some people who believe in astrology and use the app joke that they feel directly attacked by the cosmos. To some, it seems like the app knows each individual user; what they're thinking, what they're feeling and what they're plotting.
Founded in 2017 by Banu Guler, Ben Weitzman, and Anna Kopp, the app generates a curated reading based on the time, place and date of each user's birth and the positions of the planets upon their earthly arrival. It's what allows Co-Star to provide spot-on readings to each and every one of its users every day, and it's what separates the app from its astrology predecessors. However, it's the language of the app—its cosmically candid words of wisdom—that has everybody talking about it.
"The big thing is at Co-star, we take a lot of time and energy to really think about how we talk to our friends in real life on the couch, in group chats and I think that ethic and voice comes through really strong on our social media and the app," Guler recently told Newsweek during a phone interview.
Read on for more on Co-Star below.
How It Works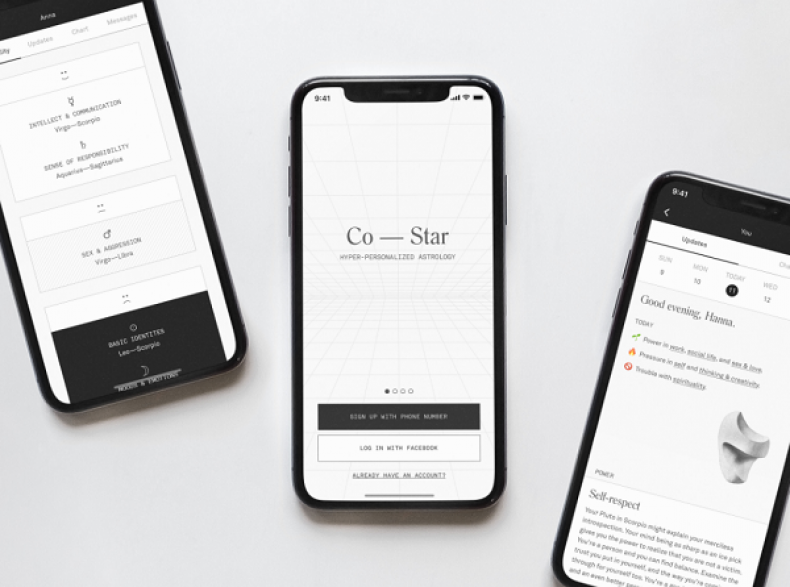 Most astrology platforms offer readings pertaining to general sun signs—the wide-ranging signs of the zodiac based on the position of the sun at a person's birth. This is usually what people recognize themselves as when asked that age-old question, "What's your sign?"
Millions of people are born during each zodiac season, but odds of someone being born at the same exact time on the same exact date at the same exact place slim down the fat. With that in mind, Co-Star offers a more in-depth chart and bases its daily readings on the intricacies of every users' complete astrological profile, analyzing moon and rising signs, astrological houses and planetary placement. Through human astrologers and artificial intelligence, Co-Star uses the individualized information of each user and pairs with NASA data that pinpoints the placement of the stars and planets at the exact moment of birth as well as real-time placement each day to generate a "Day at a Glance," or daily astrology reading. The readings include thorough explanations of planetary transits and how it may affect various aspects of a person's day-to-day, like for instance how Saturn's location two houses away from Mars for the next six months may bring power in areas of "Work" and "Thinking & Creativity," or how the sun's position 45 degrees away from where Mercury was when a person was born may bring "Pressure" or "Trouble" in areas pertaining to "Social Life" or "Sex & Love."
Using Astrology to Strength Relationships
Co-Star doesn't give just personalized astrology readings—users can get an in-depth look at the effects of their friends' individualized charts too. "What makes Co-Star so interesting and powerful is that it really gives you this language to talk to your friends about who you are in this incredibly honest and vulnerable way," Guler said.
Similar to social media, users with the app can connect and follow their friends on Co-Star. From there, they can view one another's charts, learn compatibilities as well as get a quick-view of friends' daily updates. A composite chart, which is a combination of two friends' individual astrology charts, gives users a glimpse into the cosmic commonalities they share with friends and the transits they share so they can better understand their characteristics and how they mesh.
"It's really hard to figure out ways to build sound relationships that aren't just like, 'Hey do you think I look good in these pants?' That's important and special, but actually talking about something like a triple Gemini? That's someone who has to have a strong core. That's someone who must have a spine of steel. To be able to have friends that can understand those traits, that's something that makes the app more meaningful," Guler said.
Social Media Influence and Community Building
Another aspect that sets Co-Star apart from other astrology apps is its ability to bring people together. Co-Star has developed a cult-like following, boasting a flourishing 659,000 followers on Instagram. The witty tone the app is famous for spills over onto the its social media @costarastrology. A scroll through the comments section will find hundreds of followers seemingly bonding over Co-Star's ability to read each sign for filth on a daily basis. Using witty commentary to build a community is exactly what Guler and co-founds were banking on. "We live in this moment where the social media networks are really destroying our brains," Guler said.
"It seems like every day there's new research about the direct correlation between hours spent on Instagram and an increase in teen suicide. Depression is up, anxiety is up," she continued. "[Co-Star] doesn't feel like a social network where you're just scrolling through endless photos of people's beautiful lives, you're scrolling through what people are actually thinking and doing. There's an emotional, thoughtful and structured context on our platform and I think that really combats toxicity on a basic level."
What's Next For Co-Star
As the app and Co-Star's social media continues to grow in popularity among millennials and Gen Z users, expansion seems inevitable. However, the company is mostly focused on building its social structure by using astrology to connect people, but most importantly, Co-Star is concentrating on continuing improvements to the app's interface and user experience.
"We're super focused on building out android and we have a few people we're working with. We're hiring engineers. We will pay anyone $5,000 to refer someone that we end up hiring—Andriod, IOS, we're looking for everybody," Guler said.