'Coach' Deion Sanders Demands Saban-Like Respect, Walks Out of SWAC Media Day
Former college and NFL star Deion Sanders has coached just seven games in his college coaching career, but he let media know Tuesday that he should be respected like somebody who has won seven national championships.
Sanders, who's the head football coach at Jackson State University, walked out of the Southwestern Athletic Conference Media Days after he was addressed as "Deion" for a second time rather than "Coach" or "Coach Sanders" or anything other than his first name.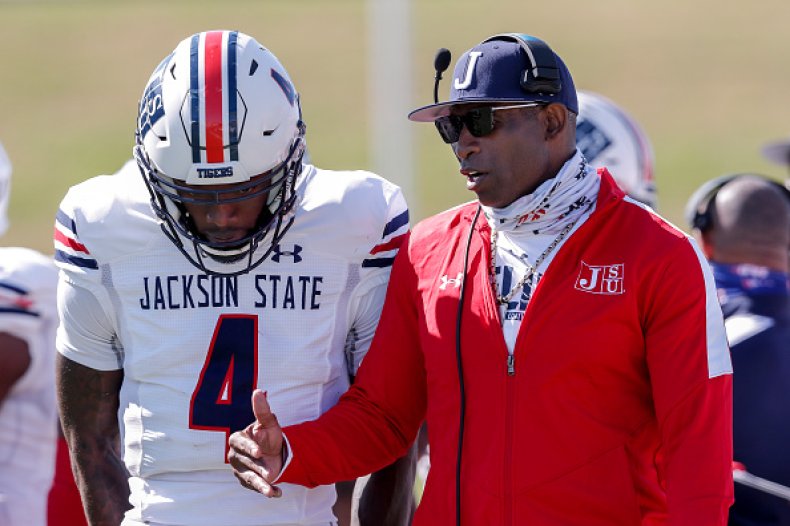 During the SWAC Media Days on Tuesday at the Sheraton in Birmingham, Alabama, a reporter addressed Sanders as "Deion" before asking their question. Sanders didn't like it. Then it happened again.
"You don't call [Alabama head coach] Nick Saban, 'Nick.' Don't call me Deion," Sanders said. ""if you call Nick [Saban], Nick, you'll get cussed out on the spot," Sanders continued, "so don't do that to me. Treat me like Nick."
Sanders told this to a reporter whose name is Nick. The reporter was Nick Suss from the Jackson Clarion-Ledger, who covers a wide array of college sports in Mississippi.
Nick Saban has won seven national championships as a head coach—one at LSU (2003) and six at Alabama in the last 15 years, including the 2020 title over Ohio State.
Sanders, the famous Florida State defensive back who went on to have a Hall of Fame career spanning the Atlanta Falcons, San Francisco 49ers and Dallas Cowboys, went by many names in his career, including "Prime Time" and "Neon Deion."
His Twitter handle is actually "Coach Prime." He denied ever "walking out" of Media Day.
Suss's calling Sanders "Deion" wasn't in the on-camera portion of the Media Days, but in the allotted time after the main stage.
Suss is the lead Ole Miss writer for the Clarion-Ledger who most recently covered the Mississippi State Bulldogs winning baseball's College World Series.
Sanders was an assistant high school coach before landing the JSU job prior to the 2020 season. Because of COVID, the school's season was pushed to the spring, and Jackson State went 4-3 in the shortened season.