Duke's Coach K Retirement Prompts Wave of Heartfelt Tributes for Beloved NCAA Icon
Duke University's Mike Krzyzewski, one of college basketball's most decorated coaches, will retire after the end of the 2021-22 season.
Jeff Goodman of Stadium was the first to report the news, on Twitter. The Associated Press confirmed it later with a source close to the situation who requested anonymity, as Duke has yet to make an announcement.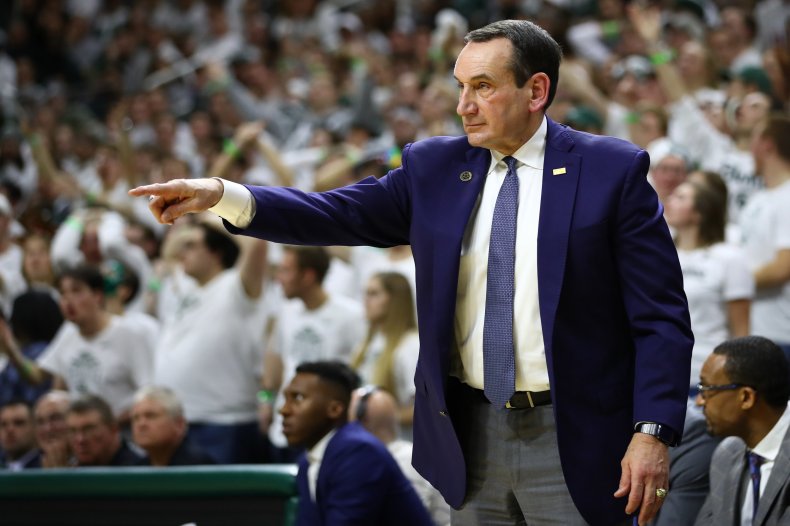 The tributes for the man widely known as Coach K came flooding in on Twitter as soon as the news broke.
CBS Sports reporter Jon Rothstein called it the "end of an era in Durham."
Sports radio host Mike Francesa wrote: "Coach K's career will be the solid gold standard for generations to come. It won't be equaled."
Former Duke baseball star and current New York Mets starting pitcher, Marcus Stroman paid tribute Coach K, mentioning "powerful talks with him over the years."
Over the course of 41 seasons as the head coach of Duke University, Coach K became the winningest coach in NCAA Division I men's basketball history, leading the Blue Devils to 1,097 career wins.
Krzyzewski, 74, has a long list of other accomplishments that include taking Duke to the Final Four 12 times; winning 12 regular-season ACC championships and 15 conference tournament titles; and winning five national titles. Those five national championships rank only behind the 10 won by UCLA's John Wooden for most title wins by a coach.
Coach K's 97 NCAA tournament wins rank No. 1 among all coaches, and in his entire career—which includes five seasons as head coach at Army—his overall record as coach is 1,170-361.
Ian O'Connor of the New York Post tweeted that Krzyzewski wasn't necessarily seeking a retirement tour this season—as many people have insinuated on Twitter—but rather didn't want to lead on new recruits that he would be there for the duration of their time at Duke.
O'Connor wrote: "Coach K started talking with family about this around a month ago. Some thought was given to coaching out most of the season, then announcing it. Not everyone was in favor of retirement tour...But K felt he couldn't recruit the next class in good faith while knowing he was gone."
When Jeff Goodman of Stadium broke the news, he also reported Jon Scheyer is Krzyzewski's likely replacement. Scheyer is an associate head coach at Duke and one of the team's top recruiters, who is credited for bringing in future stars like Jayson Tatum and Zion Williamson to the school. The 33-year-old is also a former Duke player.
Colorado television reporter Jessica Kay Mendoza tweeted: "Hard to imagine college hoops without this legend."
Political commentator and sport journalist Clay Travis started a discussion in his comment thread by asking if Coach K is "the greatest college basketball coach not named John Wooden? I think so. Debate, discuss."
However, perhaps no one said it better than ESPN journalist Bomani Jones, who wrote simply: "good luck trying to sum up Krzyzewski in a tweet or thread."