Coachella 2019 Art Installations: Everything We Know About Spectra, the Multi-Level Rainbow Tower
The centerpiece of Coachella's second weekend might have been Kanye West's "Sunday Service," but another aspect of the annual music festival has already become a show-stopper. Easily identified by its vibrant color palette, Spectra returned to the festival ground to bring visitors to new heights.
The three words Patrick O'Mahony, Creative Director at NEWSUBSTANCE — the studio behind the multi-leveled festival installation — used to describe the seven-story artwork: Height. Color. Participation.
"We came out here to do a site visit about four years ago and we were captivated by the sunrise and sunset of the valley," O'Mahony recalled. "All we wanted to do was encapsulate people in those colors."
"We wanted to let people be a part of the artwork," he added. "Normally, a lot of the installation pieces, in general, are something that you look at, take a photograph of and leave. We wanted people to come inside of [Spectra] and be a part of it as well."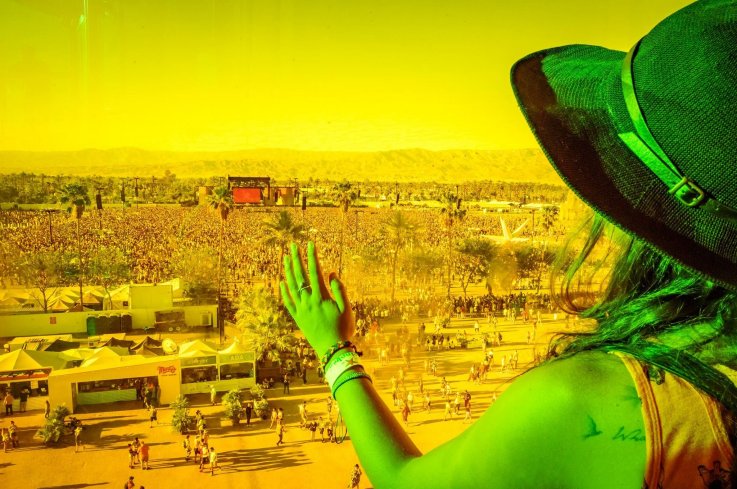 The multi-leveled installation was first designed in 2016 and made its debut during last year's Coachella Music Festival. Spectra is the only art installation piece that is part of a three-year contract with the festival.
"[Coachella] is such an amazing landscape for us to be in," O'Mahony said. "It's such an amazing opportunity for artists, like ourselves, to demonstrate our works."
"So few artists get the opportunity [to be at Coachella,] so to be one of those is great," he added.
Not only does Spectra bring participants in the colors of the rising and falling sun, but as the day shifts to night, the installation completely changes its tone.
"At night time, the whole installation changes," O'Mahony noted. "The people become a part of the artwork, and at night time when it's lit, you see the crisp shadows of people walking through it."
"The concept of participation is really important to us," he added.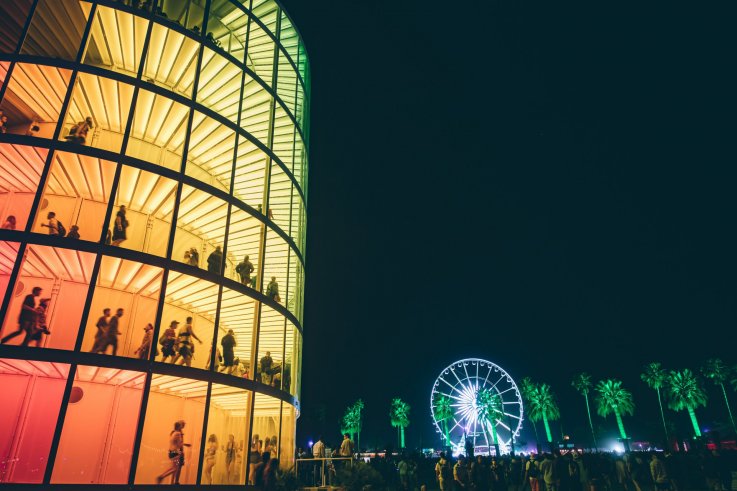 Festivalgoers were able to view Spectra in-person during Coachella's Weekend 2 and the installation will be at Stagecoach, April 26-28.
Along with impressive art installations, Weekend 2 attendees were able to attend Kanye West's "Sunday Service" Easter Sunday on "The Mountain," a hillside campground area within the festival grounds.
The decision to have Kanye perform during Weekend 2 comes months after the rapper's initial announcement he would not perform at the California festival, due to Goldenvoice refusing to build a giant dome for his set. The change comes despite the "I Love It" rapper previously describing the event as "artistically limiting."
"We said 'of course,' instantly," Tollett said to Billboard. "It's challenging for us because we've never done this before."
"We've got some challenges production-wise and we've got a team on it right now to try and do something really special," he added. "We feel this is going to be a really big moment of the show."
Coachella 2019 Art Installations: Everything We Know About Spectra, the Multi-Level Rainbow Tower | Culture