Beyoncé, Radiohead and Kendrick Lamar Headline Stellar Coachella Lineup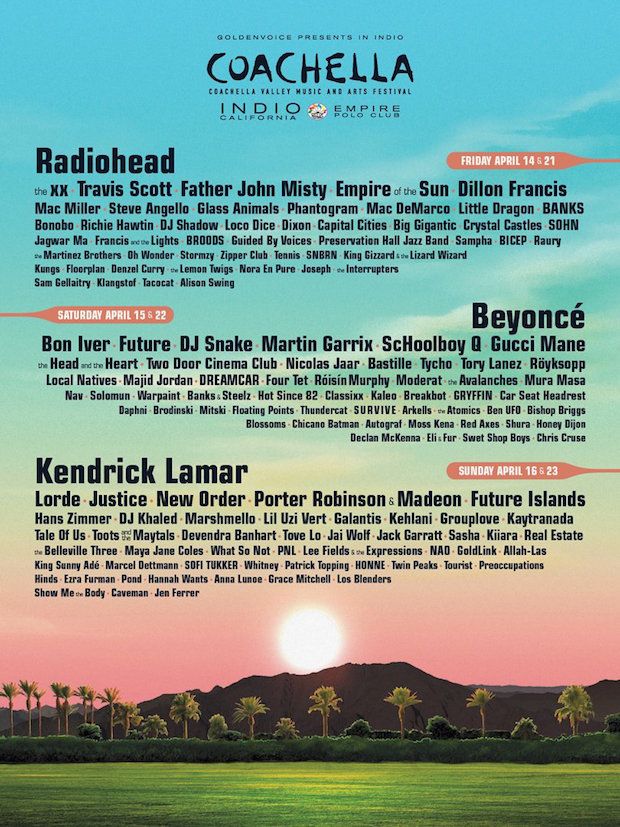 The unveiling of the lineup for the Coachella Valley Music and Arts Festival has become one of our most reliable January traditions. Each year, it's dispensed through the same poster format, and assessing the goodness or badness of that year's crop of artists through the familiar three-tiered layout is as integral to the Coachella experience as offensive headdresses or taking ecstasy and pretending to like EDM. This year, the poster is about as impressive as it gets. Radiohead, Beyoncé and Kendrick Lamar will headline Friday, Saturday and Sunday, respectively. Get excited.
A major festival like Coachella typically features at least one semidisappointing headliner, usually in an attempt to cater to older festival-goers (AC/DC, Steely Dan, Depeche Mode). Sometimes this means a group reuniting for the first time since splitting, and while the name may carry a lot of weight, the performance lacks relevance, and usually isn't as good as fans hope it to be, anyway.
The 2017 lineup, by contrast, couldn't be more of the moment. Radiohead just released a critically acclaimed album in 2016, and never fails to disappoint in grandiose live settings. Kendrick Lamar is arguably the greatest rapper alive. Beyoncé is probably the single biggest artist any festival could hope to land. All three are in various stages of their prime. All three are incredible live. The festival's 2017 headliners are solid.
The nonheadliners are still impressive: Bon Iver, Travis Scott, Future Islands, Mac DeMarco, the Head and the Heart and Kaytranada, the Seattle punk group Tacocat and Swet Shop Boys, the hip-hop group that features The Night Of and Rogue One star Riz Ahmed. Even if some of those acts are relegated to a font size that looks like fine print for a dangerous new pharmaceutical.
Of course, this means it's now Coachella Lineup Poster Parody Season, in which the internet collectively creates mock Coachella posters. Get ready for a lot of poorly Photoshopped pop culture jokes!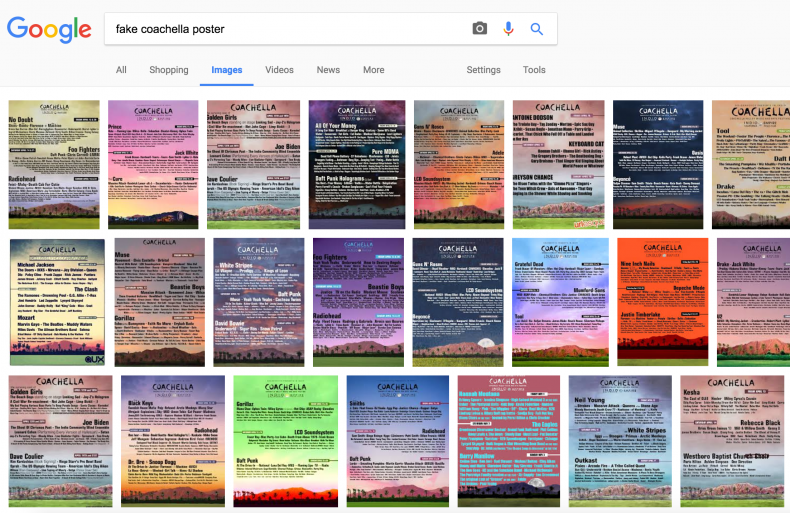 Most memes are short-lived, lasting a month at best. And yet somehow, perniciously, the fake Coachella poster meme has stuck around for nearly 10 years. This is partially because it's easily replicable, can flexibly warp into a surprising number of disparate contexts, and its yearly topicality is just enough time for everyone to recover from the last barrage of bad jokes. While we'll never have to relive "Damn, Daniel" or the "Ice Bucket Challenge" or "The Dress" again, so long as people keep gathering in the desert to devour Molly and stubbornly wear culturally appropriative costumes, the Coachella meme will persist. Like radioactive waste, it may continue long after humanity dies out.