Coachella and Stagecoach, two of the biggest music festivals in the U.S., will no longer require festivalgoers to wear face masks or provide a negative COVID-19 test in 2022.
Stagecoach, a country music event held at the same venue as Coachella in Indio, California, confirmed on Twitter that it's dropping masks and negative test requirements this year. The festival is scheduled to take place from April 29 to May 1.
"Festival Admission Update: As we prepare to spend an incredible weekend in the desert together we are announcing that there will be no vaccination, testing or masking requirements at Stagecoach 2022, in accordance with local guidelines," the official Stagecoach Twitter account announced on Tuesday.
While no Coachella social media outlet has made an announcement, the festival's "Health and Safety" section on its website has been updated to reflect the new rules in its fine print. Coachella, set to be held on April 15-17 and April 22-24, saw 99,000 attendees a day during the 2019 festival, according to Insider.
Both festivals previously announced that proof of vaccination would not be required for entry in the fall of last year. The removal of all requirements comes as California is set to drop proof-of-vaccination rules for all large outdoor gatherings, a change that will go into effect on Wednesday.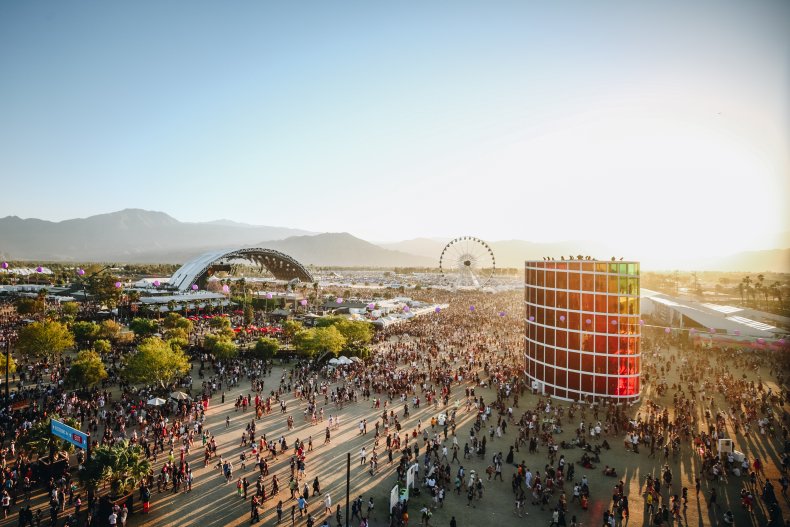 The changes are understood to have been spurred by the demographic necessities of Stagecoach, according to Variety. Being that both Coachella and Stagecoach are promoted under the same umbrella, Coachella also needed to lose the COVID-related requirements, even if more of its attendees would have been fine with them.
"It's been widely understood that, in the current political climate, it would be close to impossible to pull off a country music festival with COVID restrictions that much of the demographic finds onerous, with many chafing even at a requirement for negative tests," Chris Willman wrote for Variety. "It's also been assumed that Stagecoach would not be able to loosen any such restrictions without its sister festival adopting the same guidelines or lack of them."
This is the first time that Coachella and Stagecoach will be held in two years after the 2020 and 2021 events were canceled amid the ongoing pandemic. Kanye West, Billie Eilish, Harry Styles, and Swedish House Mafia are set to headline Coachella this year; Carrie Underwood, Thomas Rhett and Luke Combs are headlining Stagecoach.
Cases of COVID-19 have been on the decline across the U.S. in recent weeks, after soaring to new highs on the back of the Omicron variant at the start of 2022. COVID cases in California peaked on January 13 with around 119,000 new cases, according to the state's department of health. Daily case numbers dropped precipitously in the next month, with just shy of 34,000 cases being reported on Valentine's Day.