Major U.S. Coal Producer Files Bankruptcy Despite Trump Saying 'the Coal Industry Is Back'
One of the nation's largest producers of coal filed for bankruptcy this week despite President Donald Trump previously assuring his supporters last year that "the coal industry is back."
Revelation Energy LLC., and its affiliate Blackjewel LLC., which are based in West Virginia and employ about 1,100 people in mines across Kentucky, Virginia and West Virginia reportedly filed for Chapter 11 bankruptcy, The Herald Lexington Leader reported on Tuesday. The affiliated companies also have about 600 employees working in Wyoming mines.
On Monday, the company told employees not to come in for their evening shifts. Management informed workers that the shutdown would last at least two weeks, and possibly longer.
Charles Raleigh, mayor of Cumberland in Harlan County, Kentucky told The Leader that the news was "devastating for the community." He added: "It's a sad situation. I hate it for the miners."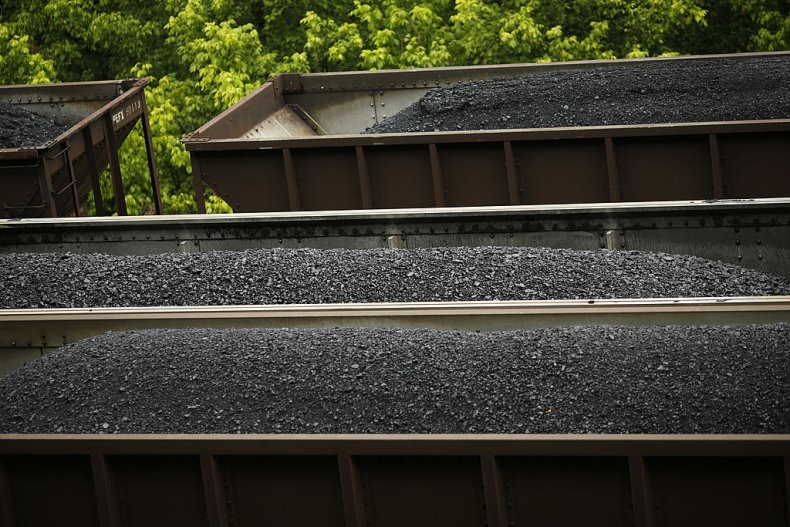 The coal company's owner Jeff Hoops pointed blame at poor market conditions dating back to 2012. Revelation and Blackjewel currently owe at least $66 million in back federal and local taxes, with several million in private debt coming due as well.
Last August, Trump delivered a message directly to coal miners during a visit to West Virginia. "We are back," the president told the crowd at the time. "The coal industry is back."
The president's optimism came amidst historically low coal production. Although coal production increased in 2017, use of the fuel source dropped to a four-decade low last year. According to the U.S. Department of Energy, coal reached its lowest level of consumption in 2018 since 1978. Production also fell to its second lowest level since the same year.
As CBS News reported last month, consumption and production of coal were actually at a higher level during the administration of former President Barack Obama. This is largely due to the lower cost of alternatives, such as natural gas. Additionally, as numerous parts of the country make the switch to renewable energy, the cost for solar, wind energy and other alternatives has dropped significantly.
Trump has previously claimed that environmental and other regulations have crippled the coal industry and brought on its decline. But the reality is that U.S. coal mines and jobs have been disappearing for decades.
The president's effort to support the coal industry also comes despite the burgeoning renewable energy sector. In April, renewable energy sources such as hydro, biomass, wind, solar and geothermal combined generated more electricity than the nation's coal plants, according to the Institute for Energy Economics and Financial Analysis. This trend is expected to continue throughout this year and into 2020 as well.