Coast Guard Airlifts Couple, Cats Off Inaccessible Sanibel Island
A U.S. Coast Guard helicopter rescued a couple and their cats on Sanibel Island in Florida after the only road to and from the island was destroyed by Hurricane Ian.
Sanibel Island is just west off the coast of Fort Myers and Lee County, which were the hardest hit areas by Hurricane Ian. The Category 4 hurricane wrecked the island Wednesday, leaving massive destruction behind and destroying parts of the Sanibel Causeway, trapping those who didn't evacuate. The U.S. Coast Guard is conducting rescues by helicopter.
The Weather Channel shared a video Thursday of the U.S. Coast Guard rescuing a couple and several crates full of cats. The couple passed the crates through an open window before climbing into the helicopter. A Coast Guard member can be heard encouraging the couple to exit out the window and bring dry clothes, their IDs, wallets and cellphones.
Then, the video cut to the helicopter flying over a flooded street and encountering a Sanibel Island resident waist deep in flooding.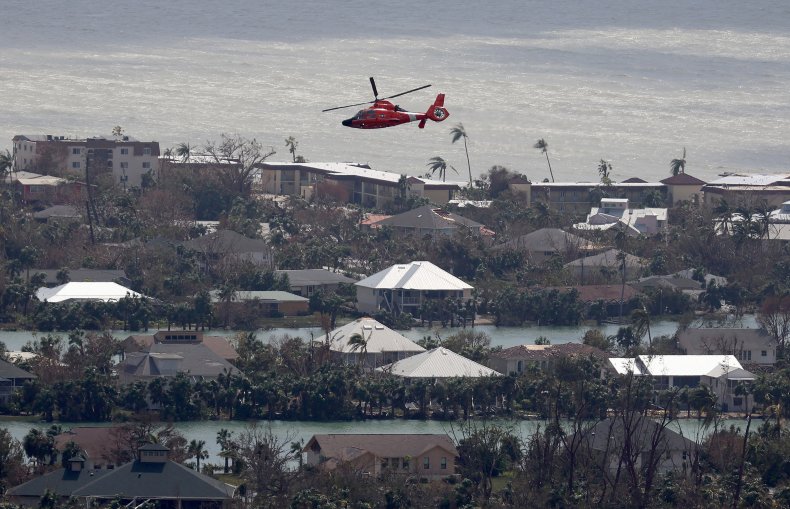 "Would you like to come with us?" the Coast Guard member asked.
The resident declined and continued her trek through the water. The Weather Channel estimated that more than 200 people stayed behind on Sanibel Island. Two Sanibel Island residents died in the hurricane and many more were injured.
Sanibel Island was one of the first U.S. areas hit by Ian, which barreled into Florida's Gulf Coast on Wednesday afternoon with winds of 150 mph. The National Hurricane Center (NHC) predicted high storm surge —or rising sea levels—and Sanibel Island saw a foot of storm surge. Deep floodwaters remained throughout the island after the storm passed.
Rebuilding the Sanibel Causeway
Residents were stranded on the island when Ian ripped through, causing part of the only road to the island to crumble into the Gulf of Mexico.
Florida Governor Ron DeSantis said the causeway would be rebuilt, along with Pine Island Bridge, which also was damaged by the storm, but the road to recovery could be a long one. In a letter written to residents, Sanibel Mayor Holly Smith said there was no timeline for re-entry to the island.
In the meantime, DeSantis said barges will be used to transport recovery equipment to the devastated barrier islands.
More than 20 people have been killed as a result of the hurricane, and a report from ABC News estimated that it could leave behind as much as $65 billion in damage, although the number could continue to climb.
Newsweek reached out to the city of Sanibel for comment but could not get through.