Coast Guard Finds More Bodies Amid Search for Capsized Vessel Suspected of Human Smuggling
The U.S. Coast Guard announced on Thursday that more bodies were found during a search for the capsized vessel that is suspected of human smuggling.
During a press briefing U.S. Coast Guard Miami Sector Captain Jo-Ann Burdian said that during a search of Florida's Northern straits over the past 24 hours, officials found four more bodies, "[b]ringing the total to five deceased bodies we've recovered in our search area," she said.
The comments by Burdian come shortly after the 25-foot capsized boat was discovered by a "good Samaritan" Tuesday. In a statement, the U.S. Coast Guard Southeast Twitter account wrote that the individual discovered a man "clinging to a capsized vessel approximately 45 miles east of Fort Pierce Inlet."
"The survivor reported he left Bimini, Bahamas, with 39 other people Saturday night and encountered severe weather, causing the vessel to capsize," the statement said. "According to the survivor, no one was wearing a life jacket. Coast Guard air and surface asset crews are actively searching for people in the water. This is a suspected human smuggling venture."
During the press conference on Thursday, Burdian said that officials have "unfortunately come to the most difficult time in any search and rescue case."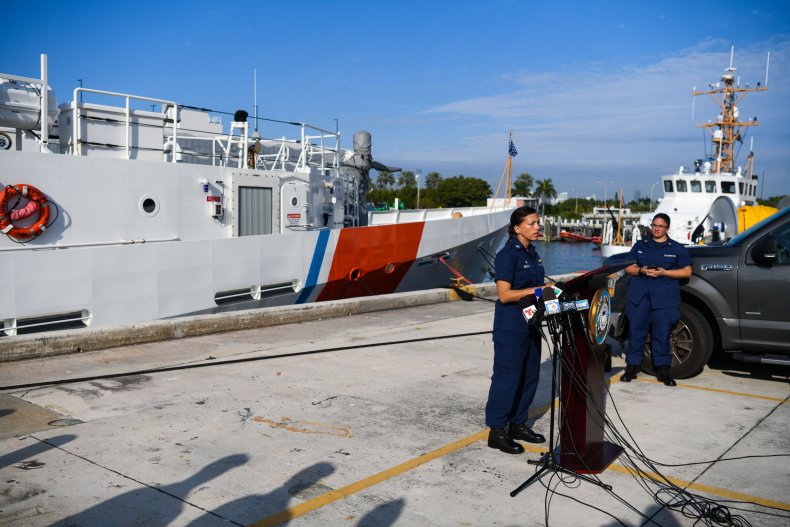 She continued, "I have made the very difficult decision, balancing everything we know about on scene weather conditions, the number of people who went in the water, how confident we are in our search area and the effort we put forth, that if we do not receive additional information today that can refine our search or direct us toward additional survivors, that at sunset this evening, we will suspend actively searching."
Burdian noted that the suspension of the search does not mean the Coast Guard is closing the case but instead they will stop dedicating "assets specifically to this search."
Homeland Security Miami Special Agent in Charge Anthony Salisbury said during the press conference that the agency has opened a "parallel" criminal investigation, alongside the search and rescue mission.
"The goal of this investigation is to identify, arrest and prosecute any criminal or criminal organization that organized, facilitated or profited from this venture," Salisbury said, while urging anyone with information on this situation to come forward and call the Homeland Security Investigations (HSI) tip line.
Earlier this week, Burdian called the situation "dire" as individuals aboard the capsized vessel were lost at sea for several days.
"The longer they remain in the water without food, without water, exposed to the marine environment, the sun, the sea conditions, every moment that passes it becomes much more dire and unlikely that anyone could survive in those conditions," Burdian said.