Coast Guard Lieutenant Accused of Being 'Domestic Terrorist' Indicted on Gun, Drug Charges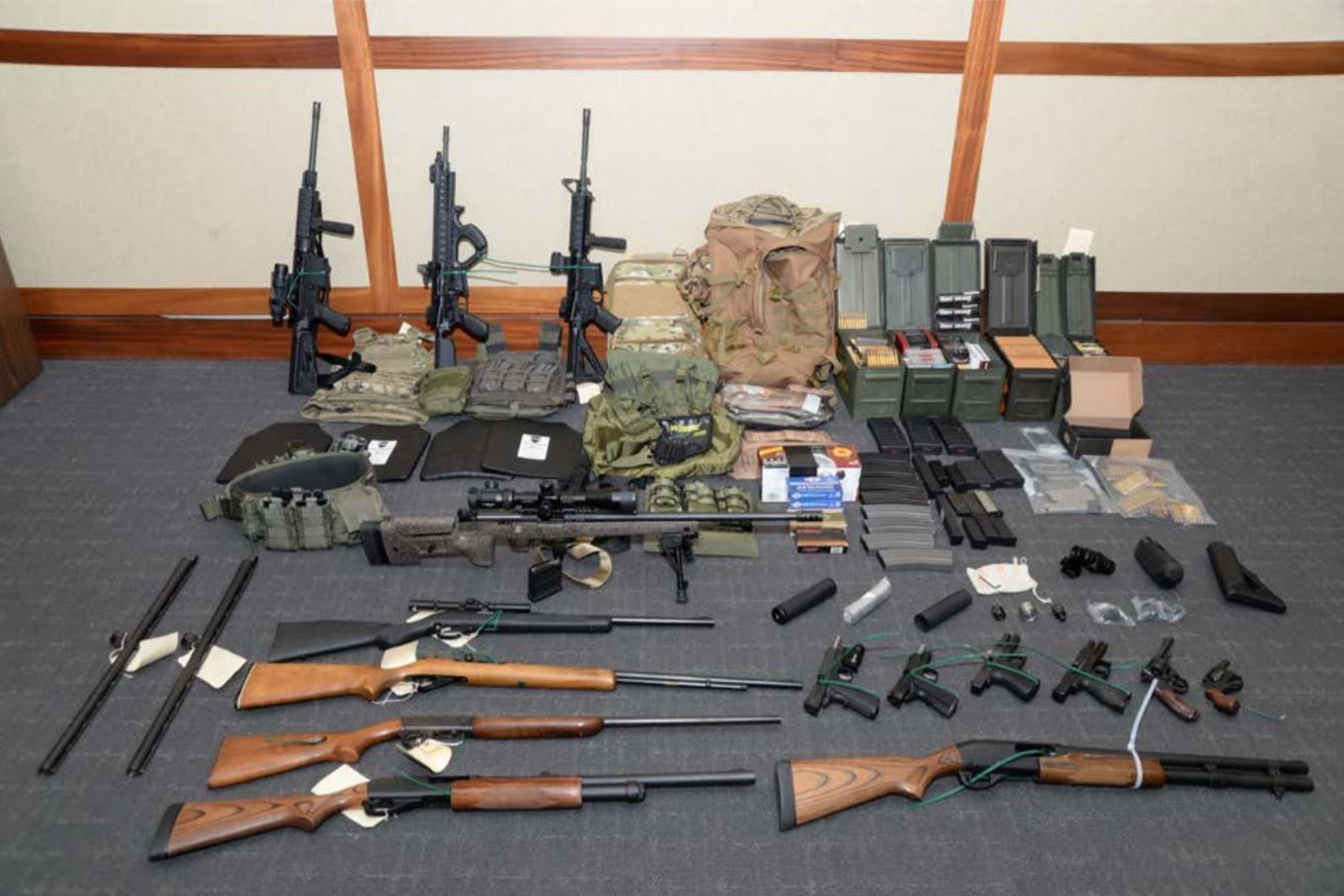 A federal grand jury indicted Coast Guard Lieutenant Christopher Hasson on Wednesday on several firearm and drug-related charges, the U.S. Attorney's Office said.
Hasson, from Silver Spring, Maryland, was arrested on February 15 at a Coast Guard office in Washington, D.C. The self-proclaimed white nationalist was accused of planning an attack against Democratic politicians and members of the media.
On Wednesday, Hasson, 49, was indicted on federal charges for unlawful possession of silencers, possession of firearms by a drug addict and unlawful use and possession of a controlled substance. Hasson was not charged with any terror-related crimes, despite federal prosecutors labeling him a "domestic terrorist" at the time of his arrest, according to WBAL.
According to the indictment, the two silencers in Hasson's possession did not bear serial numbers and were not registered. The indictment also claimed that Hasson was addicted to a controlled substance.
Investigators uncovered seven rifles, two shotguns, four pistols, two revolvers, an assembled firearm silencer and a disassembled firearm silencer while executing a search warrant at Hasson's home on February 15. The indictment said that Hasson was also in possession of tramadol, which is classified as an opioid analgesic by the Drug Enforcement Administration.
"We continue to gather evidence, as well as review evidence already obtained as part of this ongoing investigation," U.S. Attorney Robert K. Hur said in a statement.
Federal prosecutors claimed Hasson planned to "murder innocent civilians on a scale rarely seen in this country," according to court documents following his arrest. In a motion for his arrest, prosecutors in Maryland said that the initial charges were "the proverbial tip of the iceberg.
"The defendant is a domestic terrorist, bent on committing acts dangerous to human life that are intended to affect governmental conduct," prosecutors said.
Hasson's lawyer said Hasson was not planning a terrorist attack and accused the government of over-the-top accusations with little evidence to support them.
Investigators said they found a spreadsheet containing several liberal-leaning television personalities, as well as Democratic members of Congress, CBS News reported. They also discovered an email draft dated June 2017 in which Hasson wrote he was "dreaming of a way to kill almost every last person on earth."
Court records show that beginning in early 2017, Hasson "routinely" studied the manifesto written by Anders Breivik, a Norwegian far-right extremist who killed 77 people in 2011. The 1,500-page manifesto gives an account of Breivik's planning before the deadly attack and was intended to be a blueprint for "Lone Wolf" terrorist operations.