Nearly Seven Tons of Cocaine Worth $206M Seized by U.S. Coast Guard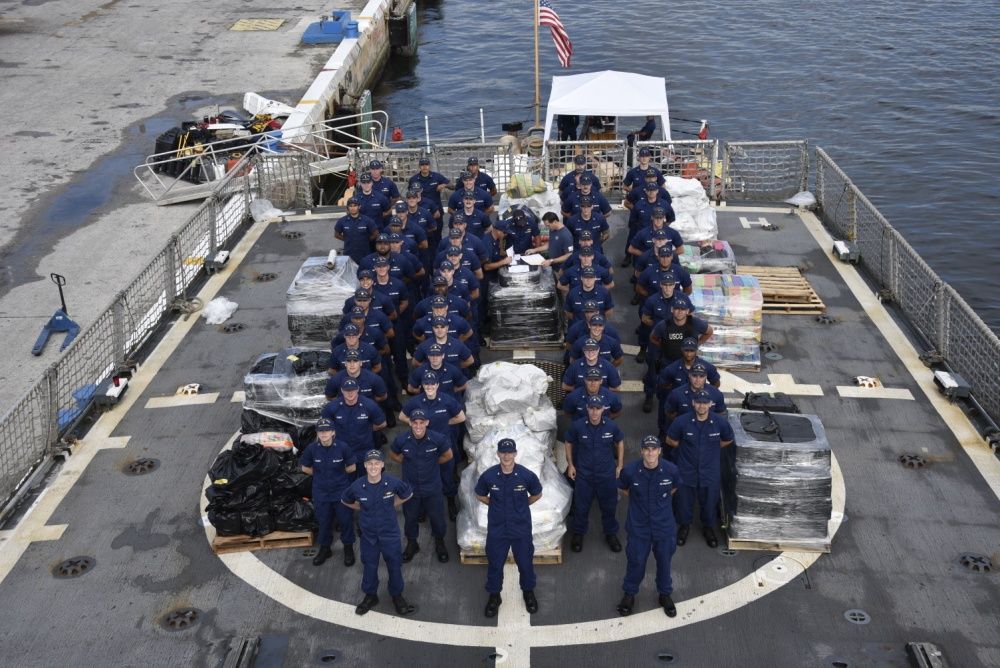 A crew with the U.S. Coast Guard seized roughly seven tons—12,000 pounds—of cocaine amid an 80-day period in the Eastern Pacific Ocean.
The 100-member Coast Guard Cutter Campbell crew returned to their home base Friday in Kittery, Maine. During their deployment, they halted six narcotic smuggling schemes and detained 24 individuals suspected of participating in the illegal act. The cocaine obtained, however, is valued at an estimated $206 million. They unloaded the narcotics in Port Everglades.
"I'm incredibly proud of the hard work of Campbell's law enforcement teams, my entire crew, and their shipmates aboard the cutter Active that made these impressive interdictions over the past few months possible," Cmdr. Mark McDonnell, cutter Campbell commanding officer, said in a statement. "The persistent presence of Coast Guard and partner agencies, along with our foreign nation counter-drug partners, in the highly-trafficked Eastern Pacific drug transit zone is essential to dismantling the crime networks that threaten the U.S. with their illicit activities."
Added McDonnell, "These collaborative efforts and our ability to seamlessly integrate with partner agencies and nations are the key to the safe and successful execution of these complex interdiction operations."
In May, the Coast Guard Cutter Active crew—based Port Angeles, Washington—had similar success to the Cutter Campbell crew as they managed to seize more than $78 million worth of cocaine. Weeks before this, the Coast Guard Cutter James crew seized cocaine worth about $179 million in a 20-day patrol.
Cocaine was once perceived as a harmless drug, having been used in soda and seen as beneficial to medicine. Public perception of the drug changed, which led to its eventual ban in 1914 through the Harrison Narcotics Tax Act of 1914.
Nearly 70 percent of drug trafficking offenders were U.S. citizens in 2016, according to data from DrugAbuse.org. At the time, cocaine was associated with 19.8 percent of drug tracking crimes. According to an article published in JAMA in 2017, deaths linked to drug overdose more than doubled from 2000 to 2015.