Susan Collins, Key Republican Vote on Brett Kavanaugh, Gets 3,000 Coat Hangers in Mail from Pro-Choice Activists
Republican Sen. Susan Collins of Maine continues to receive thousands of coat hangers at her office ahead of her potential swing vote on Judge Brett Kavanaugh's SCOTUS confirmation.
Protesters from across the country have mailed Collins more than 3,000 coat hangers to symbolize the crude, back-alley abortions that took place before 1973's Roe v. Wade decision ended criminalization of the medical procedure.
The Maine Republican and Sen. Lisa Murkowski, an Alaska Republican, are considered swing votes in Kavanaugh's potential appointment to the Supreme Court. Collins has remained quiet about her upcoming vote even after the confirmation hearings concluded Friday.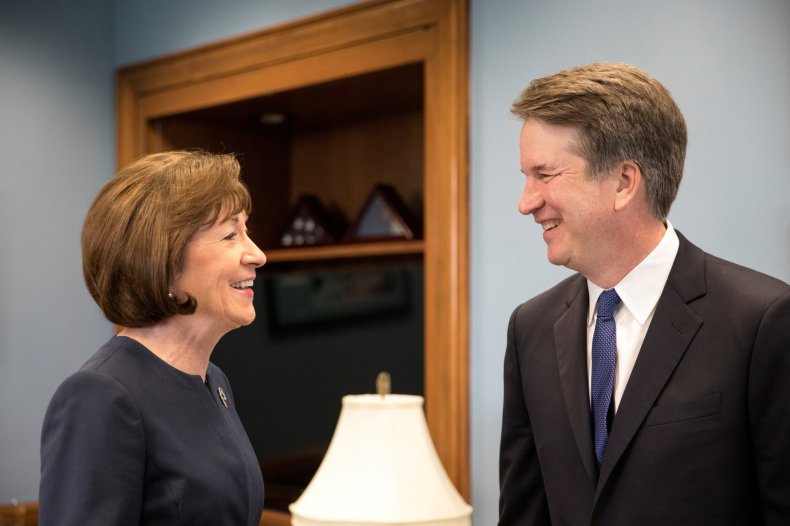 Both Collins and Murkowski would likely need to vote "no" against Kavanaugh for him to be kept off the Supreme Court.
Protesters looking to shame Collins have been mailing thousands of coat hangers to her U.S. Senate offices since she told the Portland Press Herald in July she would not take Roe v. Wade into consideration when voting on Kavanaugh. However, she has publicly stated she believes Roe v. Wade is "settled law." Betsy Mahoney, a Portland, Maine immigration attorney, described a scene in which a protester placed a coat hanger in Collins' office.
"I was in the waiting area of @SenatorCollins' Portland office yesterday when a woman walked in and hung a coat hanger on a doorknob. A staffer opened that door, grabbed the hanger & tossed it on the floor. She did not look happy," Mahoney tweeted Saturday.
Pro-choice and abortion rights activists have also vowed to spend hundreds of thousands of dollars against Collins should she vote in favor of President Donald Trump's SCOTUS nomination. Emails uncovered last week from 2003 showed Kavanaugh offering legal advice in which he said a woman's right to an abortion is not "settled law." When asked about his seemingly contradictory comments on abortion during the hearings Thursday, Kavanaugh explained that "all legal scholars" don't agree on anything, let alone abortion rights.
But Collins has publicly said "I view Roe v. Wade as being settled law" in several recent statements. The Maine Republican told the Associated Press she's remaining mum on her vote because "I always wait until after the hearings are complete before making a decision, and I'll do so in this case as well."
Judiciary Committee senators are expected to vote on Kavanaugh's confirmation September 20, with a vote by the full Senate occurring the week after. Republicans are pushing to have him confirmed before the Supreme Court begins its new term on October 1.